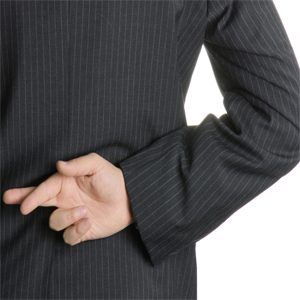 Politicians are notorious for breaking promises but one former English councillor took the deception further, lying about her qualifications to be a barrister for 14 years. 
Monika Juneja, who was a councillor for Guildford borough up to this week, has plead guilty to forging law qualifications to obtain jobs in legal and council officer roles, according to a report by the The Telegraph.
Like many students, Ms Juneja struggled with university and failed to obtain the second class degree necessary to get into bar school in the UK.
Not one to take defeat lying down, Ms Juneja simply forged a second class degree from the University of Greenwich, according to the prosecutor Kate Wilkinson – which, Folklaw muses, shows the kind of a proactive, can-do attitude suitable for a future politician.
Her study habits did not improve at bar school, where she failed course modules three times and was deemed "not competent in law" in July 2003.
Yet she once again topped her class for lying, forging a document from the BPP Law School to say she was "very competent" to practice.
Ms Jungeja subsequently obtained jobs where her bar qualifications were an asset and gave her higher earning potential, Ms Wilkinson said.
At the time of her arrest, Ms Juneja had been elected to Guildford's local council and been appointed councillor in charge of planning, as well as the deputy leader of the Guildford Council's Conservative group.
Her lies were exposed by unhappy constituents after complaints were received regarding her work on identifying land for development.
Ms Juneja pleaded guilty to three counts of forgery and charges of obtaining pecuniary advantage by deception and wilfully pretending to be a barrister. She is be sentenced in June.
While Ms Juneja was asked to step down from her executive role after charges were laid last year, she continued as a councillor until last week when she chose not to stand for re-election, the BBC reported.