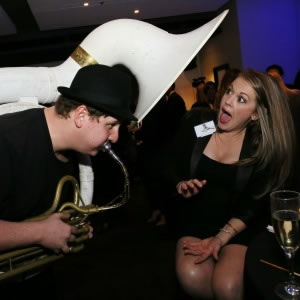 Boy, what a night! This year's Lawyers Weekly 30 Under 30 demolished any remaining misconceptions that lawyer events are sombre affairs.
The sold-out cocktail event at Establishment in Sydney on 5 June brought together more than 400 young lawyers and their colleagues and families to celebrate early career achievements.
'Rowdy' was the word thrown around on Twitter; Folklaw has heard quieter crowds at major sporting events.
Folklaw is a bit hazy on the details, having thrown back a few too many sparkling wines by this point, but recalls comedian Gary Eck trying every trick in the book to shush the crowd. Lawyers Weekly's sales manager, Will Magee, adopted his best footy commentator impression to shout the names of winners over waves of tipsy chatter.
Editor Leanne Mezrani graciously thanked the young finalists for being "vocal advocates for social justice" in her opening address – but, after that, not much could be heard over the screams and hoots of the winners' co-workers.
It is almost as if young lawyers don't get out of the office much! Thankfully, our events team wisely recruited a marching band, the amazing Hot Potato Band, to play at the event.
Most winners were super-excited to receive their glittering glass trophies and the partners were clearly busting with pride at their mentees' success.
However, Folklaw did hear that one winner had casually joked about hacking their partner to death with the pointy end of their trophy. Dear me…
Folklaw also heard from an anonymous source that the toilets were full of empty wine glasses along with groaning lawyers by the end of the night. "Everyone is trashed in there," said one party attendee.
The after-party went down at Palmer & Co, but by this time Folklaw had done its best to make a graceful exit. A young lawyer from Queensland later told us it was "happening", whatever that means.
Haven't been shhhh'd so much since primary school #lw30under30 #weliketoparty

— Jade Tyrrell (@Jade_E_Tyrrell) June 5, 2015