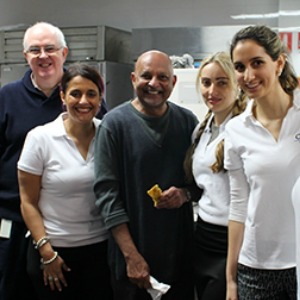 Lawyers rolled up their sleeves last week to cater lunch for vulnerable members of the community – with the help of some star power in the kitchen.
A team from Colin Biggers and Paisley Lawyers helped Masterchef All-Stars cook Kumar Pereira (pictured centre) serve a meal to the elderly as part of Beehive Industries' World Cultural Day.
The registered charity aims to give socially marginalised people, including seniors and people with disabilities, opportunities to work, socialise and engage with the community.
The 12 lawyers from CBP took a break from wheeling and dealing to set up lunch, hand out food and have a chat with Beehive regulars.
One lawyer said she spent the lunch laughing with a former secretary, who then thanked her for taking the time to chat with her.
"No one has thanked me for talking to them before so it was really nice," the lawyer said, melting even Folklaw's stone-cold heart. "The team at Beehive was amazing and it was lovely to be able to assist in a small way."
Following his Masterchef glory, Mr Pereira became an ambassador for Beehive Industries and has previously taught classes on cooking low-cost, nutritious meals.
Beehive Industries is a client of the CBP Foundation, a charitable organisation run by Colin Biggers and Paisley.
Lawyers at the firm are given two paid days of leave each year to volunteer for charity – although Folklaw suggests a gourmet meal whipped up by a TV star might be incentive enough for the foodies among us.