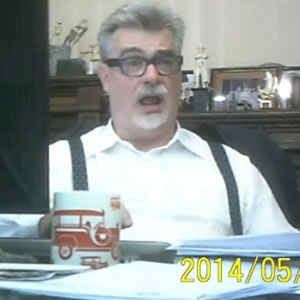 A brewing scandal has been blown wide open by a pair of Papua New Guinea lawyers who were caught on video detailing corrupt practices by Australian lawyers.
Former Queensland Crown prosecutor Greg Sheppard (pictured), who is also financial manager of his children's award-winning indie band Sheppard, was filmed explaining how to launder bribe money intended for corrupt PNG politicians.
He said the only way for businesses to successfully pay off foreign politicians without getting caught was to send money in "small dribs and drabs" under the cover of legitimate transactions.
Mr Sheppard's colleague, Harvey Maladina, was also filmed by undercover agents working for anti-corruption NGO Global Witness.
In the video, Mr Maladina exposed the common practice of filtering dirty money through Australian professional services firms.
He said he knows a "prestigious" law firm and a Queen's Counsel that falsify invoices to hide the movement of corrupt money.
The pair, who are known to have the ear of PNG prime minister Peter O'Neill, believed they were speaking with Australian businessmen in the videos.
Mr Sheppard told The Sydney Morning Herald his comments reflected his "practical experience" and were only intended to broaden understanding of practices in PNG.
The revelations offer a unique insight into the role of Australian lawyers, accountants and migration officials in enabling PNG politicians to hide billions of dollars in Australian banks and investments.
"The exposes … put Australia at the epicentre of regional corruption and money laundering that is harming ordinary Australians and the citizens of impoverished neighbours like PNG," Global Witness campaigner Rick Jacobsen told The Sydney Morning Herald.
Mr Sheppard recently gave up his appointment as a resident director of a security company that works with the Manus Island immigration detention centre.
He said the title was producing negative publicity for his three children, George, Amy and Emma, who were on the road to success with their number-one hit single, Geronimo.