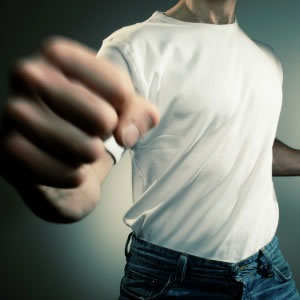 Lots of defendants probably feel like throwing a solid fist in the direction of their attorney before being dragged away to life in prison, but why would you punch a lawyer that just got you off?
A man standing trial in New York for stabbing and killing his nine-year-old cousin turned on his lawyer last week, punching him in the jaw in open court.
His lawyer, Fred Sosinsky, had just convinced the jury that his client, Alejandro Morales, 31, was guilty of manslaughter but could not be held responsible because he is severely mentally ill.
Mr Morales, who left his lawyer with a swollen lip and cheek, also flew at the guards. He had to be wrestled to the floor by over a dozen court officers.
His outburst was caused by a misunderstanding following the verdict. He was under the impression he could walk free and was distressed when he realised he would have to spend some time in hospital.
"My client's actions follow the verdict and bespeak the degree of volatility and the severity of his mental illness," his lawyer told the press after the incident.
Mr Morales, who killed his cousin during an argument over a PlayStation game five years ago, is a paranoid schizophrenic. At the time of the killing, he was on parole and taking antipsychotic medication.
The prosecutor argued that Mr Morales "obviously … knew he had done something wrong" by repeatedly stabbing his cousin. He hid the knife, ran away from the scene of the crime and initially lied to police.
Mr Sosinsky argued that Mr Morales was not in his right mind at the time. He detailed delusions leading up to the manslaughter, which included being hunted by giant rats and threatened by gangs.
Folklaw had to do a double take when it saw another story about a murder suspect who punched his lawyer in the face in Massachusetts last Monday.
Is it punch-a-lawyer-in-the-face-month or something? *grabs popcorn*