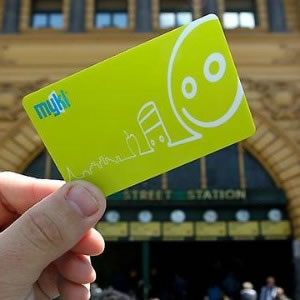 The mere sight of human rights barrister Julian Burnside QC on the defence was enough to send Victoria's transport department scuttling from court last week.
The department abandoned its pursuit of a petty fine owed by a commuter after learning that the prominent barrister was taking a personal interest in the case.
Mr Burnside, whose fees normally exceed $10,000 a day, took the case pro bono to make a stand against what he described as "bullying" behaviour by the transport authority.
His client, corporate lawyer Lindy Muto, was fined $220 after failing to pay a public transport fare last year.
She wrote to the department explaining that she had mistakenly tapped her Myki card to a balance reading machine instead of the adjacent card reader.
She took photos of the two machines at Burnley Station in Melbourne to demonstrate they were almost identical.
"There was no signage and a year later I've gone back there and they've put a clear sign, which is almost as though they're admitting fault," she said.
She decided to take the department to court to shed light on its unfair "revenue-generating activity".
This is the second time the department has backed out of a fare evasion case. The department also turned tail and ran after Mr Burnside decided to act for a different client in April.
Mr Burnside said the department's easy surrender was evidence that it had little faith in its own technology.
"If they had confidence that the system operates properly then they wouldn't be withdrawing the charges in circumstances such as this," he said. 
"I just don't like seeing people taken advantage of, especially people who can't afford to take a half day off work. They are forced to pay up because they're in a position of weakness – that's my idea of bullying."