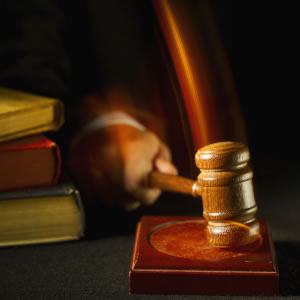 A change.org petition set up by Louisiana lawyer Nanine McCool to influence court proceedings has left a panel of state Supreme Court judges deeply unimpressed.
Ms McCool lost her licence to practice after losing her cool and launching a zealous social media campaign against judges presiding over a state family court custody battle.
In a judgment handed down on 30 June, Justice Scott Crichton remarked that Ms McCool showed "outrageous disregard for the sacred profession" and "repugnant disrespect for the system".
"Perhaps [Ms McCool's] most astounding and egregious action is her complete and utter lack of remorse," Justice Crichton said.

In 2011 Ms McCool assisted a friend who was fighting for custody of her two children.
Unhappy with the court's decision, the pair set up a petition on change.org criticising Judge Dawn Amacker and Judge Deborah Gambrell.
Ms McCool posted the petition on her blog site and promoted it in other articles. She also shared the judges' contact details and encouraged supporters to actively lobby the court.
The petition claimed that the judges had failed to protect the two children by ignoring evidence of sexual abuse by the father and granting him unsupervised visitation rights.
Ms McCool spread "numerous false, misleading and inflammatory statements" online about the handling of the case, according to the ruling.
Turning to Twitter, Ms McCool wrote disparaging statements about the judges involved in the pending case and linked to her petition.
"Judges are supposed to know shit about … the law … aren't they? And like evidence and shit? Due process?" she tweeted. "Shouldn't judges base decisions about kids on evidence?"
At the time, Judge Amacker had her assistant respond to the petition by cautioning against ex parte communications with a judge.
According to the recent Louisiana Supreme Court ruling, Ms McCool should have used the appeals process rather than launching a "social media blitz" to challenge court decisions.
"[Ms McCool] cannot confuse a First Amendment claim of the right to free speech with a serious and intentional violation of the Rules of Professional Conduct," said Justice Crichton.
"Not only did her conduct cause major disruptions in the course of litigation, it also unnecessarily put members of the judiciary at risk."
Going to war

But the story didn't end there. In 2014 Ms McCool launched a campaign to unseat Judge Amacker by running for the position herself.
This must have been the final straw for the beleaguered judge, who finally filed a formal complaint against her opponent.
None of the other 11 incumbent judges for the 22nd Judicial District Court of Louisiana bench were challenged.
Judge Amacker crushed Ms McCool in the election and, rubbing salt in the wound, saw her complaint lead to the lawyer's disbarment.