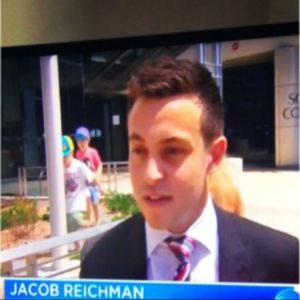 The kidnapping of 'Piggie' the echidna has put a wannabe lawyer back in the spotlight less than a year after his hashtag-happy social media use landed him in court. 
Folklaw has to hand it to 23-year-old law graduate Jacob Reichman. This aspiring lawyer has a natural gift for putting himself at the centre of spectacularly media-friendly stories.
Last year he was fined $1,000 by the Brisbane Magistrates Court for parading as a #lawyer, #younglawyer and #criminallawyer on Instagram.
Although he was only a second-year law student working as a law clerk for barrister Chris Rosser at the time, Mr Reichman introduced himself as a solicitor in court.
Now, Mr Reichman has put his foot in it again by speaking to reporters outside the court on Tuesday.
Passing himself off as a "legal representative", Mr Reichman spoke on behalf of his boss' client, Jarrod Ronald Simmons, 24, who allegedly helped return the distressed echidna to the Gold Coast wildlife sanctuary.

When the court reconvened the next day, Magistrate Kerry McGee said she was shocked to have seen Mr Reichman on the news the night before.

"He has no right to speak to the press," she said.
Mr Simmons has been charged with animal cruelty and receiving tainted property.
He is the second person to be charged by police after men in masks and hoods were caught on a security camera cutting away netting and removing an echidna from its nesting box over the weekend.
Mr Reichman told the press the acts were "just alcohol-fuelled stupidity" and "a prank gone wrong".
"Mr Simmons is only alleged to be involved in the return … He took a photo with the echidna and showed that to a member of the public who raised the alarm," Mr Reichman said.

Folklaw was relieved to hear that Piggie had been found on Monday night on the wrong side of the fence near Currumbin Wildlife Sanctuary.
The four-year-old female was "sore and sorry" but there was no sign of deliberate injuries, according to the park's senior vet, Michael Pyne.
As for Folklaw's favourite #younglawyer, it seems he doesn't mind being in the public eye too much – his LinkedIn photo is a screenshot of him making a television appearance.