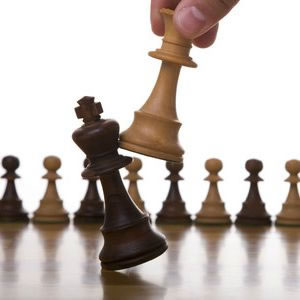 Two lawyers enter the courtroom but only one comes out alive – that's how one New York lawyer has called for his civil suit to be settled.
Staten Island lawyer Andrew Luthmann, who is currently embroiled in a dispute over dealings with a former client, filed a document in the New York Supreme Court invoking "the common law right to Trial by Combat".
Taking a creative approach to alternative dispute resolution, he asked leave to settle the civil case through a battle, with victory going to the party still in one piece at the end of it.
Mr Luthmann faces allegations that he advised his former client David Parker to liquidate his assets and move funds beyond the reach of creditors in violation of state law.
Plaintiffs Benjamin Foley, Richard Foley, Ryan McGetrick and Brian Hale, who were creditors to Mr Parker, are seeking $550,000 from Mr Luthmann, plus punitive damages.
In the document filed with the court, Mr Luthmann spared no words in dismissing the allegations, describing the plaintiff's claims as "a glorified comic book piled on top of pure and adulterated extortion wrapped in a transparent abuse of legal process".
In what could be interpreted as cheeky dig at his opponents' prospects – or an over-enthusiasm for Game of Thrones – he called on the judge to either dismiss the complaints in their entirety or allow the battle to begin.
He included a spirited 10-page history of trial by combat, and while Folklaw cannot attest to its accuracy, it applauds the zeal displayed in undertaking the research.
According to Mr Luthmann's argument, trial by combat has never been formally eliminated from US courts.
"As such, the undersigned respectfully requests that the Court permit the Undersigned to dispatch Plaintiffs and their counsel to the Divine Providence of the Maker for Him to exact His Divine Judgment once the Undersigned has released the souls of the Plaintiffs and their counsel from their corporeal bodies, personally and/or by way of a Champion," he wrote.