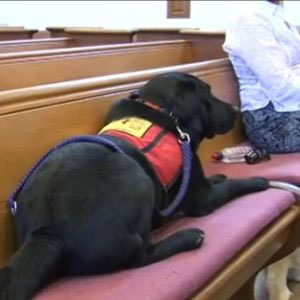 Taking the stand as a witness can be a terrifying affair, particularly if you are confronting your attacker, but a comforting nuzzle from the courthouse Labrador can make the experience a little easier.
US-based organisation Courthouse Dogs employs 87 dogs working across 28 states to provide a range of services to people moving through the justice system.  
"This adversarial system [of testifying in front of your attacker] is brutal," Ellen O'Neill of Courthouse Dogs said. "A lot of people come out damaged by it."
But cuddling a dog can help. According to the Courthouse Dogs website, "dogs humanise the justice system" – ironic though that may sound.
Dogs provide unconditional emotional support during stressful legal proceedings, particularly for kids or victims of sexual violence.
However, not every dog can be a courthouse dog – it takes a very special temperament to succeed in the job.
Jill Felice, founder of Assistance Dogs of the West, said courthouse dogs need to be patient and unperturbed by distractions.
"The courthouse dog, to me, is the dog that has the temperament of being very low aroused – not much bothers them," she said.
"There is not much reactivity in the dog at all. They are a dog that wants to cuddle, that likes to be petted."
Courthouse dogs can't be bored easily and need to be "attentive, without being pushy", "self-contained and competent".

"[A courthouse dog is a] dog that is able to manage emotional strain in voices without getting stressed themselves, a dog that is accepting of the public," she continued.

The courthouse dogs are owned by a single person but can be handled by multiple people so long as they are fluent in doggy 'language'.