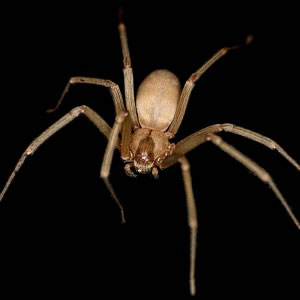 An English barrister is considering legal action after he almost lost his leg to a venomous spider, which allegedly bit him on board a flight from Doha to Cape Town.
Jonathon Hogg, 40, senior legal counsel in the London offices of telecommunications company IPC, says he was midway through a Qatar Airways flight when he felt a "small, sharp pain" in his leg.
"I turned on the light and clearly saw a spider running across the floor before hearing two stewardesses screaming 'Spider', but I wasn't sure if I had been bitten as it really wasn't very painful," he said.
His leg began to swell, however, and to turn a nasty colour from bruising. Mr Hogg threw back a few painkillers, thinking he was suffering from a bit of travel-related deep-vein thrombosis.
But the day after, his condition got much, much worse. His leg ballooned and turned black – his colleagues saw the signs of a dangerous spider bite and told him to go to hospital.
By the time he arrived, a huge chunk of his leg had been eaten away by necrosis.

"The pain was like nothing I've been through in my life," he said. "By the time I got to hospital my leg was bursting open, there was pus, it was black.
"It was a right mess. They told me if I had been any later I would have lost my leg or even died. It was terrifying."
Surgeons rushed to cut away a large part of the barrister's leg, which had fallen victim to the deadly venom.

When Mr Hogg woke up and saw the damage, he was shocked.
"It really hit home when they removed the bandages and I saw what was left of my leg – it resembled something from a horror film," he said. "They had been forced to cut away so much, I was devastated.
"However when I realised the extent of my injuries I realised I was just lucky to still have my leg – even if the sight of my leg shocked me when I finally saw it."
Mr Hogg will need another operation because the first skin graft failed to take.
The doctors diagnosed the spider venom as that of the brown recluse spider, Loxosceles reclusa, or 'brown fiddler' spider (a name derived from the violin-like markings on its abdomen).
Folklaw would love to know – if the allegations are true – what this globetrotting fiddler was doing on a flight from Qatar to South Africa.
Loxosceles reclusa is a species only found in the US, ranging from Colorado to Georgia. Spiders of the genus Loxosceles, however, are found worldwide in warmer areas.
Mr Hogg is contemplating legal action against Qatar Airways and has sought advice from Slater and Gordon.
He says the airline has failed to accept responsibility for the incident.
"We will now be investigating Mr Hogg's claim to determine if there has been any wrongdoing by the airline," said Richard Duxbury, Mr Hogg's lawyer.
Qatar Airways said they have not been advised of any legal proceedings but "takes the safety and security of our customers very seriously".
As for the wandering spider, nothing has been heard so far but Folklaw doubts Mr Hogg will be receiving a postcard any time soon.