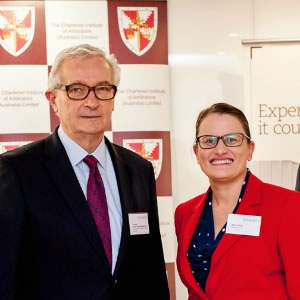 Australia has made encouraging progress in its approach to arbitration, writes Beth Cubitt.
Speaking at the Chartered Institute of Arbitrators Centenary event in Perth, Chief Justice James Allsop (pictured with Beth Cubitt) noted the encouraging progress in Australia's approach to arbitration, and the bright future for international arbitration in the region.
In tune with the international focus of the Chartered Institute of Arbitrators (ClArb), Chief Justice Allsop commented on some of the important changes he has observed in international arbitration over the past two decades.
On a broad level, his Honour noted the changes in the education of the judiciary, barristers, solicitors and arbitrators (in no small measure through courses run or facilitated by CIArb). His Honour observed that the increase in education has resulted in fewer outlier cases for a number of years in Australia, which could not be said for a decade or a decade and a half ago. Recent decisions in Australia in relation to maritime arbitration were noted as demonstrative of this.
He also commented that the legal fraternity and also consumers of arbitration, have matured in their understanding of how arbitration works, and the deal that is involved in an agreement to arbitrate.
His Honour made the point to a degree that sovereignty was given away by the negotiators of the New York Convention, and the resolution of international disputes subject to arbitration agreements was put in the hands of arbitrators, often foreigners. Central to this was the fairness of the process.
His Honour said that the key to the success of international arbitration in the Asia-Pacific region is through the support and encouragement of the process by local judiciaries. This should provide for a fair system that:
is consistent with the arbitration agreement
facilitates a fair hearing with notice
incorporates the notion of public policy, including procedural fairness consistent with the fundamental norms of the state.
His Honour referred to a talk given by Sundaresh Menon, Chief Justice of Singapore where he stated that it is not for courts and arbitration bodies in the Asia-Pacific region separately to cope with dispute resolution over the next 25 years. Rather, there will need to be a sophisticated regional justice system in which courts and arbitration systems work together.
His Honour predicted that, in the future, arbitration will take its place as the dominant workhorse of the justice system, supported by clusters of efficient courts in the region. This will in turn create a regional international legal culture: practitioners reading judgments from different jurisdictions, practitioners working in different jurisdictions, and cases moving through lawyers in different legal cultures.
Chief Justice Allsop concluded by noting there is a will to develop a fundamental trust between commercial courts and arbitrators and arbitration institutions. Seat courts will play a dominant role through enforcement and interim support.
Beth Cubitt is a Chartered Institute of Arbitrators fellow and Clyde & Co partner in Perth.