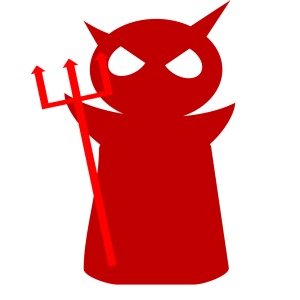 A US lawyer has requested to be excused from representing his client who believes he is Satan.
Port Huron attorney Frederick Lepley has requested to withdraw from a case after his client accused him of stalking him, and said he believed Mr Lepley was Satan.
The client, Anthony McCrory, is being held in the St Clair County jail in Michigan on a $100,000 bond while awaiting a second trial on a charge of aggravated stalking, according to the Detroit Free Press.
Mr Lepley filed a motion asking to be excused from representing Mr McCrory.
"The defendant has made allegations that I am stalking him and that I am Satan," the motion read. "Based on the defendant's false allegations, the attorney-client relationship has broken down, and I do not believe I can effectively represent the defendant."
"The defendant indicated in writing that he did not want me to represent him on his previous cases, and he did not ask for a court appointed attorney in the case at hand," it stated.
Mr Lepley's motion, as well as three other motions filed in the case, were scheduled for hearing on Monday.
Mr McCrory previously served 10 years in prison for conviction of assault with intent to do great bodily harm less than murder in 1980.
In 2000 he was sentenced to five to seven-and-a-half years for aggravated stalking. Following his release in 2006, he was arrested on another aggravated stalking charge in which he represented himself at trial and was acquitted.
In 2012 Mr McCrory was sentenced as a four-time habitual offender to three to 25 years in prison.
During the case in 2012, Mr McCrory fired three appointed lawyers and chose to represent himself at the trial.
The Michigan Court of Appeals ruled in September 2015 that Mr McCrory would have a second trial because St Clair County Circuit Judge Cynthia Lane did not adequately explain the risks and pitfalls of representing himself.
A plea hearing is scheduled for 11 January in front of Judge Lane, with a trial date set for 20 January.