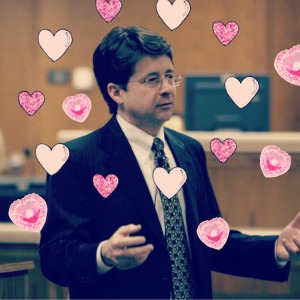 Everybody's talking about Netflix's latest documentary sensation Making a Murderer – and one of the featured lawyers has captured the hearts of many.
The 10-part series follows the life of Steven Avery from Manitowoc County, Wisconsin, who was wrongfully imprisoned for rape in 1985.
He was released after 18 years behind bars, only to be arrested shortly thereafter on suspicion of murder.
The show itself is a huge hit with people the world over, and the internet appears to have fallen in love with Mr Avery's defence attorney, Dean Strang (pictured).
Folklaw is yet to complete the series so won't disclose any spoilers – however, we can definitely agree Mr Strang is a bit of a catch (at least back in the early 2000s).
Notably, people are falling head over heels for Mr Strang's wonderfully ordinary fashion sense, with a Tumblr blog dedicated to his 'dad jeans' and 'button-up polos'.
Beyond his adorable fashion sense, it seems Mr Strang's empathy and determination to fight for Mr Avery has viewers taking to Twitter with the hashtag #strangcrush.
Mr Avery's other defence lawyer, Jerry Buting, is getting his fair share of attention also, but it seems Mr Strang is the apple of everyone's eye.