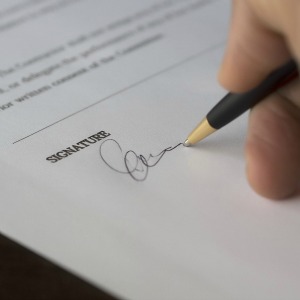 Jared Hyams decided to study law after launching a five-year battle for the right to use a penis drawing as his signature.
Mr Hyams first used the phallic symbol on an application to change his address through the Australian Electoral Commission, thinking that no one would even notice, according to the Sydney Morning Herald.
However, he had no such luck. Mr Hyams said: "I was receiving letters and phone calls telling me I couldn't have it. I thought, that's interesting, why not?"
Consequently, Mr Hyams launched appeals against multiple state and federal government agencies who refused to recognise the cartoon as a legitimate signature.
The legal wrangling inspired him to study law at Victoria University, where he is due to complete his degree this year.
He applied for a passport, driver's licence and proof of age card with the symbolic signature, all of which initially received stiff opposition, along with his change of address request.
He was accused of wasting taxpayers' money when he appealed to overturn the AEC's decision, and of wasting the court's time when he fought VicRoads' decision in court twice.
He was also told by the Department of Foreign Affairs and Trade that the drawing "could constitute sexual harassment" of government staff.
Mr Hyams didn't give up hope, emphasising that a signature should be about the function, not the actual form.
"Generally, it's a person putting a mark on a piece of paper by their own hand. As soon as you start defining what a signature is you run into problems – if it's meant to be someone's name, how do we define that? Most signatures are just illegible scribble," Mr Hyams said.
His persistence paid off, as he now has a licence, proof of age card and federal government-issued healthcare card with his chosen signature printed on. He has also used it to open a bank account, become a member of a library and apply for various student identity cards.