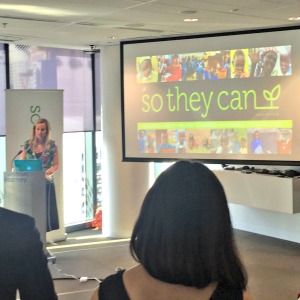 A national firm has launched a partnership with not-for-profit organisation So They Can, which will see 10 lawyers travel to Kenya in August to meet the students at Aberdare Ranges Primary School.
Wotton + Kearney has partnered up with So They Can, with a goal of raising $50,000 to sponsor 80 children who attend So They Can's Aberdare Ranges Primary School in Kenya.
So They Can was established six years ago to help break the cycle of poverty in Africa through education. The charity now runs 11 projects in Kenya and Tanzania, including the Aberdare Ranges Primary School.
The firm's fundraising efforts will culminate with a trip to Africa, where 10 Wotton + Kearney staff members will visit a number of So They Can's projects and participate in the Masai Mara Marathon.
Speaking at the launch of the partnership earlier this week, Wotton + Kearney pro bono partner Heidi Nash-Smith said: "We're very proud and privileged to partner with So They Can this year."
While Wotton + Kearney already sponsors Joyce, a seven-year-old girl who attends Aberdare Ranges Primary School, Ms Nash-Smith said the firm is looking at ways they could do more.
"Out of the 960 students at Aberdare Ranges, there are 325 who currently aren't sponsored. They still go to school and they are still fed by So They Can, and it leaves a really big funding gap for So They Can," she said.
"So we came up with the idea that Wotton + Kearney could put their fundraising efforts together and look to raise $50,000 this year that will fund the education of 80 of those children."
The Masai Mara Marathon is actually a half marathon, to the relief of the group going. It will form the basis of their individual fundraising efforts, as they will share their training stories to generate donations.
So They Can CEO Cassandra Treadwell (pictured) said: "It astounds me that a firm which has their own agenda, things they have to do and clients that they have to meet still steps outside all of that and thinks about a need a long way away."
"Often it's very hard for us to find support for Africa coming from New Zealand and Australia and actually taking it on, so I'm very grateful."