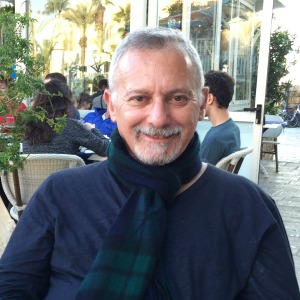 The Queensland Criminal Code should be reformed to prevent public art being classified as an offence, writes Stewart Levitt.
Brisbane art prodigy and street artist Anthony Lister emerged relatively unscathed from his summary trial at the end of January, with one acquittal and no conviction entered on four other counts of wilful damage to property (graffiti), from what were originally 13 charges.
The 36-year-old was described in the Weekend Australian on 9 April as "one of Australia's great modern artists". He had to pay $440 for 'restitution' and perform five hours of community service within 12 months.
The clear message from his trial was that Brisbane City Council wants to dictate where and what is public art and considers itself to be the arbiter of artistic quality and public taste.
Lister, a Brisbane native and loyalist, now living in Sydney, is a painter and sculptor of international renown, with major works in the permanent collection of the National Gallery of Australia.
Brisbane Lord Mayor Graham Quirk says he wants more public art. Council has organised for pre-selected aerosol artisans to spray murals at designated locations.
Orchestrated public displays are not "street art"– distinguished from its ugly sister, graffiti, by the skill exhibited in its creation.
Street art is spontaneous, performed under pressure and not just from an aerosol but from the risk of being caught.
It is mostly seen at vacant lots, playgrounds and on the walls, doors and gates of back alleys and rear lanes and is a 'sign of the times', chronicling contemporary urban experience, protest and social issues.
Prescribed, contrived, pre-planned art, as fostered by Brisbane Council, is the diametric opposite of street art. Although modified from the Philistine 'Cult of Campbell (former Premier Newman)', Council's new approach is Queensland's latest take on the state deciding what constitutes art. The Nazis and Soviets both tried this: to allow 'good' art and ban 'degenerate' art.
Lister is the sole Australian named among the world's 100 greatest contemporary street artists and in London, has been represented by the same gallery that commercialised Banksy, the Scarlet Pimpernel of England's urban art scene, whose works now sell for millions.
Brisbane City Council had itself commissioned Lister to paint switch and signal boxes, to install his own sculpture in an inner-city playground and to spray-paint a huge fresco on the protected wall of graffiti at Brisbane's Powerhouse.
Lister, represented in court by me, proudly admitted to having bestowed his 'blessings' at several relatively discreet locations in the CBD, Fortitude Valley and Paddington. Lister is being paid up to $20,000 per sprayed mural by Westfield and other private and public enterprises.
I submitted that Lister's street art was not damaging, but decorous and conformed to contemporary taste.
Lawmakers have mangled the English language by charging that 'wilful damage' means anything that devalues or harms, or disrupts the functionality of property, without the owner's consent.
Is an object devalued if it was plain or ugly to begin with and has been rendered attractive or interesting by an artist's unauthorised adornment?
Magistrate Cosgrove found that it is devalued if it costs money to restore, whether the street art looks good or not. It does not matter that rusting corrugated iron – just scrap metal before – is now worth $20,000 because it is a 'Lister'.
Courts have held that the question of 'damage' has to be determined as an issue of fact and degree, in the particular context but have not considered what reasonable public opinion would treat as being 'damage'.
A legislative amendment should be made to the Queensland Criminal Code (and to corresponding laws in other states) prescribing that, for there to be a finding of 'wilful damage', unauthorised works of art in public spaces, assessed against contemporary community standards, had actually caused the property to lose value, regardless of the (optional) expense of reinstatement.
Identifying and applying current community standards has long been the test for whether a particular public utterance or conduct constitutes offensive language or behaviour. That should be the approach applied to street art, too.
Lister is proud of his street art and always signs it.
He told the court that it was his 'gift' to his beloved Brisbane, which had bitten the hand of its generous benefactor: the very city that wishes to appear sophisticated, while remaining forever a virgin.
Stewart A Levitt is a senior partner at Levitt Robinson, Solicitors in Sydney.