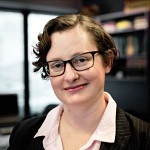 The government's new metadata regime should be amended to prevent perpetrators of domestic violence accessing this information, Kylie Hillard writes.
Forget the need for perpetrators to rely on GPS tracking, Spyware software, Malware software or spoofing to cyber stalk victims of domestic and family violence – the government has helped them along with the 'metadata' legislation under the Telecommunications (Interception and Access) Amendment (Data Retention) Bill 2014 that has now been funded to commence.
Any benefit from this week's federal budget in the allocation of $100 million over three years to Domestic and Family Violence – new initiatives to break the cycle of violence, is undermined and counteracted (among other things) by the federal government also funding a fair chunk of up to $147 million to Public Order and Safety capital expenditure for data retention establishment. A data retention scheme that enables perpetrators of domestic and family violence to trace, stalk, harass and harm victims.
'Metadata' legislation enables an account holder to access the data on their own phone or computer account for a two-year retrospective period, and to access the data of other people connected to that account.
While 'metadata' retention does not include keeping the web browsing history or content of an email, phone call or text, it records the details of the sender and receiver of a call or text. The way mobile phone data is kept by registering the 'pings' between your mobile phone and the communication tower (which occurs hundreds of times a day), also means that an account holder or account user can be traced.
When an account holder is also the perpetrator of domestic and family violence or when they forcibly obtain access to mobile phones and other devices (common in relationships characterised by domestic and family violence), those perpetrators are able to trace where a victim goes, who the victim contacts if the victim seeks help, where a victim may have sought refuge accommodation, when a victim is at home, the daily activities of victims, which route they take to work, and more.
Angela Lynch, the Community Education Lawyer at Womens Legal Service Queensland, said: "Perpetrators of violence are already using technology to stalk and intimidate our clients and their potential access to metadata is very concerning. This is obviously an unintended consequence."
Imagine being a victim of domestic and family violence, where for a two-year period, every time you send an email or text, or make a phone call, that data is kept and is accessible by the perpetrator of that violence towards you. Or, if you have left the relationship, every record of you trying to seek help or attend an accommodation refuge is recorded and accessible by the very person you have sought to escape from.
Sceptical about these claims? Take a look at these images taken from 'metadata' that graphically shows how you get to and from work, and how by simple deductive reasoning, a perpetrator of domestic and family violence can readily work out which public transport route was used and track you down. Metadata may also show when you move house, and when you're more likely to be home.
Ms Lynch added: "With two women a week on average being killed by their partner or ex-partner, there needs to be an urgent analysis of this legislation from a domestic violence perspective and amendment to protect victims."
If this government is serious about the eradication of domestic and family violence, it needs to act before the 'metadata' retention scheme is set up, and amend the 'metadata' legislation to prohibit or restrict access to 'metadata' for respondents of a domestic and family violence order.
Domestic and family violence advocate, Soroptimist International Australia President, Ralda Forzin said: "Many women who have escaped controlling or violent partners already live in constant fear, and statistics suggest that the fear is real and justified especially when cyber technology enables perpetrators to invade every aspect of their victims lives. Amendment of the Act should be considered to keep individuals safe."
We should not have to wait until yet another woman dies at the hands of a known perpetrator who accessed 'metadata' and tracked her down under this scheme.
Kylie Hillard is a barrister at Griffith Chambers in Brisbane