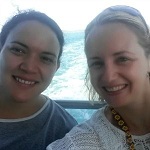 A Telstra senior counsel spent one week in Northern Queensland working with Indigenous artists and community members, being challenged by the intersection between Indigenous culture and the law.
Melbourne-based Telstra Wholesale senior counsel Christy Ditchburn recently spent three days on Thursday Island and two days in Cairns providing legal advice to Indigenous artists through a programme run by the Arts Law Centre of Australia.
The Artists in the Black program provides Indigenous artists access to free or low-cost, culturally appropriate, specialist legal resources in a bid to support and strengthen the Indigenous arts sector.
On Thursday Island, Ms Ditchburn provided general legal advice to attendees at a conference organised by the Torres Strait Regional Authority.
"My role at the conference was really to support Arts Law and throughout the three days there were certain times set aside where people could ask general legal questions and they could have their wills prepared," she said.
In Cairns, she worked with UMI Arts, an organisation called which supports Indigenous arts in and around Cairns.
"So, again, the same sort of thing, I helped prepare wills for a number of the artists and they also had a market on the Friday and we had a little stall at the market, like a legal booth where people would come and ask questions."
Ms Ditchburn told Lawyers Weekly that the intersection between Indigenous culture and the law often raised challenges.
"Whether the law needs to adapt or whether there are other mechanisms that could support the understanding of the intersection between Indigenous culture and the law, I think there is a need for more attention in this area," she said.
The first step is raising awareness and educating the legal profession about Indigenous culture and practice, according to Ms Ditchburn.
"The culture is so precious and it's a part of Australian culture and the important thing is that as a profession we take an interest in protecting this culture," she said.
"Whether that is by providing more pro bono legal support, or whether it's by advocating for artists rights, or whether it's by lobbying for changes that need to be made to legislation, and that maybe something that needs to be done."
Pictured: Jacqueline Cornforth, Art Law Centre and Christy Ditchburn, Telstra