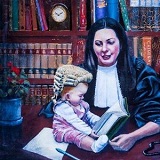 Barrister Oliver Koehn has used art as a vehicle to exhibit the different dimensions of his colleagues, as well as a way to de-stress from the demands of his day job.
"Like most jobs in the law, the work is demanding and stress levels can be very high," Mr Koehn said.
"These pursuits are a diversion from work issues and provide an opportunity to reflect and recharge. My art does this for me," he said.
Mr Koehn has portrayed the lives and personalities of various criminal lawyers of the South Australian legal fraternity in a series entitled 'Through the gown'.
"We hear a lot about high rates of stress-related illnesses in the legal profession and the consequent need for lawyers to have other pursuits outside their professional lives," Mr Koehn said.
"In my portraits of colleagues at the Legal Services Commission, I attempted to convey their varied out-of-work interests and their diverse characters."
Art is an important endeavour for the criminal defence barrister who has reduced his work hours to dedicate time to his home-based artistic pursuits.
"About two years ago I reduced my work hours to 0.9 FTE so that I could devote one weekday per fortnight to my artwork. This has enabled me to apply myself more vigorously to it and take it up a level," Mr Koehn said.
Away from the easel, Mr Koehn works in the counsel section of the Criminal Law Practice group with South Australian legal aid.
"I have always loved working at the Legal Services Commission," Mr Koehn said.
"Not only are my co-workers a great bunch of people, but I have been able to help needy, often disadvantaged, members of our society – something which I have been passionate about since my adolescent years," he said.
Mr Koehn is currently exhibiting art inspired by Lake Torrens, a salt lake located over 300 kilometres north of Adelaide. Those works can be viewed at the North Adelaide Community Centre Hall until 26 May.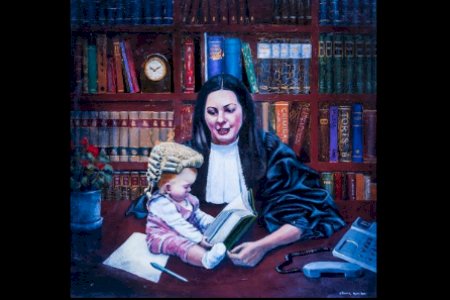 'In loco parentis' - 2014 by Oliver Koehn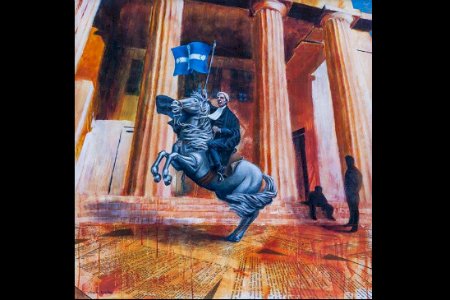 'The comrade' 2014 - by Oliver Koehn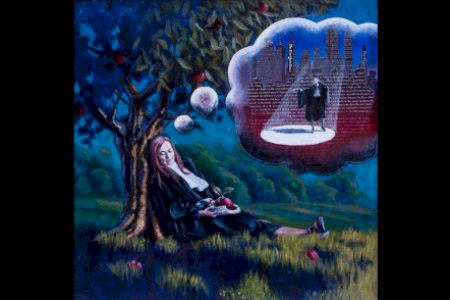 'Dreaming from her wig' 2014 - by Oliver Koehn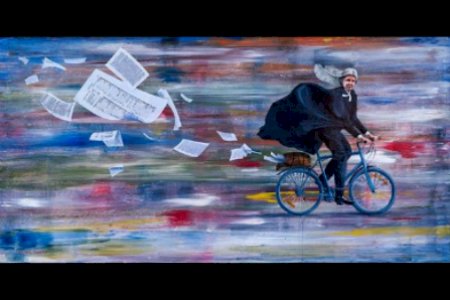 'S.C (silken cyclist)' 2014 - by Oliver Koehn