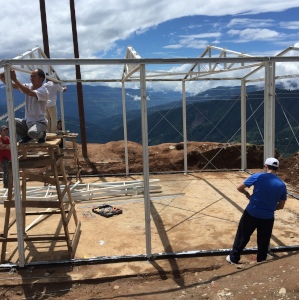 A partner has returned home from Nepal after embarking on a vital project, which helped school children who were affected by the devastating earthquake last year.
Andrew Flannery is a partner in DibbsBarker's property and projects group. He recently travelled to Nepal, where he spent two weeks working on a project to build a school for the 450 children in Bocha – a small town in the Dolakha region in Nepal.
The idea for the project arose after Nepal was struck by an earthquake on 25 April 2015, measuring 7.8 on the Richter scale, causing immense damage and loss of life. A second earthquake followed just three weeks later.
Mr Flannery said he believed he could use his skills and passion for property development to make a real difference to the community in need.
"I've always felt close to giving to the third world but I haven't actually spent time there, so this was an incredible eye-opener for me to actually be there, on the ground, experiencing the people and seeing the hardship that they face every day with such incredible joy and stoicism," he said.
"In many ways, it's sort of a watershed period for me. I've come back feeling incredibly grateful for everything I have here but also a strong sense of stewardship in feeling like there's a lot that I can contribute, not just financially but also physically."
To see the vision come to life, Mr Flannery teamed up with a business partner, Pei Young Yeo, and spearheaded a significant fundraising effort last year, which enabled the project to go ahead with support from the Embassy of Nepal in Australia.
"[The project] really came alive when we made contact with an international aid agency called AIM," Mr Flannery said.
"We got them to collect money and issue receipts and, importantly, we used their tax-deductible status to effectively amplify the giving potential from people.
"When we had that infrastructure in place, then we really talked to family, friends and colleagues, people here in Dibbs, and all were very generous … so things just tumbled together in a way that was really quite amazing to see unfold."
After they had the funds in place, Mr Flannery travelled to Chinese factories to find the right prefabricated product for the school.
"All of the buildings [in Nepal] are made of brick, and that's a disastrous building material for an earthquake-prone country, and it's also very slow and very expensive. So what we did is bring over a prefabricated building, which is a steel frame that has sandwiched panel construction, which effectively means you can slide in panels," he explained.
"It's light and held together in a way that if there's an earthquake, it shakes, rattles and rolls but doesn't fall down.
"It's also done at a fraction of the cost, in a true fraction of the time."
Overall, Mr Flannery said he benefited both personally and professionally from the Nepal project.
"At the end [the school] had a thank you ceremony for us and that was lovely," he said.
"They had the Minister for Tourism and the Minister for Education for Nepal and the national television, so it really was a big deal. It was really incredibly gratifying. And it means now we have really strong contacts there."
Furthermore, Mr Flannery encourages other firms to use their power and status to help those who are less fortunate or have been affected by natural disasters.
"Professionals in Australia are in an amazing position. There's no doubt that financially we can make an incredible contribution. The money we have compared to the money in the third world is just extraordinary and we have an obligation as wealthy and talented people to contribute," he said.
"Beyond that, I would encourage everybody to do a project that takes them on the ground, meeting the people and really seeing where their money, time and effort, and their love and enthusiasm is going. It's an entirely different experience."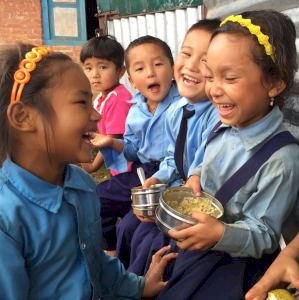 Images of Andrew Flannery's trip to Nepal, provided by DibbsBarker.