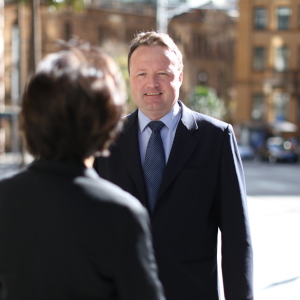 It could be only a matter of time before your law firm faces a crisis that severely damages its reputation. 'Has your partnership prepared a crisis communications plan to respond quickly and appropriately in the court of public opinion?' asks Jeremy Kirk.
What could go wrong?
A cyber attack is inevitable for many Australian businesses, with the amount of attacks doubling in the past 12 months. The hackers are highly skilled, and adept at keeping ahead of cyber police. They use new techniques that are becoming increasingly difficult to defend against.
Hackers can use malware to slow your practice's computers, and then try to sell you a product to speed them up again. They also use ransomware to lock your computers and charge you to unlock them. Denial-of-service attacks can overwhelm servers, making them easier to enter. Staff members can also unwittingly import a virus into your computer network that compromises security. Any one of these can leave a law firm unable to service clients and endanger confidential client data, as well as the firm's reputation.
What about non-cyber threats?
The list is long, starting with malpractice allegations, employees stealing client money and allegations of sexual harassment or worse against partners or employees. The loss of a large client can lead to fears of instability and fuel rumours in the media. Staff leaving can also spark speculation, especially the departure of high-profile partners.
Is your law firm ready?
Reputation is key to sustaining relationships and building success. Preparation is essential, as it enables you to respond in a way that supports your strengths as an organisation. Try asking these questions: is your firm prepared to fight to maintain its reputation when confronted by the fallout from unanticipated negative events? Has your senior partners team discussed the risks the firm faces and agreed how to prepare? Has your law firm developed a media strategy, created a rapid response decision-making team and identified and trained the appropriate spokespeople?
Have you considered how you will get your message out to key audiences like your employees, clients, suppliers, and those you depend on for continued success? Do you have the resources and expertise to manage an evolving challenge to your reputation that may go on for weeks and possibly months?
Step one – establish a strong reputation
Your first line of defence is to have what some have described as a 'goodwill bank' with stakeholders, including the media.
Building public goodwill towards the firm will better prepare it for any adversity. It will cushion criticism and encourage stakeholders to give the firm the benefit of the doubt.
'Deposits' into the goodwill bank include building awareness of your values, integrity, and the dynamics of your business, taking advantage of opportunities for positive media stories, and doing pro bono work for deserving local community groups.
The goodwill bank is not a perfect analogy; as Warren Buffett famously said, it takes 20 years to build a reputation and five minutes to ruin it.
Step two – create a crisis communications plan
All law firms should have a comprehensive crisis management plan in place long before any crisis. A crisis communications plan is like a good insurance policy. You hope you never have to use it, but if it is needed, it provides the protection required.
To develop a plan your law firm should:
• Identify the top five or more issues or events that would create the most damaging internal or external crises for your firm.
• Identify the firm's stakeholders and target audiences that need to be considered and addressed in each situation.
• Prepare a communication strategy and plan for each audience.
• Draft key messages and media statements for each scenario and compile these in a crisis communications manual, including procedures.
• Agree on communication protocols, including a sign-off procedure, so only the selected spokespeople speak to journalists, ensuring consistency of message.
• Confirm social media capability and that the firm is equipped to quickly monitor and respond to negative commentary.
• Arrange occasional crisis simulations to test the firm's ability to respond adequately.
Step three – be ready to respond quickly
The keys to managing in a crisis situation are to respond quickly, never speculate, and to express empathy for those affected.
The media over-emphasises conflict and adversity and at the same time demands short, pithy and timely responses.
To meet media needs and avoid being criticised, misquoted or misrepresented, lawyers have to fight the tendency to make over-cautious 'no comment' responses, or to over-communicate with too much detail.
Responding appropriately in a crisis situation is often about rapid response, using clear, carefully crafted messages that meet media needs and resonate with audiences. These do not involve admissions or statements of blame or guilt.
Jeremy Kirk is an account director at Financial and Corporate Relations, a leader in crisis communication management in Australia.