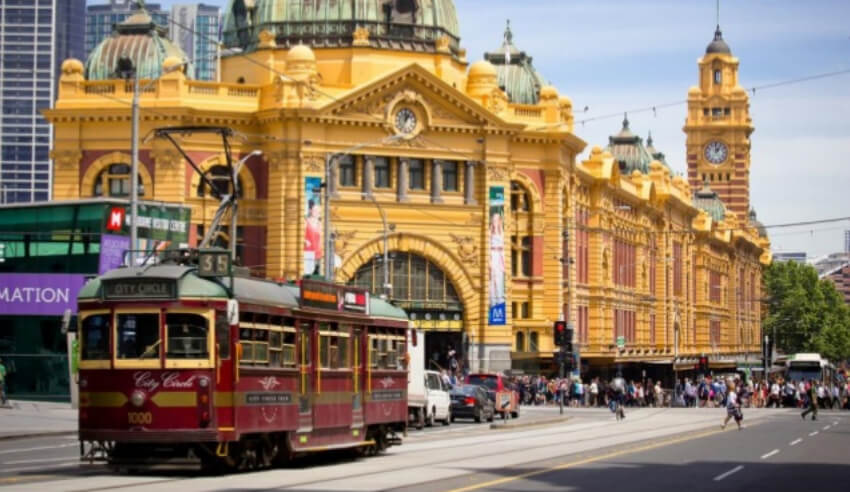 A Melbourne lawyer has been barred from applying for a legal practising certificate for 18 months, after a tribunal found him guilty of three counts of professional misconduct.
Paul James will have to wait until September 2018 before he can obtain a legal practicing certificate, but not before he also has also completed five units of continuing professional development.
The sanctions, including an order to pay costs in excess of $25,000, follow a finding in December last year that the solicitor, acting as principal for Paul L. James Criminal Lawyer Pty Ltd, had engaged in professional misconduct between 2009 and 2010.
The charges related to three separate matters, including an occasion when on the morning of a client's trial, Mr James threatened to sue him.
The tribunal found that Mr James' behavior towards his client, Mr Schembri, were "quite unseemly", and undermined the reputation of the legal profession.
Between May and October 2013, the tribunal heard that the client and his wife regularly could not reach Mr James by phone or email.
A number of exchanges between the lawyer and a barrister for the matter, Mr Fitzpatrick, also suggested that Mr James' relationship with counsel was at times unprofessional.
Ultimately, Mr James withdrew from the criminal defence matter however held up the process to have Mr Schembri's case transferred to another solicitor.
When counsel Mr Fitzpatrick emailed the client's wife in late October of 2010, advising her that because Mr James had not sent across money held in trust for the new solicitor's fees the new lawyer would have to pull out from representing her husband, she tried again to contact Mr James. Her call and email to Mr James received no response.
Unable to reach Mr James, Mrs Schembri acted on the advice of Victoria Legal Aid, calling the police and asked them to do a welfare check on the lawyer.
The disciplinary hearing looked at Mr James' strong reaction to Mrs Schembri following a police visit to his home.
"By email dated 29 October 2010 to Mrs Schembri, the respondent (Mr James) said that the police had visited him and demanded to know how she obtained his address, threatened to make a complaint to the privacy commissioner and retained the right to sue her," the tribunal decision read.
A part of Mr James' email to Mrs Schemrbis read:
If you do not disclose who provided you with my private details, I shall make a formal complaint to the privacy commission and I retain the right to take legal action against you or whoever made the disclosure.
In that email Mr James also told the Schembris that he would charge them for all communications and correspondence since he had withdrawn from the case, and that he had transferred yesterday all of the funds required by the new defence solicitor Mr Fitzpatrick.
"This threat was clearly made in anger by Mr James in his email of 29 October 2010 to Mrs Schembri, after police attended at his private residence for a welfare check that day," the tribunal decision said.
The solicitor then sent another email to Mr Schembris on the morning of 8 November, indicating that he would instruct his own lawyers to commence legal proceedings against Mr Schembri first thing the following Monday. Mr Schembri was not served with any summons. Mr Schembri's criminal trial proceeded that day without Mr James' involvement.
"It is clear from the evidence of the circumstances as a whole that Mr James' threat was made in anger, and was an attempt to intimidate his former clients. Nor was it momentary. Mr James persisted with the threat on 8 November, despite having had nine days to reflect since his initial intemperate email," the decision read.
Mr James, who was admitted as a solicitor in Victoria in 2001, was not present during his disciplinary hearing last October and also did not participate in the Legal Services Commissioner's investigation and prosecution process. The tribunal's decision indicates that a health condition prevented the lawyer from being involved in the audit process.
Remarking again on Mr James' threat to sue his client, the tribunal acknowledged that his health condition may have had had some role to play in his behavior. However, the decision also noted there was scant information available to make an assessment on that point.
Last month the Victorian Civil and Administrative Tribunal decided on the penalties Mr James should face, finding that he had fallen short of the standard of competence and diligence reasonably expected of a competent lawyer.
The penalties also related to misconduct findings with respect to two other matters that Mr James had carriage of; in one instance where the lawyer took three months to advise an imprisoned client whether he had grounds to appeal; and another case where he demanded and accepted a $660 fee from a client who had been granted legal aid.
"In the light of the numerous breaches of his professional and ethical obligations, for the sake of the protection of the public, it is appropriate that he undertake additional CPD in relation to practice management and trust accounting, and that he be required to practise for three years subject to supervision before being able to hold a principal practising certificate or to handle trust monies," the tribunal found.
Mr James was also ordered to pay the VLSC's costs for the sum of $26,824.07.
According to the solicitor's LinkedIn profile, he ceased his position as owner and principal of Paul L. James Criminal Lawyer Pty Ltd in 2010, and now owns a Greensborough business by the name of Wriggly Reptile Encounters.