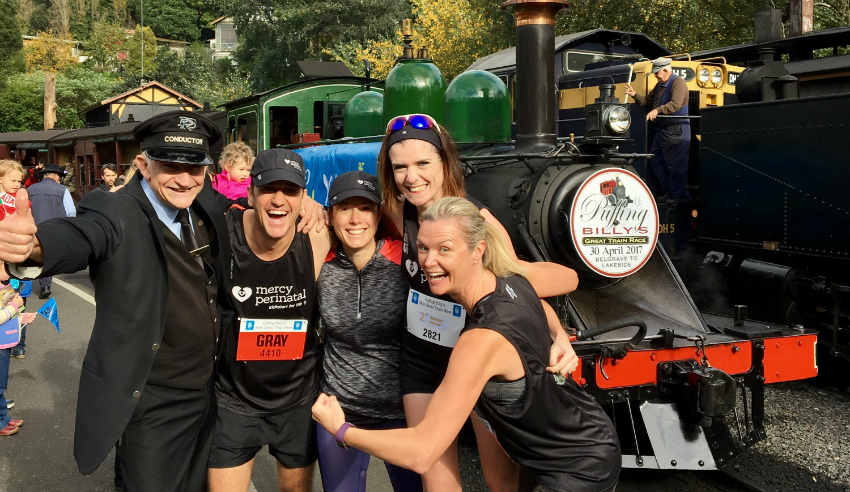 A Melbourne lawyer is running to raise money to help research for the prevention of stillbirth and premature birth.
Alexandra Tighe has committed to running five races in memory of her son, who was stillborn five years ago.
"Five years ago we lost our son Jack to stillbirth," Ms Tighe said.  
"In memory of my son, I have created a team 'The Full Termers' and I will be running in five events throughout 2017, one to symbolise each year that has passed since Jack's life was lost."
The litigation lawyer, who is a senior associate at Holding Redlich, raised $7,000 from her first race. Ms Tighe took on a steep hill in the running event and beat a steam train to reach the top.
She was joined by the firm's managing partner in Melbourne, Howard Rapke – for some of the way at least.
"As a firm, Holding Redlich is pleased to support Alex and her fundraising efforts for a worthy cause," Mr Rapke said.
The money raised by The Full Termers will go to the Mercy Perinatal team led by Professor Sue Walker. The Victorian research group is looking into ways to prevent premature and stillbirth.
Ms Tighe said it was her wish that the money can help other families bring their babies home.
"Often, as was the case for us, there is no reason for the baby to have been lost, and families are left without answers which only compounds the loss," Ms Tighe said.
"Mercy Perinatal is a joint collaboration established by the Mercy Hospital and the University of Melbourne, with its sole focus on research and helping mothers to bring their babies safely home.
"Already the team has made important discoveries, such as a potential blood test to detect babies at risk of stillbirth and a potential treatment for pre-eclampsia, which is currently being tested in clinical trials," she said.
The fast-paced lawyer, whose feats can be followed on Instagram via @therunnymummy, has participated in the Mother's Day Classic, and more Holding Redlich colleagues are set to join her on her next three runs.
Forthcoming runs will take place in Melbourne in July, then a half marathon in the Melbourne Marathon in October, and lastly the picturesque City2Sea from Melbourne's CBD to St Kilda.
"Our baby Jack never got to live his life, but he can make a difference by helping to make stillbirth history," Ms Tighe said.