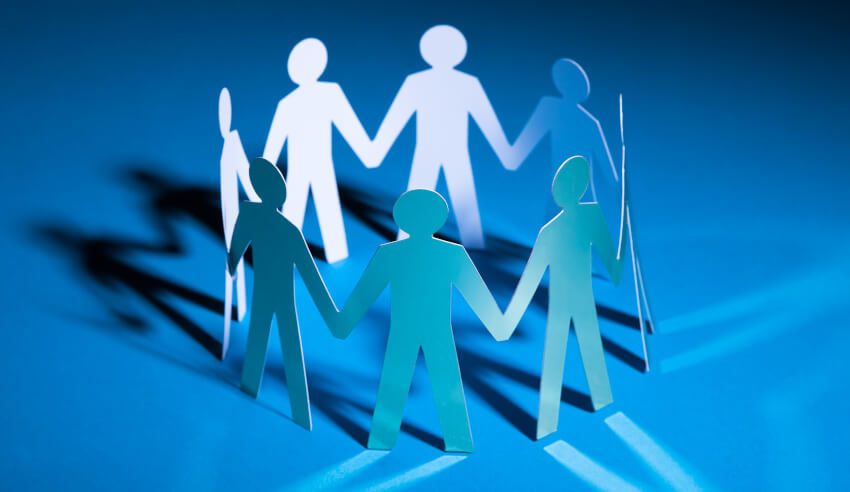 There are numerous avenues that individuals and institutions can take when promoting diversity in the workplace, writes Natalia Kamusinski. 
Hasn't 2018 started with a bang! Only four months in and Australians can boast to have witnessed significant steps towards the diversification of our nation.
Two that come to mind as relevant to the legal industry are the legalisation of same-sex marriage, and the appointment of the Honourable Judge Nathan Jarro as Queensland's first indigenous judge.
Having attained such achievements, one struggles to argue in favour of a taboo over discourse about diversity and inclusion.
This normalisation of difference does not necessarily mean we get to sit back and relax into the status quo.
Conversely, I argue that the celebration and acceptance of diversity in its widest sense (of culture, religion, gender, disability) continues to be relevant in Australia and for the legal industry, and that young lawyers have a large role to play in propelling this upward journey towards a truly inclusive Australian legal profession.
It was suggested by Arwa Mahdawi that 'Diversity is the new Darwinism – the world is changing whether we like it or not, and companies have to evolve or go extinct'.
I've come to see that law firms that are taking inclusion seriously typically also have well-structured longevity agendas.
Why is inclusion important? The Solicitors Regulation Authority in the UK reported that law firms that increase acceptance of diversity in the legal workforce see benefits such as: attracting the best legal minds, increasing employee retention, and increasing profit margins by attracting wealthy corporate clientele.
The steps that law firms can take in terms of recognising inclusion can be as simple as incentivising their employees to watch the new Marvel blockbuster 'Black Panther', or as intricate as the steps taken by Australian law firm Maddocks.
Maddocks employs external agents to come into their organisation, rate their diversity and provide tips for improvement. Some of the strategies employed by the firm include promoting Wear it Purple Day on 25 August, to show support to the LGBIT community, and placing 'Homophobic free zone' signs around the office.
Interestingly, looking across the globe, some of the most assertive calls for diversity in law firms had come from corporate clients. A clear example is Microsoft's bonus scheme whereby external law firms can gain a 2 per cent bonus on the law firm's previous year's fee if they reach a target percentage increase in the gender and racial diversity of lawyers.
Evidently, our workplaces are evolving and diversity is on the rise. It is my opinion that young lawyers are in the perfect position to ensure the wheels of this evolution keep turning.
Recently, 21 March 2018 also known as "World Harmony Day" came and went without much fuss in my workplace. The only difference was the sudden appearance of 'Harmony Day' posters depicting the 'circle of coloured hands' in interesting places, such as on the elevator door and the wall of the ladies' bathroom.
Does this mean Harmony Day is defunct? I struggle to accept this sentiment – especially if we define diversity in its broadest sense.
Can we say diversity in every sense – racial, gender, sexual identity, disability, faith and belief systems – is represented in our legal workplaces? If it is, is it truly accepted? I am not so sure, considering the fact the Aboriginal and Torres Straight Islander culture is one of the oldest continuing cultures in the world and Queensland has only just appointed his Honour Judge Jarro to the government's judicial arm.
So, this is where The Junior Lawyers Army can step up. Within the broader legal profession, it appears diversity acceptance is increasing.
Conversely, it seems to me that the diversity acceptance is something taken for granted by the average young legal professional. Lawyers on the younger side of 35 have grown up with diversity as the norm; they've been exposed to this in their communities, or at the very least in their generally culturally diverse universities.
Youths in the legal industry are well posed to pass on these inclusive sentiments to their generally less exposed senior colleagues. That means that young lawyers can take on a new significant role in promoting inclusivity awareness through events such as Harmony Day.
For once, they could employ our 'Millennial' skills in a way that is likely to impress, rather than annoy, the senior generations. Our older colleagues may tune out at the suggestion that the law firm could benefit from the latest efficiency-increasing program. However, it wouldn't surprise me if ears pricked up when one casually mentioned that corporate diversification schemes lead to profit increase and the viability of law firms.
All in all, I see no harm in delicately raising the topic of diversity – no need to 'Bang' on about it – a 'Bing' is often enough.
If by chance you are in the small minority of legal professionals in a predominately white, male, conservative legal practice, why not recommend a trip to the local cinema and marvel at the racial discourse raised in 'Black Panther'.
Or perhaps at the next work drinks, have a good ol' yarn about the impact of the same-sex marriage legislation or the appointment of Judge Jarro on the future of the legal industry. Either will surely be eye-opening.
Natalia Kamusinski is a young lawyer from Brisbane, QLD.