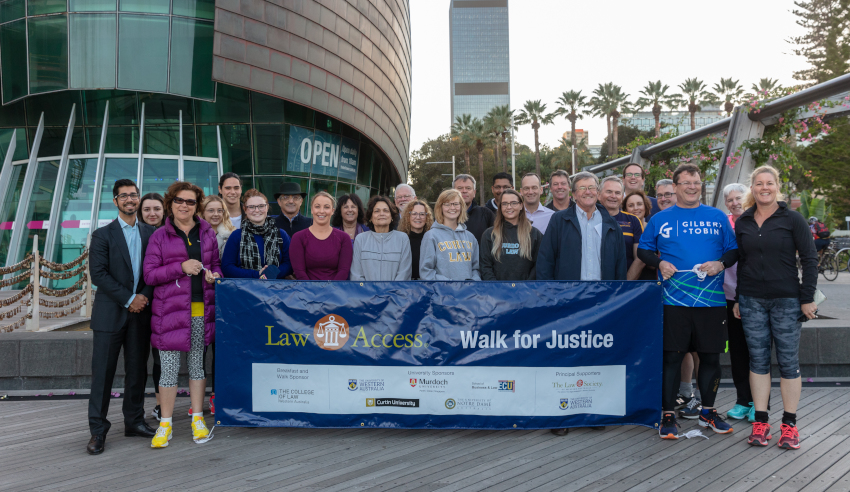 Over 500 of Western Australia's legal community will gather together as part of a pro bono initiative dubbed the Walk for Justice.
The Walk brings together distinguished event ambassadors including Chief Justice Wayne Martin AC, Justice Stephen Thackray Chief Judge of the Family Court of Western Australia, Justice Richard O'Brien of the Family Court of Western Australia and Chief Judge Kevin Sleight of the District Court of Western Australia.
Other event ambassadors have been named as Honourable Jennifer Smith, acting president of the Western Australian Industrial Relations Commission; Hayley Cormann, president of the Law Society of WA; Michael Berry SC president of the Family Lawyers' Association of WA; Karen Shepherd, vice president of the Criminal Lawyers Association of WA; Carrie Hannington, chairperson of Community Legal Centres' Association of WA; Dennis Eggington, CEO of Aboriginal Legal Service of WA; and Corina Martin, CEO of the Aboriginal Family Law Service of WA.
The Walk falls in line with this week's National Law Week and comes as part of National Pro Bono Day.
"Demand outstrips current funding for Legal Aid, the Aboriginal Legal Service and community legal centre services," Law Access chairperson Adam Ebell said.
"The result is that Western Australians with meritorious cases who miss out on legal assistance must turn to pro bono lawyers, through the state's pro bono clearing house, Law Access."
Mr Ebell noted that Law Access assists some of the most vulnerable people in WA, who would otherwise be unable to obtain legal assistance.
"We receive requests for assistance from all over the state, and in all areas of the law, and match those who will most benefit from legal assistance, with lawyers willing to provide pro bono assistance. Law Access allows scarce pro bono resources to be utilised in the most effective way possible, benefiting both applicants and the profession," he added.
"Our vision is Equal Access to Justice. This can only be achieved through team effort.
"National Pro Bono Day is an opportunity to shine a light on the justice gap and to celebrate the efforts of the Western Australian pro bono community to bridge this gap."