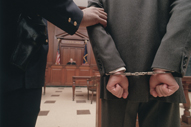 If there's one thing you obviously learn when prosecuting fraud cases, it's fraud – and how to do it really, really well.
That is certainly the case with British barrister David Friesner anyway.
The Lawyer reports that Friesner, who has been specialising in prosecuting fraud and money laundering cases for the last 14 years or so, is facing jail time after fessing up to the theft of a cool £81,500 ($120,000) from his own chambers.
Friesner appeared at Leeds Crown Court earlier this month and was told by the judge it's likely he'll face some significant prison time.
Friesner was a successful barrister at 9 St John Street Chambers before leaving in disgrace in 2009 following allegations of serious fraud. He admitted to siphoning money between 1 October 2008 and 25 November 2009.
However, he denied allegations of stealing £13,453.75 ($19,879.35) from the Crown Prosecution Service.
Friesner had built up a fearsome reputation as a successful prosecutor of fraud cases across the North of England and had even acted on the prosecution of former solicitor and general scoundrel Thomas McGoldrick who, in 2008, was sent away for 10 years for stealing over a million quid from a disabled client.
Friesner was granted unconditional bail ahead of his hearing on 10 February.