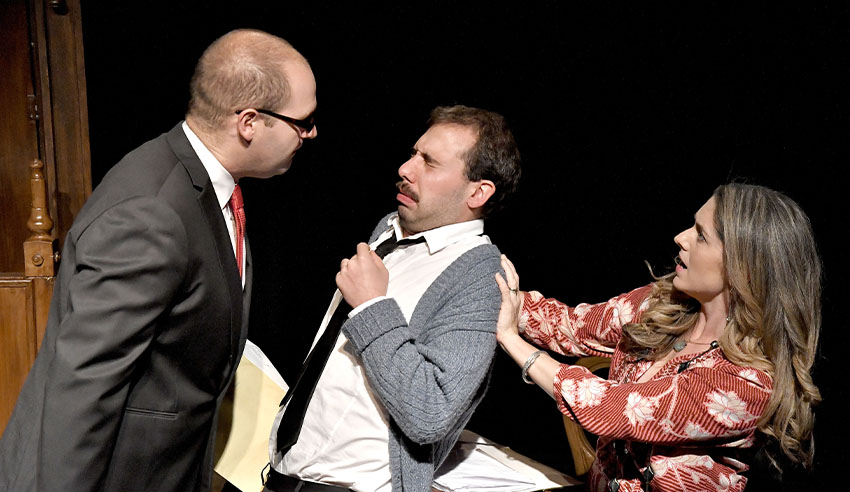 Last Friday night, Lawyers Weekly attended the 10th anniversary opening of Bondi Legal, a comedy about an anxiety-prone lawyer who is unexpectedly thrust into a case against a chemical company.
Written by Tony Laumberg, a solicitor based in Sydney's eastern suburbs, the play centres on a real-life case he once had in which he handled a matter "on spec", in which he had to represent a woman suing a chemical company because her daughter's show pony's hair and mane fell out as a result of using the company's shampoo.
Brad Pitt – the protagonist who is bumbling, anxiety-prone and completely lacking in self-confidence – has no choice but to face up not to his fears, but also an unforgiving magistrate and an opposing counsel "who resembles a Rottweiler".
The play is short at just 75 minutes but uses its time well to tick all the necessary idiosyncratic boxes about the legal profession, with many of the cultural and professional quirks still as relevant today as they were 10 years ago.
The character of Mr Pitt is an especially interesting case study in that he embodies the self-consciousness that plagues so many practitioners, but when he is transformed into a new version of himself (by virtue of his client hypnotising him to think he is the best litigator in the world), he becomes arrogant, combative and wildly self-assured – thereby also touching on the stereotypes that non-lawyers have about the profession.
In the #MeToo era, Pitt's overtly sexual references to the female magistrate also take on a new meaning, with the legal profession currently facing scrutiny – including from this publication – over its sometimes archaic cultural practices. In such a time, Mr Pitt's innuendo with the magistrate are more creepy than funny.
That said, Bondi Legal is a hugely fun outing which lawyers across the board will be able to appreciate, both for its absurdity but also for what it says about the nature of the legal profession. Some of its best lines came from its subtle touches on what is means to be in legal practice, such as "I'm not interested in inner peace, I'm a lawyer" and repeated instances of "I'm speechless, your honour, unable to summon even the basic form of communication".
Bondi Legal is running until the end of October at Bondi Pavillion in Sydney's east.