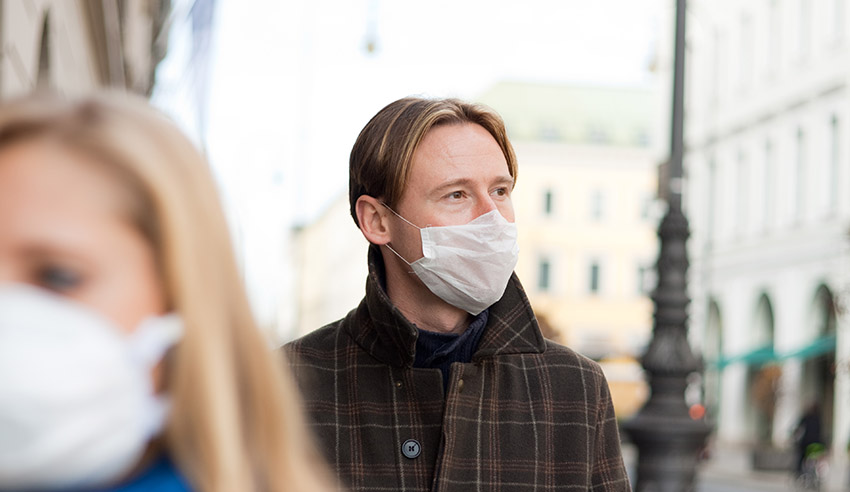 Are Australians so fed up with restrictions that they are willing to pay $1 million in costs to see it before the High Court? One small, controversial Sydney firm wants to find out at the expense of its Facebook supporters, all in spite of a heated health debate.
Small firm G&B Lawyers recently found itself in headlines over a Facebook post asking that Melbourne residents defy mandatory mask orders and rather than lay low, the firm has ramped up the controversy with several GoFundMe campaigns. 
G&B Lawyers partner Nathan Buckley was asked to remove the post by the NSW Law Society and clarify his advice was strictly a personal political belief and not to be taken as legal advice from the firm. He has now turned to asking his supporters – all of whom seem to be very congratulatory in comments – for $200,000 to $10 million. 
The money is intended for a High Court challenge against the country's lockdowns, an open invitation to plaintiffs to fight against a South Australia "No Jab No Play" initiative and proposed legislation for flu vaccines which he says are "draconian and unlawful". 
In the GoFundMe campaign making its rounds in the media most recently, Mr Buckley has asked supporters to fork over $1 million to "end the lockdown laws and reopen borders of all the states and territories" as it was time to "engage in civil disobedience". 
"Leave your house. Go to work. Earn a living. Feed your families. Tell the government that enough is enough," Mr Buckley wrote in the campaign. "Reopen Australia."
He argued the lockdown is a breach of Australian's fundamental freedoms "enshrined within the Commonwealth of Australia Constitution Act", which he said is still enforced under pandemic conditions. This comes despite a major spike in coronavirus cases. 
In updates under the GoFundMe campaign, Mr Buckley told supporters he was dealing with "trolls" from a Facebook page for legal mothers and then recommended that they get in touch with the page and with the Law Society of NSW to voice "your views and opinions about their approach to oppression and protecting rights and freedoms". 
In another campaign, Mr Buckley is seeking $200,000 to fund a legal challenge against the South Australia government for legislation requesting children have received their vaccinations before enrolling in any early childcare service, including kindergarten. 
He said the laws "discriminate against children" and the legislation will create financial, social and development issues to those who are unable to access the services. He has asked affected families to be plaintiffs in the proceeding and assured them that they will have a cover under the $200,000 – fully paid for by his supporters. 
Finally, another campaign has requested $10 million to target a government legislation compelling people to get flu vaccinations. He said if this challenge – like the others – did not receive enough money, he will donate the money to charity. However, there is an exception with the SA campaign, which he said will go completely towards the fight. 
"Like all Australians, I will forever be grateful to all contributors who free Australia from the draconian and unlawful laws that were introduced by state and [Commonwealth] Parliaments in recent months," Mr Buckley wrote on the campaign page.
In a separate comment, he reminded his supporters to "take a stand" and "fight for the people who get fired" for not wearing a mask, adding that the Victorian government is a "muppet of the Chinese Communist Party". 
Supporting 'pandemic deniers' but not reported facts
The firm made a brief return to the mask order controversy when Mr Buckley attempted to call out The Project host Lisa Wilkinson for slamming a "pandemic denier" who told staff at a Melbourne Bunnings that she was legally entitled to not wear a mask. 
"Bunnings is breaking the law," G&B Lawyers – assumedly posted by Mr Buckley, who has since been running the page – argued, posting a link to an article on the program's segment. "Don't give fake legal advice Lisa. You are not a lawyer."
In a now-viral video, a woman entered a Bunnings store without wearing a mask – as enforced under the conditions of entry. When she was asked to put one on, she acted out at staff, saying it was an "unlawful condition of entry" that exposed them to "being sued for discrimination because it is in breach of the 1948 Charter of Human Rights". 
The "pandemic denier" – as referred to in media reports – then accused the Bunnings staff of discriminating against her based on her being a woman. 
"Here are the actual facts. Australian law says that private [landowners] and occupiers can take reasonable steps to protect themselves, their employees and people on their property," said Ms Wilkinson. "It would be legal for businesses, that [include] cafes and supermarkets, to make it a condition of entry that customers wear a mask.
"End of story," she finished. "They have every right."
In the Facebook post, G&B Lawyers told Ms Wilkinson to "familiarise herself" with two sections in the Disability Discrimination Act – assumedly due to the pandemic denier's accusation that she was being discriminated against based on her gender. 
The sections to which he is referring to are "access to premises" and "goods, services, facilities", which read it is unlawful for a person to discriminate against another person on the grounds of the person's disability and it is unlawful for a person who provides goods or service to discriminate against another person on the grounds of disability. 
In a response to a comment under the Facebook post, Mr Buckley said the mask law "is unconstitutional" and any fine is invalid. He then added it is inconsistent under the Disability Discrimination Act 1992, and the two above sections. 
In the case of Bunnings – and retail stores generally – Ms Wilkinson's explanation for the conditions of entry under Australian Consumer Law is widely accepted by experts as factual. Moreover, under Occupational Health and Safety laws, businesses have a responsibility to maintain the safety and health of their staff. 
Under the OHS laws, if a business does not take reasonable measure to ensure all its staff are protected – including mask orders within the store, as clearly shown by lawful conditions of entry displayed clearly in the store – they could be exposed to crimes. 
As for the other common legal concern around the mask order, legal experts shut down arguments that the directions contravene human rights laws.