'Each of us has the ability to change the world for the better'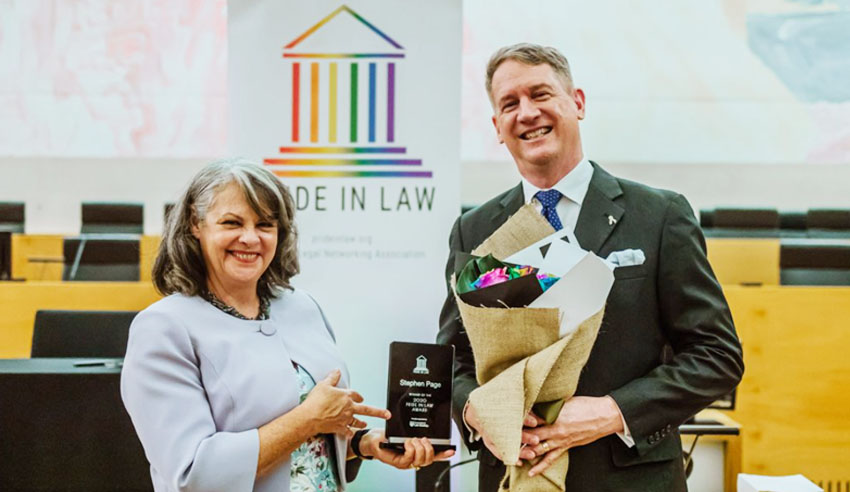 Lawyers pride themselves on fighting for fairness, and although there is still much progress to make in advancing LGBTQI+ rights in the legal profession, we should be proud of what has been accomplished thus far, says Stephen Page.
Two weeks ago, Stephen Page was awarded the inaugural Pride in Law Award by advocacy group Pride in Law, in conjunction with Queensland Law Society.
The award, the group said, "recognises and rewards outstanding contribution and commitment to the practice of LGBTIQ+ inclusion in the legal profession in Queensland".
A career spent fighting for justice
Mr Page "quickly fell into family law" once he was admitted, he recounted, as he felt like it gave him a chance to help people. His first surrogacy case, he said, came over 30 years ago, in 1988.
"I have been fortunate now to have advised in over 1,600 surrogacy journeys for clients throughout Australia and at last count 30 countries overseas. I have been fortunate to have been in ground-breaking cases concerning surrogacy, including the first case in the world as to what was conception, in 2012. In 2012-2013, I led six other people who successfully fought proposed changes to jail gays, lesbians and singles in becoming parents through surrogacy in Queensland," he said.
Presently, he is the principal of family and fertility firm Page Provan in Brisbane, and lectures in law and ethics in reproductive medicine at the UNSW.
Reflecting on his award win, Mr Page said he was "deeply humbled" and felt that it was a recognition of his efforts to further the cause of equality.
"For too long LGBTIQ+ people have been looked down upon. Our fundamental rights have been looked down upon, including our right to marry and our right to have children. Even in the last month, my husband Mitchell and I have received the look of hatred, for daring to be parents. This award is a recognition that LGBTIQ+ equality and advancement should be celebrated," he submitted.
"I hope that young LGBTIQ+ members of the profession are inspired and able to reach for the stars. When I started my career, if anyone had told me that it would have gone like it has, I would have laughed, as it would seem completely implausible."
Lingering hurdles
Thankfully, Mr Page mused, the legal profession in Australia "has come a long way" when it comes to addressing issues and challenges facing LGBTQI+ practitioners and staff, and highlighted the efforts of top-tier firms to have Pride networks.
"For lawyers working in those firms, this is often the first time that they have been able to come out and be themselves. Lawyers working in small firms, or those in the country might feel afraid to come out and be themselves because of a fear that it might be crippling to their prospects," he said.
"Pride in Law gives a voice to those who are voiceless – and enables them to meet other lawyers who also identify as LGBTIQ+. Not feeling alone is the first step in feeling comfortable in being who you are at work."
This all said, one cannot presume that legislative changes automatically result in cultural shifts, Mr Page warned.
"Straight people assume that discrimination is at an end because the law bans discrimination and because the plebiscite showed the will of Australian people towards the rights of LGBTIQ+ people," he said.
"It remains the case that my husband and I have been abused or glared at because of how we are perceived to be while out in public. This most recently happened a couple of weeks ago."
Optimism moving forward
Looking ahead, Mr Page is hopeful about the profession's capacity and motivation to continue advancing diversity and inclusion, noting "change is afoot" and that lawyers pride themselves on fighting for what is fair and just.
"I am an optimist," he proclaimed.
"Before the approval of equal marriage laws, I was asked whether it would ever happen by those who doubted it ever would. I had faith that it would. It took longer than expected and at times was an awful process, that is still resonating with LGBTIQ+ people today who were adversely affected, but it happened," he recalled.
"When the news came through, I was at a conference for LGBTIQ+ advocates in Phnom Penh. I SCREAMED: 'YES!' repeatedly, while punching the air over and over, and jumping high into the air. I got 200 people up on their feet in celebration. We are capable of inspiring others and achieving change."
Bringing about such change will not be easy, Mr Page noted, but said that if we are – for example – able to tackle harassment and bullying in the legal profession, we will also "tackle the root causes" that are holding back progress.
"While we think each of us cannot change the world, the fact is we can. It takes courage, determination and help from others. With all three, and fairness on our side, we are unstoppable," he concluded.
"Each of us has courage within. Each of us has the ability to change the world for the better. Each of us does not have to accept the world as presented to us. Each of us can – and should – use our abilities to make the world one in which human rights are recognised and protected."