'Uniquely suited': Why young sole practitioners will thrive post-pandemic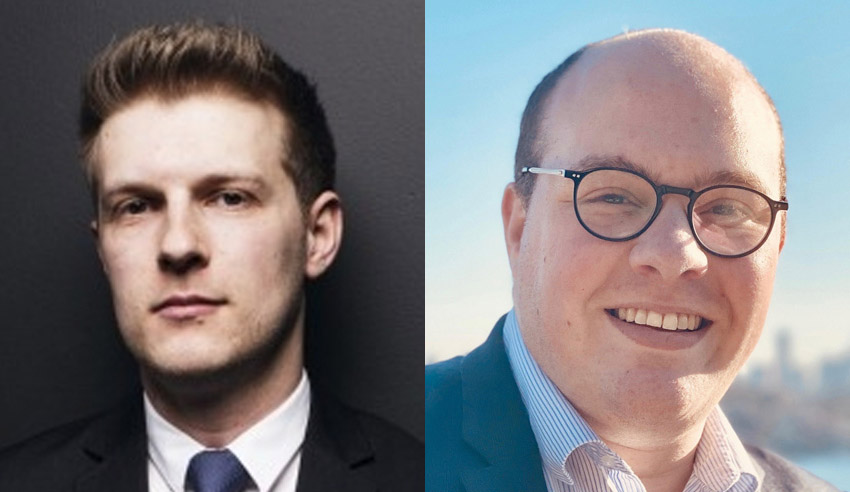 This year has opened a window for emerging leaders in the SME law space to not only carve out expertise in chosen niches, but also build their practices from the ground up in ways that make sense to them, rather than unlearning established habits.
The age of coronavirus, undoubtedly, has myriad personal and professional consequences for lawyers across the country, even before one factors in the health implications either for themselves or those around them.
As many practitioners and businesses have discovered over the course of this year, however, there have been inherent opportunities to leverage as opposed to simply keeping heads above water. For younger sole practitioners, whose generation is – crudely speaking – better accustomed to and adept with technology and new-age ways of working, the looming post-pandemic marketplace can and should be one in which they flourish.
That is the view of Viridian Lawyers principal solicitor Richard Prangell, who told Lawyers Weekly that young sole practitioners are "uniquely suited" to survive the age of coronavirus.
"They're more likely to be technologically prepared, and more able to work from home. Plus, they're less likely to have committed to high overhead obligations like long term leases and office services agreements. If there's a key takeaway to be had, I would suggest that it's 'stay nimble'," he posited.
His perspective is shared by Rod Legal Advisory principal Danny Rod, who said that 2020 opened a window during which emerging SME leaders could truly find their feet and establish themselves in ways that made sense to them.
"In many respects the coronavirus has allowed young sole practitioners to find their own unique areas of practice, their voices, and allowed them to focus on their strengths. In my own practice, clients have appreciated the ability to have a conference via video conference on short notice so it means that they don't have to travel and reorganise their days just to see me," he reflected.
Ensuring one's viability and success moving forward
Taking advantage of the increased flexibility – in its many forms – that the pandemic has "gifted" lawyers, Mr Prangell insisted, is an absolute must for younger sole practitioners.
"Speaking for myself, I've always felt a vague non-specific pressure to spend at least a few days a week 'in the city' to keep up appearances, even when I'd rather be working from somewhere more comfortable. Suddenly, nobody is much concerned with 'appearances', and may never be again," he warned.
Young sole practitioners, Mr Rod said in support, must "absolutely take advantage" by way of engaging in their local community and by participating in the leadership of charities and community organisations.
"With less need to travel and the ability to participate via video conferencing, there is a unique opportunity to work with organisations that need assistance from legally qualified persons. Remote learning also gives practitioners the ability to upskill in new areas of law and in alternative dispute resolution, but also gives practitioners the opportunity to consider studying in non-legal areas," he suggested.
"Lawyers, by virtue of their unique skillset should be leaders in their communities. Younger practitioners must draw upon the experiences of practitioners who have been in the profession for longer, to help shape our society for the better."
Not only this, Mr Rod continued, but personalised legal services and legal technology will also be the key to delivering a sustainable work/life balance that is more authentic.
"I am excited that there are new sole practitioner firms being opened, and that many practitioners are increasingly tailoring their services to better meet the needs of their clients," he mused.
"One would hope that with the changes to the ways that lawyers work, the law and legal process will in turn change to better meet the needs of those who come into contact with the legal system so that outcomes can be achieved in a cost-effective manner, efficiently, and most importantly, justly."
Overcoming looming hurdles
This all said, there certainly remain challenges facing younger sole practitioners, Mr Rod pointed out, including how to market and then scale one's business in the wake of the pandemic. There are, however, certain ways to take advantage of this challenge and find ways to innovate such strategic thinking, he added.
"In 2021, we will be faced with a choice: to return to pre-pandemic ways of practice (which are comfortable and, in many respects, tried and tested), or we can continue to innovate and push ahead with innovation in terms of remote working and the use of cloud technology," he said.
"A big challenge for lawyers working in personal legal services like Estate Planning and Family Law where clients as individuals pay for their legal services as opposed to other areas where lawyers act for companies, will face challenges in terms of cashflow when the economy struggles. This will force practitioners to consider whether using external premises is beneficial, and to consider how they price themselves within the market.
"Ultimately, I believe that being forewarned is to be forearmed, and as long as we are cognisant of these external challenges, we can prepare for them in advance."
A separate challenge facing this cohort, Mr Prangell added, will be maintenance of one's professional relationships: "I think it's basically true that most people like to work with people they like, and the longer practitioners spend in isolation, the harder it is to keep up the professional friendships that drive our work."
Final words
The days of "marble floors and scenic boardrooms" are behind us as a profession, Mr Prangell proclaimed.
"In the new normal, our clients are just as likely to be working from home, or the cafe, as they are from their city office. If they're working from home, they certainly can't be impressed by our office fit out," he said.
What this allows for, Mr Rod outlined, is a mindset in which both practitioner and client can do what will be compatible, in accordance with unique idiosyncrasies, and not feel the need to fit into a preconceived mould.
"What works for you may not work for other practitioners, and conversely what works for others may not work for you. Be brave, be bold, and be ambitious. You have an opportunity to become a role model for other practitioners, and to future practitioners," he encouraged.
"With that comes a responsibility to ensure that you are meeting your professional obligations and to perform at the highest standard of practice. Don't take shortcuts and don't be afraid to say no to clients.
"You've got this!"