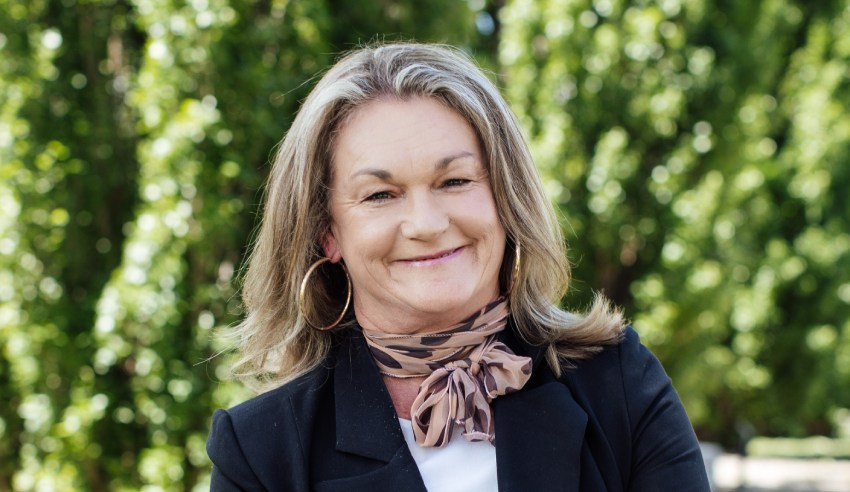 Annie Hales Sievers had a full life ─ a happy marriage, four children, a successful personal training business and enough of a storied past to keep her feeling grateful. But at forty years of age, she knew something had to change, writes Stefanie Costi.
Ms Hales Sievers' career as a personal trainer forced her to work early morning and late evening hours, keeping her away from her young family more than she cared for. On top of that, her body was no longer allowing her to keep up the same pace she was used to on her daily runs.
"My knees evidence this with the noise they make today", Ms Hales Sievers laughed.
So, like any typical 40-year-old married woman with four children would do, Ms Hales Sievers gave up her career and went back to university to study law.
The irregular run from the track to the courtroom
Ms Hales Sievers' professional journey was anything but typical.
"I always loved sport and fitness," Ms Hales Sievers shared.
"In my teenage years, I struggled with some emotional baggage and gained weight in Year 12. I then overate, over-exercised and underrated. It was a difficult time."
As a way to help deal with her struggles, she focused on her studies and completed her masters in sport science at The University of Wollongong while at the same time establishing her personal training business, Fit Living, in 1992. 
"I gradually learned to look after my body and mind whilst studying and personal training [which] allowed me to help other people with their weight, body image and mind issues," Ms Hales Sievers said, smiling.
"I have always liked being able to really help people, and being a personal trainer and family lawyer has been a good vehicle to achieve this."
The long country road
When Ms Hales Sievers was in her mid to late 30s, she moved to Coolah, NSW, to live with her now-husband, Don, a farmer she met at the Tamworth Country Music Festival.
"Being in the country, I went back to casual teaching. It was well-paid and child-friendly hours for my two and four-year-old", she said.
But casual teaching was not a challenge, and Ms Hales Sievers needed more.
Ms Hales Sievers had trained as a physical education teacher straight out of high school. However, she decided against pursuing teaching for a number of reasons. The main one being that the system of promotion at the time prioritised seniority rather than merit. 
A close friend of Ms Hales Sievers was a lawyer with her own firm, and she found this friend truly inspiring.
So, she took a stand.
"I said to my farmer-husband, 'I want to study law, and it's not negotiable'," Ms Hales Sievers explained.
"We had four children by this stage with our baby, Charlie, being six months old."
When asked if she feels that she had begun her journey to become a lawyer too late in her life, Ms Hales Sievers said: "Absolutely not."
"I studied when I had a stable marriage and a very supportive husband. I had a huge and varied life experience behind me, and I honestly do not think you can underestimate how much that helps you in law. I had my family and four young children to do this for, so the effort was worth it."
The highs and lows of a life in law
Ms Hales Sievers is both grateful and hopeful for the career she has and for what is to come. "I am using my teaching, leadership and conflict resolution skills obtained in my pre-law life as a teacher, personal trainer, mother, and wife," she said.
"I am verging on the next stage of my career once I get my ducks in a row, and I am very excited about the future."
She fondly reminisces about being promoted to a senior associate only three years into her career, and most recently being given the role of staffing management at the law firm of which she is a part of. But it is not all sunshine and rainbows. Recognising that highs and lows are inherent in family law work, Ms Hales Sievers shared: "It's people's hearts, children, money, identity, and futures that I am working with."
One of the most difficult times she went through on the job was when a client of hers was tragically killed outside of a local school. Living in a small town, many people in Ms Hales Sievers' life and community were connected to her client and her client's family in some way. They all grieved.
Ms Hales Sievers recalled, "A few days [after the loss of my client], my youngest came home from school and said, 'Mummy, Harry's* mum was killed'." Ms Hales Sievers did not know he knew Harry and said, "Harry who?", to which her son replied, "Harry from my bus line."
"This broke me for a bit", she admitted.
Harry's mum had two children aged five and seven, but Harry was the eldest from a previous relationship. Ms Hales Sievers acted for her client's husband as the stepfather of Harry, all the while doing her best to manage the personal emotions running through her.
While an interim judgment forced Harry to live with his birth father an hour away and tragically split the boys who had lived together as brothers for most of Harry's young life, she helped submit an appeal to bring Harry home.
Mercifully, the judgment was overturned, and Harry was reunited with his brother and stepfather. Ms Hales Sievers recalls, "It was a joy to achieve, and I felt privileged that some of our submissions were put into the appeal judgment. I felt very proud, and it was a happy day for our client."
One of her career lows suddenly became one of her career highs.
A life in law versus life on the running track
The path of a lawyer requires a different mindset, with lives and futures often hanging in the balance. "The emotional burden can be challenging due to the nature of the matters, and of course, the deadlines are serious. I really dislike working weekends and late at night.
"However, we all know that this is the nature of the beast with law," Ms Hales Sievers said.
She appreciates the ability to connect and share opinions and ideas in a way she was never able to do as a personal trainer. "I have trained to be a collaborative lawyer, and I am excited to pursue this type of work with my clients and colleagues."
When asked what she likes most about being a lawyer as opposed to a personal trainer, Ms Hales Sievers' shared, "I had fun as a personal trainer. Having the beach, bush, or the botanical gardens as my office pre-studio was lovely.
"What I like most about being a lawyer is the ability to help our clients with serious issues and the camaraderie I have found with colleagues I work closely and regularly with."
Connection, growth and purpose keep Ms Hales Sievers striving and remind her that she is doing her part to make a difference in the lives of others.
Keeping it human
But while the life of a lawyer can be a rollercoaster at times, with long hours and discipline always a major part of her routine, Ms Hales Sievers insisted that it is important to not take yourself too seriously.
Nobody's perfect. Not even her.
When Ms Hales Sievers began studying law, her children were six months to eight years old. She smiled wickedly and shared, "On weekends, if I needed to, I would lock myself in my room and say, 'don't come knocking unless there is fire or blood!' There was some blood ... but never fire."
Oh, and she's worn her dress inside-out to the office. Twice.
Ms Hales Sievers' eyes twinkled as she laughed, "But who hasn't done that?"
*name has been changed
Stefanie Costi is a junior lawyer and director of Costi Copywriting. Annie Hales Sievers is the director of For Living Mediation.