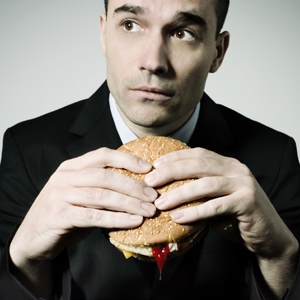 Allen & Overy's London office has been forced to put in place some rules to stop its hard-working lawyers from eating too much at the firm's expense.
According to Rollonfriday, lawyers at A&O have supposedly been taking advantage of the firm's overtime meals policy, causing the firm to impose a few restrictions to curb the night time feeds of its hungry staff.
Previously, A&O lawyers who worked long hours in the evening were able to order anything they felt like from either the firm's restaurant or restaurants outside the office, without the need for cash.
But now, after some lawyers were reportedly stocking up with 15 Mars Bars and five cans of Coke to get them through the week (Folklaw doesn't judge), and others were hanging around the office 'working' to get a free meal that night, the firm has stipulated that all food must now be purchased by staff from the firm's restaurant – and with their own cash.
The change was apparently introduced based on the likelihood that staff will be less inclined to order up big if someone else is watching and signing off their receipts.
The firm has said its lawyers must pay for their food with cash up front and reclaim the money with receipts. Oh, and a £10 ($15) cap has been put in place as well. While this might seem a bit stingy (particularly for those dealing with Sydney food prices), apparently this amount will get A&O's lawyers a three-course meal.
An A&O spokesman told Rollonfriday: "Our overtime meals policy has been in place for eight years now but we have recently changed the claims process. We have a very nice restaurant which serves a wide variety of good quality and healthy food. It's convenient and costs less than it would elsewhere, which is a key consideration when charging those costs back to clients. That said, £10 at our staff restaurant will ensure associates get a three-course meal and drink."
While Folklaw thinks the copious amounts of Mars Bars could be justified given they promise to help lawyers work, rest and play, it is a little concerning that Magic Circle lawyers are going to such measures for a free meal.
Journalists maybe, but lawyers?