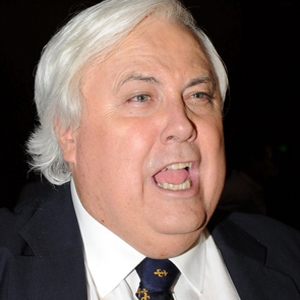 The settlement between the management of the Hyatt resort at Coolum and Clive Palmer provided for some great comedy moments.
As an avid reader of all forms of communication, Folklaw sees some absolute doozies with regard to press releases.
The law firm gushing about its diversity policy after a female partner appointment lifts the firm's female partner ratio above 10 per cent, and the corporate speak involving "key stakeholders" and "synergies", regularly has Folklaw quietly shaking its head in amazement.
However, for sheer historical revisionism, the joint statement put by Hyatt Australia Limited and Coeur de Lion Investments (CDLI) Pty Ltd makes for remarkable reading.
After the bitter dispute between Hyatt management and Clive Palmer (pictured), whose CDLI owns the resort, was settled last week (Palmer attempted to sack the Hyatt management at Coolum in February), Hyatt and CDLI released a joint statement that seemed to indicate that both parties were bosom buddies, rather than adversaries in a heated litigation battle.
In the statement Palmer gushed that the "Hyatt chain has a long and illustrious record of satisfying owners of many resorts worldwide. The excellent standard of service to guests at Coolum stands as a fine example of what the Hyatt group can deliver."
If the service at Coolum was "excellent", Clive, why did you want to sack them?
In corporate speak, there seems to be a "disconnect" between Clive's statements above and previous comments.
In February, the Sunshine Coast Daily reported that Palmer had accused Hyatt management of a financial cover up with regard to the management of its resort at Coolum.
"We believe Hyatt has been syphoning funds over the years back to their headquarters in Chicago and there has been a major cover up of these activities," he said.
Just warming up, the mining billionaire also accused Hyatt management of being more interested in increasing turnover than generating a profit, and that during Hyatt's tenure as the resort's managers, they had accrued "millions of dollars in losses to the owners".
Wow, tell us what you really think Clive!
Those comments do seem a little incongruous with the management having "a long and illustrious record of satisfying owners", which was an apparently heartfelt sentiment he expressed a little over one month later in the settlement agreement.
With Hyatt and big Clive now all lovey-dovey, Palmer is once more free to shed light on the Greens and CIA conspiracy (now that is a strange coupling) to wreck the Australian coal industry, bring down the Government – which dared to introduce a tax on Palmer making billions from extracting stuff from the ground – and launch a new football league competition.