Goodbye job applications, hello dream career
Seize control of your career and design the future you deserve with
Uluru summit delivers clear message to Australian lawmakers
Lawyers and legal academics have weighed in on new calls for constitutional reform to empower Australia's first peoples as part of the nation's next serious step towards Indigenous reconciliation.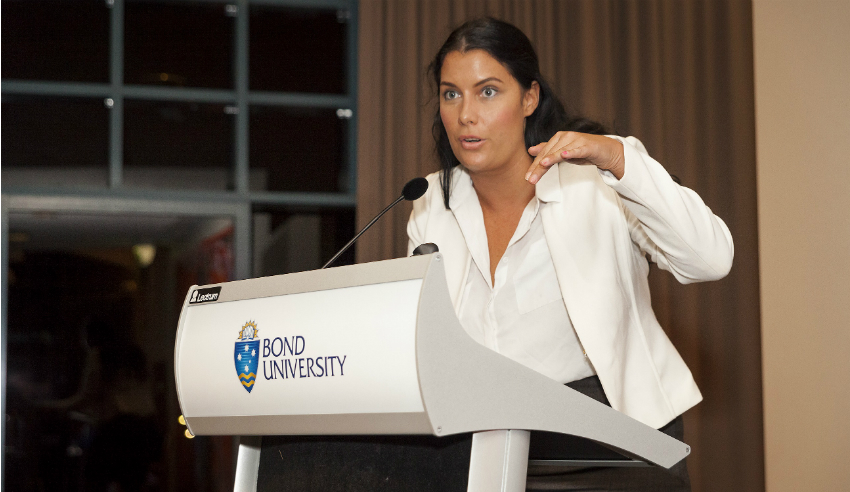 A group of Indigenous Australians have issued a statement following three days of meetings at Uluru last week, with many describing it as a national way forward for serious reconciliation.
You're out of free articles for this month
To continue reading the rest of this article, please log in.
Create free account to get unlimited news articles and more!
Two propositions were expressed in the Statement from the Heart to come from the Uluru National Convention.
The first was a new national consultative body to advise the Australian Parliament on laws that affect Indigenous people.
The second was the establishment of a Makarrata Commission, whose mandate is agreement-making between governments and First Nations, with oversight of a public truth-telling process.
It is expected that the federal Referendum Council will be presented with the Statement of the Heart later this month. A final report from the council to parliament will then determine what becomes of the statement.
Speaking to Lawyers Weekly, Professor Adrienne Stone from the University of Melbourne said she anticipated that the Referendum Council report would add crucial detail for both proposals. However, she also noted that the Uluru statement offered a good outline of what proposed law reform can be expected.
"I think there's a bit of fleshing out to be done about what are the bare bones of the proposal as you see it in the Uluru statement," Professor Stone said.
"We currently have a statement that is something like a consensus among Torres Strait Islander and Aboriginal peoples, but it's in general terms.
VIEW ALL
"The next stage will be for support to come from the Referendum Council, which is the government appointed body under which these dialogues took place," she said.
According to the legal academic, the statement's first proposition, to set up an indigenous consultative body, is the only proposition that will require constitutional change.
"The first proposal for what's called a 'First Nations Voice' to be enshrined in the constitution would entail constitutional amendment," Professor Stone said.
She explained this reform would likely involve the amendment of the constitution to form a representative group. That group would have a mandate to consult parliament on relevant Indigenous matters, and which had scope to give formal advice.
Professor Stone suggested that the consultations between this new body and the Australian government would be given formal status, with feedback tabled before the parliament.
"The proposal is that the body does not have any legally binding powers, no veto, nor will it constrain the parliament legally as a consultative body. We haven't seen precisely what it involved but that's my understanding of the bones of it," she said.
Professor Stone also noted that the body would not act as a third chamber of parliament, sitting alongside the senate, but a strictly consultative body. Other parliaments in Scandanvia have adopted a similar model, she said. 
For the vision of a constitutionally recognised Indigenous consultative body in Australia to be realised a referendum would have to take place.
In order for the referendum to succeed, an alteration bill would have to pass parliament, followed by a majority of Australian people voting 'yes' for the change. Professor Stone suggested this was obvious challenge that the proposals face in Australia's context, given the nation's history of voting against constitutional change.
"We need to have quite a robust and open-minded discussion about these proposals. And ultimately it's only going to be with bi-partisan political support that this will pass.
"Formally and legally, there is the requirement for the parliament to engage and be prepared to pass a bill and then for the people to adopt it by essentially a double majority as a referendum," Professor Stone said.
Indigenous woman Dani Larkin (pictured), who is a PhD candidate in law at the Bond University, remarked that the Uluru statement clearly reflects a new approach to reconciliation by leaders of the ATSIL community. Despite the difficulty of a getting a referendum up in Australia, she said this way of recognising Indigenous rights struck her as being more realistic than past efforts.
"To me, the summit symbolises this reclaiming of collective human rights that have been historically always oppressed with Australian culture and politics," Ms Larkin said.
"The statement from the heart shows that there has been a significant shift, holistically across indigenous leadership in Australia that is aligning more with theoretical conceptions and internationally recognised collective human rights such as 'self-determination' and 'sovereignty'," she said.
Ms Larkin grew up on an Aboriginal mission outside Grafton and has worked in a legal capacity for a number of government agencies including the Australian Federal Police, Department of Public Prosecutions ACT, Australian Taxation Office and the Aboriginal and Torres Strait Islander Legal Service.
The young academic said the "shift" away from focusing on words in the constitution which acknowledged and upheld Indigenous rights to asking how to improve Indigenous political inclusion was cause for hope. Both the Makarrata Commission and consultative body would do this, she said.
However, Ms Larkin noted that more has to be done beyond the scope of the Uluru statement to meaningfully empower Australia's first peoples in the political decision-making process.
"What we need in the first instance is interaction, consultation, consent. We also need a new value, at least from an Indigenous perspective, placed on asking how were are even going to get [a position of political inclusion] in the first place. This statement is just part of that realisation," Ms Larkin said.
"I think both of these proposals are completely important, and they're both symbolic of cultural progression but they are mechanisms.
"What I want to look at is increasing Indigenous voter engagement and federal representation of Indigenous peoples within Australian politics to get that equal decision-making opportunity," she said.
The Referendum Council, whose report on the Uluru statement will guide how parliament approaches this next step, was established with bi-partisan support from Prime Minister Malcolm Turnbull and the opposition leader Bill Shorten.
"The next stage now is for the Referendum Council to lend its voice to the proposal by reporting to government and then I think that at that point it really does have to become a discussion for the Australian people because it is our constitution and we all have to grapple with it," Professor Stone said.
While it as important that a national conversation about the importance of these proposals be had, Professor Stone also stressed the benefit of waiting for more detail. She urged that for the purposes of a meaningful and informed public debate, people should wait for what better sense of how it would all work after the Referendum Council's report.
Professor Stone is the director of the Centre for Comparative Constitutional Studies at Melbourne University. Her current research looks at how constitutions, in their design and in their application, can unify and nurture diversity in complex, modern society.
Commenting on important considerations about what next after the Uluru summit, Professor Stone said that the regional dialogues between ATSIL representatives in the lead up to last week's summit showed the process had been initiated by Australia's first people. Attention should now be turned to bringing the rest of Australia on board, she said.
"I do think at some point it has to become a discussion for all of Australia."
"To my view, I think it's a really quite modest and sensible reform and I hope that if people take the time to find out about it in that light, that they come to the same position," Professor Stone said.
Ms Larkin said if the Uluru propositions are embraced by a double-majority of Australians in a referendum, it would be a sign of long-awaited social progress.
"This is going to be an ongoing struggle because a lot of the loss is generational trauma that has been passed down. But what it does is it reclaims that shift in mentality that we saw in 1967," Ms Larkin said.
"We are seeing a whole new generation come up, myself included, of Indigenous Australians and non-Indigenous Australians that are really grabbing on to concepts of 'cultural identity', 'citizenship rights' and what that really means.
"I think that gives hope for not only a more diversified political setting but an open forum," she said.
Professor Stone pointed to the example of other settled countries, such as New Zealand, Canada and the United States. Australia's lack of constitutional recognition in contrast to the varied ways these other countries have recognised the rights of their first peoples is stark, she said.
New Zealand has established a commission to supervise agreement-making with Maori people; there is an important provision of the Canadian constitution that recognises indigenous rights; and the United States has incorporated its own constitutional measures for its first people.
"What is unusual about Australia is there is nothing of the catalogue of reforms – treaties, agreement-making processes or Indigenous rights having constitutional recognition. We are the only system that hasn't done anything by way of constitutional recognition," she said.
In a statement marking Reconciliation Week #NRW2017, the Law Council of Australia (LCA) called for more meaningful strides towards reconciliation in Australia.
A move closer to true reconciliation is especially appropriate given the anniversaries this year of the 1992 Mabo decision (25 years) and the 1967 Referendum (50 years), LCA President Fiona McLeod SC said.
"The Law Council has long held that the Australian Constitution should formally recognise the distinct identities of the Aboriginal and Torres Strait Islander peoples and secure them equality before the law," Ms McLeod said. 
"The Referendum Council's work in supporting this necessary dialogue has been essential, particularly through the convention at Uluru.
"This is a reform for all Australians, to strengthen the Australian Commonwealth, provide due recognition and respect to the First Australians and bind us all closer in reconciliation," she said.
Ms McLeod added that achieving reconciliation should be considered a national priority of the highest order. She suggested that this progress must also follow efforts to close the gap between Indigenous and non-Indigenous Australians.
"As we reflect on National Reconciliation Week, there remains a critical need to address the widening justice gap. Indigenous incarceration rates are continuing to rise and all governments share responsibility.
"An intergovernmental strategy, along with justice targets, is long overdue," Ms McLeod said.