Goodbye job applications, hello dream career
Seize control of your career and design the future you deserve with
John Howard defends 'No' stance to international audience
Former Australian prime minister John Howard has outlined his position against the legalisation of same-sex marriage at an event hosted by the International Bar Association in Sydney this week.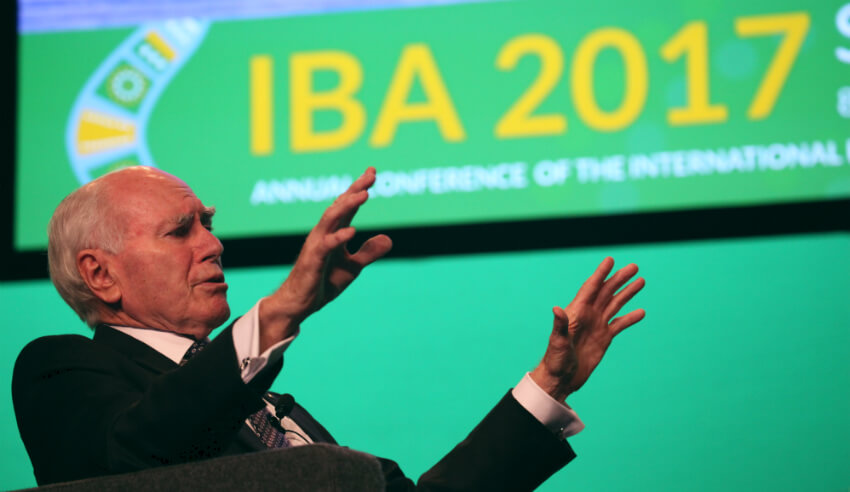 John Howard (pictured) took the stage on Tuesday to share his views on foreign affairs and domestic politics with conference-goers for a major international legal event in Sydney.
You're out of free articles for this month
To continue reading the rest of this article, please log in.
Create free account to get unlimited news articles and more!
In a conversation with International Bar Association (IBA) executive director Dr Mark Ellis, Mr Howard told the audience of mostly foreign delegates that prior to changes to the Marriage Act in 2004 most Australians assumed that the definition of marriage strictly meant a heterosexual union.
"The explanation [for adding the definition of marriage into Australian law] was that most people assumed that a marriage was between a man and a woman – whatever views that people might have of the appropriateness or otherwise of that – and obviously there's a division of opinion," Mr Howard said.
He went on to explain that parliamentary-led reforms to marriage laws in countries such as New Zealand, Britain and Ireland's referendum to legalise same-sex marriage in 2015 did not involve the courts. These examples were preferable to what occurred in the United States, Mr Howard suggested, where "social issues" topics such as gay marriage had been left to rulings in the Supreme Court.
"Changing things like this through court judgments is the worst possible way of changing it," Mr Howard said.
"Having these things determined by courts rather than by legislatures or people is a recipe for the thing never being resolved," he said.
It was right for the issue to be determined in Australia by way of plebiscite, the ex-PM told the audience, given that resolving the question had been mandated by the Australian public in the last federal election.
Mr Howard also dismissed Dr Ellis' suggestion that it was inappropriate to use a postal survey to get citizens to express their views on a matter of fundamental equality under international law.
VIEW ALL
"I don't mean to be disrespectful but it strikes me as almost a bit silly to put out a question to the population on something that I think would be seen as a fundamental human right," Dr Ellis said.
"Why is it necessary to ask this question, why wouldn't you just say it is a basic human right and we need to just support it?"
Mr Howard responded by pointing out that when the government he led moved to embed a definition of marriage in the act, the definition received "strong support" from both sides of Parliament.
He argued that because so many people were of the view that marriage should only be between a man and a woman 13 years ago, it was not far-fetched to expect today that the entire population should have a say on the matter.
"The definition that we put into the [Marriage] Act in 2004 was strongly supported by the opposition Labor Party. It was actually inserted into the law in 2004 by consent of both the major parties," Mr Howard said.
"Something that was in 2004 a bipartisan consensus can't, in my respectful submission, become completely idiotic 13 years later."
When Dr Ellis asked Mr Howard whether he thought the government should take the initiative to support and abide by basic human rights, especially with a view to protecting minorities, Mr Howard contended that it was not "wrong" for a government to consult the public on certain conventions that enjoyed a long social history.
"A lot of people will argue that an institution that has had an understanding and a definition for a millennia of a particular kind, that it's quite legitimate of a government to ask the people whether they want that understanding to change," Mr Howard said.
Mr Howard has been a vocal advocate for the 'No' campaign and has defended his contributions to public discourse on the matter, claiming that he is only raising legitimate questions. Last month he authorised a full-page advertisement for the 'No' side that was published in the Canberra Times.
The former prime minister's views on the issue of same-sex marriage in Australia was featured in a wide-ranging interview, which included other topics.
During the talk, Mr Howard also canvassed the election of US President Donald Trump; Europe's refugee and immigration crisis; the world's shifting economic and military powers; Coalition reforms for national gun control in the 1990s; as well as his position on the necessity of a bill of rights in Australia and an apology to Australia's Indigenous Stolen Generation.
Mr Howard also addressed a question from the audience about the comparatively hard-line national policy towards those seeking asylum in Australia.
The event is one of several talks that has been featured in the IBA Annual Conference Program 2017, taking place at the Sydney International Convention Centre from October 8-13.
Approximately 4,000 delegates who are world leaders in the legal profession are reported to have attended the IBA conference.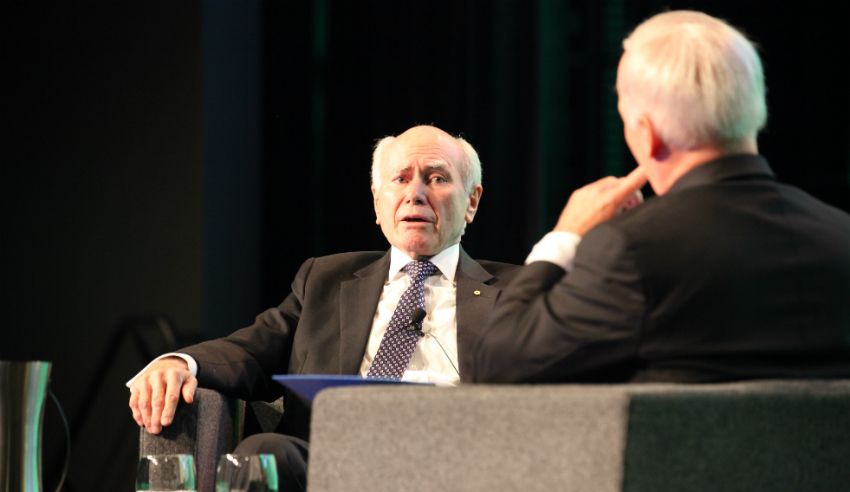 Former Australian prime minister John Howard OM AC in conversation with IBA executive director Dr Mark Ellis on Tuesday. Image courtesy IBA.