Goodbye job applications, hello dream career
Seize control of your career and design the future you deserve with
RCMPI probes ethical standards inspector's Lawyer X liaison
The Royal Commission into the Management of Police Informants has unveiled the darker side of Victoria Police's dealings with underground figures and its own internal issues.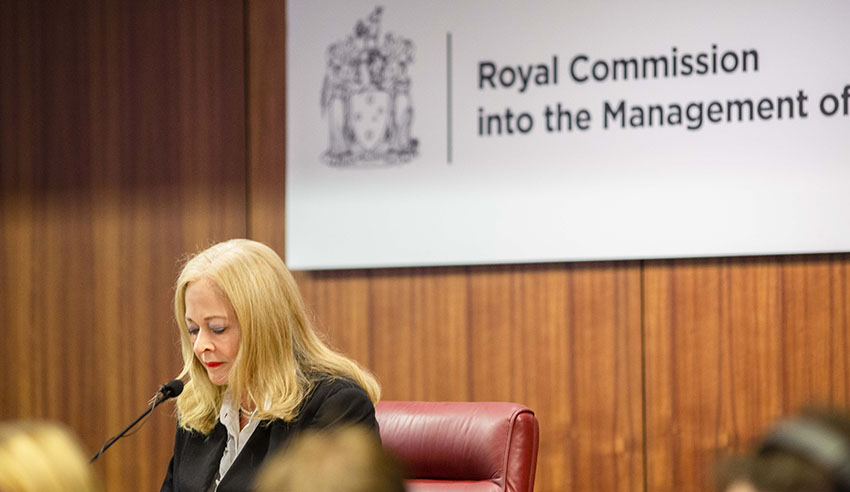 Lawyers Weekly, having live-blogged the public hearings to date, was caught by surprise on Friday afternoon when it was announced that the public parts of Peter De Santo's examination, which were not viewable via livestream on Friday, would be streamed instead on Saturday.
You're out of free articles for this month
To continue reading the rest of this article, please log in.
Create free account to get unlimited news articles and more!
Peter De Santo, a former Detective Inspector of the Ethical Standards Division (ESD) during the focus time period of the second round of hearings, spent the two days on the witness stand, where his four-page statement and 12-page accompanying "schedule of contact with Ms Gobbo [as] recorded in diaries" was unpacked by the commission.
The statement, and accompanying diary entries, shed some light on the Ethical Standards Division's dealings with Ms Gobbo, and highlighted more than 65 instances where Mr De Santo was in contact with the underworld-associated barrister.
It paints a picture of the department's use of Ms Gobbo's clients for information, the disjointedness of the workings of several police departments at the time, as well as feelings of unease by underworld figures about corruption within Victoria Police.
Mr De Santo was involved in Operation Hemi and the Ceja Taskforce during his time at the Ethical Standards Division; however, to the best of his recollection, it was not until 2013 that he said he learnt that Ms Gobbo had been a registered human source.
He explained that shortly after moving to the Victoria Police Crime Command, former assistant commissioner Stephen Fontana told him that Ms Gobbo had been a registered human source in the context of seeking his assistance in relation to "Operation Loricated".
In his statement, Mr De Santo said his earliest memory of contact with Ms Gobbo occurred in 2002, with the contact predominantly relating to "her role as a barrister for accused persons, such as Tony Mokbel".
He also had contact with the barrister in relation to Terrence Hodson, the police informer who was later murdered in his home, who Mr De Santo noted at the time was "being investigated or had been charged in relation a burglary [and] wished to assist police in return for assistance with charges that he was facing".
VIEW ALL
"Mr Hodson went on to provide information to ESD in relation to the alleged involvement of former police officer Paul Dale in the burglary. Mr Dale was subsequently charged in relation to the burglary," the statement said.
Mr De Santo outlined that Ms Gobbo was involved in the discussion about Mr Hodson's provision of assistance, before stating that he was then contacted by Ms Gobbo the night Mr Hodson and his wife were murdered.
"She telephoned me and said that Andrew Hodson believed that his parents had been murdered and she wanted to give my telephone number to solicitor Jim Valos," he explained.
Having told Ms Gobbo that she could give his telephone number directly to Andrew Hodson, Mr De Santo said, "Andrew Hodson then called me and told me that he was at his parents' house and that they had been murdered and that he believed that Mr Dale was involved".
Mr Hodson told Mr De Santo he had called the police, and that he wanted the ethical standards member to attend the house, which the detective inspector obliged, according to his statement.
Mr De Santo's diary entries point to more than 65 instances where he was in contact with the now-infamous barrister Nicola Gobbo during the period from 2002 to 2004.
In early May 2002, he noted that he had spoken to Ms Gobbo "regarding Mokbel and Commonwealth and State matters" and advised her that he wished to interview Mokbel, with Ms Gobbo advising in return that Mokbel wished to speak to him "concern[ing] Mr Mokbel providing assistance to police in seeking a plea deal".
On 17 May of the same year, Mr De Santo said he met with Ms Gobbo and Heliotis at a café.
"During that meeting, Ms Gobbo advises that Strawhorn is continuing to pursue her for private meetings. She spoke to him outside court last week, he pursued the issue in relation to ESD involving Mokbel and McCulloch, he wanted to know what I was pursuing," Mr De Santo's notes from the event read.
In clarifying the meeting, the explanatory notes from Mr De Santo said, "This entry relates to Ms Gobbo informing me that Strawhorn is trying to question her about what information the ESD had, as it had become public knowledge that at the time the ESD was investigating Kayak taskforce members".
A late June conversation in 2002 is also of interest, which, according to Mr De Santo, "records an occasion on which Ms Gobbo called me to convey information about Strawhorn that she thought may be of interest to me …", with a further note clarification that Mr De Santo thinks "Ms Gobbo was making an allegation that $120,000 had been stolen, but I cannot be sure".
On 29 September 2003, Mr De Santo recorded that he had asked Ms Gobbo to ask Andrew Hodson if his father wished to speak to police as part of a plea deal.
The next day, Ms Gobbo informed Mr De Santo that Andrew Hodson "had told her that a member of the police had been meeting with Terry Hodson and that member was not a member of the Kayak Taskforce".
"Ms Gobbo did not disclose the identity of the member," Mr De Santo explained.
On 4 October, Mr De Santo recorded that he had received an incoming call from Terry Hodson via a phone box.
"He stated contact had been made by '3 striper' (Dale): stick together, no need to get into bed with anyone; also advised that the blonde lady (Ms Gobbo) is sleeping with the '3 striper'."
On 21 November 2003, Mr De Santo's diary noted a recording of "Ms Gobbo alleging that Drug Squad members had stolen money and were concerned about getting caught".
A later entry, in January 2004, suggested that Ms Gobbo told Mr De Santo that $500k was stolen in the Miechel job by Dale and another person before the ESD arrived.
"Contaminated scene, criticised ESD?" was also written down, with it noted that it did take seven hours for the department to respond, with the drug squad "in charge initial[ly]".
In April 2004, further discussions were recorded, with Mr De Santo recalling that "Ms Gobbo was acting for Glen Sadler and I was asking whether he would be interested in cooperating".
In May 2004, the information regarding the death of the Hodsons and the information being relayed first by Ms Gobbo, and then by Mr Hodson, was laid out.
Mr De Santo said in his diary that he had asked Senior Constable Dave Kelly to secure the scene as it was an ESD/Homicide investigation.
It was reported over the weekend by the ABC that in response to commission questioning, Mr De Santo told the hearing he was advised not to attend.
The ABC said that he told the hearing that he later found out it was a direction from Overland (an assistant commissioner) who "didn't want corruption investigators there because the media would pick up there was possible police corruption involved".
Mr De Santo was eventually allowed to attend, with his diary indicating he had gone to the Hodson residence.
On 16 July, Mr De Santo wrote that he met with Mokbel and walked to a café while discussing assistance.
"I said that ESD had enough to do an interview and didn't need his assistance," it was noted.
"Claims regarding Parkal and also much higher and will be covered up. Will provide a list of senior police who are corrupt and will discuss plea with Con Heliotis. To provide no time via OPP," Mr De Santo's notes said.
There was also a "mention regarding Nic Radev making enquiries about me. I was on Radev's (hit) list."
Mr De Santo's schedule of diary entries related to Ms Gobbo concluded in September 2004, with mentions that Ms Gobbo was acting for a client known as "Waters" who was now claiming privilege.
The next round of public hearings — focusing on the period from 2003 to 2004 — commences on Tuesday, 14 May 2019. Don't miss a minute with the Lawyers Weekly live blog! 
This email address is being protected from spambots. You need JavaScript enabled to view it.