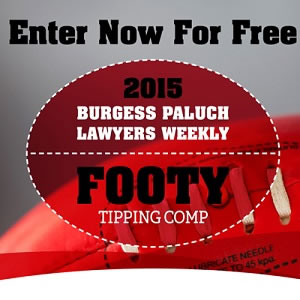 Promoted by:

Put away that brief or deal you're working on. Ignore your supervising partner's work deadlines.
Focus on the important stuff – close your door and study the footy form guide...
Yes it's that time of year. With the AFL season fast approaching, it's time to step up to the plate. Time to put it on the line and with national bragging rights for the best, the stakes are high.
Can Hawthorn be stopped or should their effort against St Kilda be taken with a grain of salt as most pre-season games are? Can Port Adelaide take that next step? Can Sydney recover from their grand final mauling? Will the Kangaroos be thereabouts? Can the Bombers finally click and become a legitimate threat? Will they even field a team? Will the Pies struggle again or is there room for optimism? So many questions...
Of course, you've got options as far tipping competitions go. Created specifically for the Australian legal community, this is one is undoubtedly for you. There's also a financial incentive with over $2.4k in prizes including a weekly bottle of wine or voucher. It's free, easy to register and tips can be done on your phone.
We invite you to get on board the 2015 Burgess Paluch & Lawyers Weekly Footy Tipping Competition.
And go the Blues!
http://www.bplr.com.au/footytipping.html