KWM attracts Bakers M&A man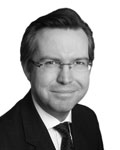 The M&A team at King & Wood Mallesons has hired former Baker & McKenzie private equity heavyweight Mark McNamara to head its private equity practice.
McNamara will join KWM on 6 November.
He will head up a team of around 60 partners and lawyers, working alongside private equity M&A partners Mike Barker, Lee Horan and Jason Watts, together with a banking team led by partners Yuen-Yee Cho and Jeff Clark.
McNamara was most recently the global head of the private equity practice at Bakers and also the head of its Australian corporate markets practice. His area of expertise lies across the full range of M&A transactions for private equity clients – MBOs / LBOs, public takeovers, private M&A and security offerings.
Yuen-Yee Cho said: "I've worked with Mark on a number of transactions and his style and way of working fits perfectly with our approach. He is extremely well respected and has excellent relationships with key private equity players."
Tony O'Malley, KWM managing partner in Australia, said: "The private equity market in Asia is set to grow…we are in a unique position to provide clients with world-class private equity expertise and second-to-none access to the go-to lawyers in this field."