Notre Dame appoints two associate law deans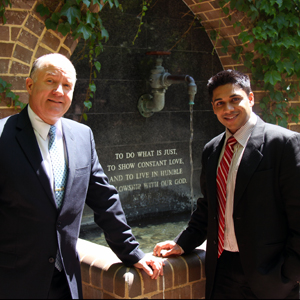 The University of Notre Dame has appointed two new associate deans in its School of Law.
Dr Keith Thompson (pictured on left) and Prasan Ulluwishewa (pictured on right) will both be based at the University's Sydney Campus.
Thompson was a partner at the new Zealand firm Fortune Manning for six years before becoming international legal counsel for The Church of Jesus Christ of Latter-day Saints for the Pacific Area for 18 years. He had the same role in Africa for two years.
Thompson has been a senior lecturer in constitutional law at Notre Dame since July 2012, whilecontinuing to work as a consultant at regional NSW firm Taylor and Whitty. Thompson has expertise in areas ranging from property and commercial law to criminal and human rights law.
Ulluwishewa began his career as a solicitor at King & Wood Mallesons practising in the areas of corporations and competition law. He was also a speechwriter and policy advisor to former NSW premiers Bob Carr and Kristina Keneally and former minister for finance and police Michael Daley.
Ulluwishewa completed a Bachelor of Laws /Bachelor of Commerce at UNSW in 2005. He proceeded to complete his Master in Law at the University of Virginia Law School in 2008. He has been an academic in the School of Law since 2011 and currently lectures in torts, employment law, criminal law and international and comparative law.
Professor Michael Quinlan, dean of the School of Law, commented:
"I am delighted that Keith and Prasan have accepted appointments to these two critical roles and I am really excited to be working with them in their new capacities.
"Keith will have special responsibility for research and scholarship, whilst Prasan will look after student issues and the external relationships of the School of Law, in addition to assisting me in my role as dean.
"I have complete confidence that our graduates will continue to be an asset to the legal community," added Quinlan.