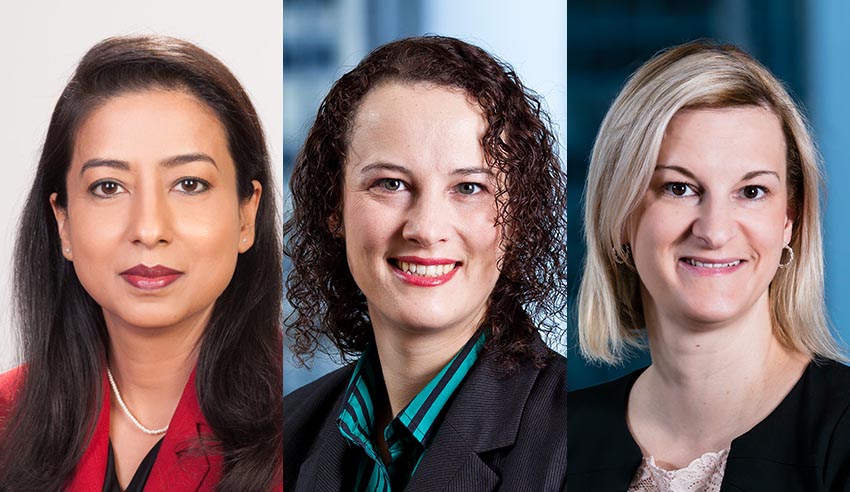 Brisbane law firm Mullins has started 2021 with three internal promotions including one joining the partnership.
Chris Herrald (pictured, centre) has been promoted to partner, with Rachel Coleman (pictured, right) and Veena Jattan (pictured, left) elevated to senior associate. 
The firm celebrated these promotions at their annual Christmas party on 18 December 2020, where managing partner, Curt Schatz, congratulated the three lawyers.
"Each of these lawyers have demonstrated significant growth in their time at Mullins – including over the last 12 months, where they have continued to excel despite the challenges 2020 has presented. We look forward to seeing them further establish themselves as leaders in their relative areas," Mr Schatz said.
Commenting on the appointment of Ms Herrald to partner, Mr Schatz said: "Chris has been a loyal member of the firm for more than 10 years. We are very pleased to welcome her to the partnership."
Ms Herrald has practised in the wills and estates space for over a decade and is highly regarded in her field. The firm said she has demonstrated excellent growth – in her expertise, leadership and overall practice – which has seen her promoted four times since commencing with the firm in 2011. 
Her expertise spans estate planning (wills and testamentary trusts), estate administration (advising executors, administrators and beneficiaries) and contentious and non-contentious estate litigation (family provision applications, solemn form proceedings, interpretation or rectification of wills).
Ms Herrald has served on the STEP Queensland committee for over five years and has been re-elected to serve as the committee chair again in 2021. 
In addition to this, she is also the immediate past deputy chair of the Queensland Law Society's succession law policy committee, having served on that committee for six years.  
Ms Jattan commenced with Mullins in 2019 and is a member of Mullins' commercial disputes and insolvency team. She has been in the legal industry for more than 10 years and has worked in both commercial law firms and as an in-house legal counsel. 
Ms Jattan advises on a wide range of civil, commercial and regulatory matters, from small debt disputes to significant and complex commercial litigation. She also has a particular interest in insolvency.
Ms Coleman is part of Mullins' insurance litigation team and has worked in the area of personal injuries law for more than 10 years. Her areas of expertise include workers' compensation, compulsory third-party and public liability insurance – including defending claims for personal injuries damages on behalf of statutory and self-insurers. 
Having acted for both plaintiffs and defendant insurers throughout her career, the firm said Ms Coleman brings a balanced perspective, along with her expertise and experience.