Podcast: Fintech the way of the future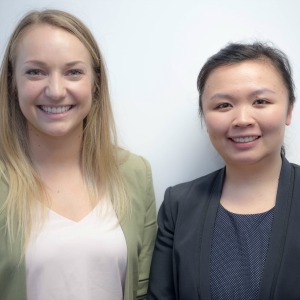 In this episode of The Lawyers Weekly Show we chat with a lawyer from Ashurst who is a driving force behind the firm's involvement with fintech.
Our host, Lawyers Weekly journalist Lara Bullock, is joined by Ashurst lawyer Brandy Tsang, who is an advocate for lawyers deepening their knowledge of fintech.
Ms Tsang's belief that fintech touches many areas of law has led to her involvement in organising internal CLEs and external presentations, up-skilling other lawyers in relation to fintech.
As a young lawyer, Ms Tsang has benefited from a background in public speaking and drama, and even dabbled in stand-up comedy to boost her confidence.
Listen to other episodes of The Lawyers Weekly Show:
Episode 9: Opportunities in the Big Apple
Episode 8: Does in-house live up to its allure?
Episode 7: Brexit getting lawyers home
Episode 6: Drone usage and related legal work reach new heights
Episode 5: Revamping the law firm model
Episode 4: Bringing creativity back to the law
Episode 3: From outback to Martin Place
Episode 2: Is law school teaching enough critical thinking?
Episode 1: Legalising medical marijuana
Podcast transcript
Intro: Welcome to The Lawyers Weekly Podcast for an in depth look at the issues facing the legal profession. This is your host, Lara Bullock.
Lara BullocK: Welcome to The Lawyers Weekly Show. I'm your host, Lara Bullock. Today we have Ashurst lawyer, Brandy Tsang, here to talk to us about Fintech and comedy. Welcome Brandy.
Brandy Tsang: Hi, how are you?
Lara Bullock: Good, thanks. How are you?
Brandy Tsang: Not too bad. I can't see your face. We're doing a stand-up interview at the moment so I can only see part of your head.
Lara Bullock: Likewise. So Brandy, just to get us started, can you tell us a little bit about your studies and your career so far to date?
Brandy Tsang: Yeah. I did a combined law degree program over at the university of New South Wales. I combined law with arts and I majored in politics and international relations. Having completed my program, I then moved on and I completed a graduate program with another law firm here in Sydney. After that, I made the switch and I came over to Ashurst in late 2014. I've been with the Ashurst regulatory team for almost two years now actually. It's been quite enjoyable so far. I'm really enjoying the amount of exposure that I'm getting from different types of matters and working with different people from all of the teams in the firm. It's been a good experience so far.
Lara Bullock: Wonderful. Where exactly did your passion or interest for Fintech come from?
Brandy Tsang: My interest in Fintech started from when I was asked to join a particular matter. That matter involved a partner from our corporate team, Lisa Simmons. We were looking to assist a lending platform that's done quite well for itself over in the US and it was now looking to expand its business here in Australia. My involvement in that matter was looking at pretty much assembling the building blocks for that particular business. Looking into getting the correct licenses in place and having the appropriate authorizations as well for the financial services that it would conduct and certainly peer-to-peer lending platforms or alternative lending platforms, if you'd like to call it that, is something that's been quite exciting in the Fintech realm.
Having completed that one matter and being part of that process, I really found the appeal of helping start-ups and seeing whether or not they take off. I guess my interest started from there and then after that I was being asked to join a few other matters and again, very similar flavor, a lot of Fintech start-ups doing really interesting things in the financial services industry. From that point on, I guess the Fintech initiative took off as well and so the firm was more than happy to have me do a number of CLEs internally and also we're doing a number of external presentations too, which I've also been happily involved in. It's been quite a rewarding experience, for someone who's got quite an interest in that area, to be able to do that as part of their day-to-day role in a law firm, has been fantastic. I'm really fortunate in that sense.
Lara Bullock: Definitely. What are some of the wider trends that lawyers are seeing in the Fintech space at the moment?
Brandy Tsang: I guess in terms of the trends, I read one particular study that my colleague shared with me, but by 2019, it was estimated that banks will have spent close to $400 million on block chain technology.
Lara Bullock: Wow! Incredible.
Brandy Tsang: Yeah. That's just an example of the type of money that's being invested in these new alternative forms of technology. Clients are more and more looking into new ways of using technology to better develop their applications and to service their customers. So as a result, in terms of trends that we're seeing, I think that there's a curiosity or perhaps a particular interest from clients in wanting to do things in a new way. There's also a need to look at what's currently available in the industry and what is acceptable, from a regulatory perspective, because suddenly, if we're putting banks aside, if we look at Fintech start-ups that are looking to expand here in Australia, often the question is, what do I need in place? What sort of hurdles do I need to pass before I'm actually able to present my products or my services to customers here in Australia?
It's really interesting because the law itself has not necessarily changed as quickly as these new Fintech innovations have arisen. As a matter of fact, people might even say that the law is lagging or its only catching up now in making sure that it can accommodate these new players in the market. I guess the challenge then as well for lawyers is to understand where the law is at at the moment and ask the question whether or not the usual principles would apply here, and if they do, how do we get from point A to point B and ensure that our particular client here can actually get up here in Australia without any trouble.
Interesting as well given that ASIC put out this regulatory sandbox where they are going to be testing these new Fintech start-ups and not impose any licensing requirements on these players, it will be really interesting to see once you take away the law, where these players are all going to be sitting and how well they will respond when the law does kick in and when the regulator gets a better feel of what sort of restrictions can we put in place. It's a really new area and I think as lawyers we just need to be very tech savvy and very aware of the constantly changing environment that we're in and in that case, we'll be much better equipped to address needs of our clients who are very excited by Fintech.
Lara Bullock: Definitely. Going back to something you mentioned earlier about the CLEs at Ashurst, how have you been involved in setting those up?
Brandy Tsang: A number of CLEs that we've been doing now have involved input from other partners across the firms. We really want to make sure that the people at Ashurst understand that it doesn't just affect the regulatory team that I'm in, but it also touches on other teams such as TMT or IP, as well as disputes and corporate. The CLEs have been run as panel discussions to allow for questions to be asked. In terms of my involvement, I've been doing some introductions. We recently did one on Fintech 101 to skill up on some of the lawyers in our firm.
In my role, I did a presentation on Fintech and just broke it down into its most simple terms. From there, we then had a panel of a few partners and senior associates. I asked the first round of questions and people just pitched in as they pleased afterwards. It's been well received at Ashurst and I think that we've made it quite a fun and enjoyable experience whereas I know a lot of CLEs can be, just sit down and watch the speakers speak for about an hour. It's been quite engaging, but I think the format that we've used has been something that's been of quite an appeal to the masses so it's working. I think that it's something that we will continue hopefully, rolling out and doing more sessions because there's just so many different topic that you can cover in Fintech. One of the questions then is, which ones should we cover, which ones are relevant to the lawyers in our firm and what do lawyers need to know at the end of the day about this area?
Lara Bullock: How important is it that firms do this on a wider level? Should all lawyers be getting up-skilled in terms of Fintech?
Brandy Tsang: Absolutely. As I mentioned before, given that Fintech touches on different groups in the firm, you're bound to at least, I would say, within the next five years, if I can say five years, be involved at least in one matter that has some sort of Fintech flavor to it; at least I would hope so. I think that given that personally I've had a fair bit of insight in terms of how other partners have been involved, it's really given me a really good understanding about how it is that our firm can assist a lot of these Fintech start-ups. I think in terms of the work that we've been doing, it's been really interesting to know that we do have a really strong backbone that can actually accommodate these clients and these new issues that arise.
From every lawyer's perspective, if you've got an interest, definitely put your hands up and get involved. There are plenty of opportunities to get involved, write an article or put your hand up for a presentation if you dare. Some people think it's silly of me to put my hand up all the time, but it's just fun. It's really fun at the end of the day. When something as current as this pops up as an opportunity to skill up, definitely you should grab it and you should embrace it because at any point, it may be a matter that you're working on that has Fintech flavors to it and you'd want to make sure that you've got a fair understanding to that.
Lara Bullock: Is there much of a generation gap when it comes to Fintech? Are you seeing that younger lawyers are embracing it more than the senior lawyers.
Brandy Tsang: At Ashurst, from what I can see, it's across the board. There's no real generation gap. One of the partners, who is a really strong leader in the Fintech area, he's not as young as one would perceive a partner to be in the Fintech realm. Don't tell him I said that. He's probably not even listening. I hope he's not listening. Really, it's timeless. There's no particular restrictions in terms of an age, or given that you might be from generation Y or X. There's no clear division between the two.
I find that with the Fintech initiative, that's being run here at this firm, everyone's involved in some way and it's a matter of interest. If people are interested and have a real curiosity in that area, there's nothing to say that just simply because you were raised in a different generation, that t wouldn't appeal to you necessarily. That's not to say that say 10 years or 20 years down the track you might have a new generation of lawyers who are just Fintech gurus, then you might see some sort of division, but at the moment, from my own point of view, I think that it's been a really good spread of different lawyers from different generations who are embracing the Fintech initiative that we're running.
Lara Bullock: Wonderful. Being a young lawyer yourself and putting your hand up for all these presentations, how have you gained the confidence to do that?
Brandy Tsang: Right before I started uni, when I was in high school, I loved public speaking and debating. I also did a lot of drama. When uni came around, I didn't really have time to get involved in that, but there was still that sense of wanting to get in front of a crowd, whether to deliver a message of some kind or to just make people laugh. I guess in terms of the confidence, where I get it from, I guess I get it from my past. I get if from my past, I get it from day to day experiences of just being quite a social butterfly, if you will.
Last year I did do stand up. I did do stand up comedy as a dare. I got dared in February. One of my high school mates and I, we just thought it would be fun if we could give each other a challenge to do something completely out of our comfort zone. There is nothing worse, I think, than public speaking. Actually, there's nothing worse than stand up comedy because it's such a subjective thing, but after you've done it a few times, you really gain the confidence to just get up there. It doesn't matter if what you're saying is not funny. Everybody has their own subjective points in terms of what's funny or what's not funny. I remember there's being occasions where I might deliver a joke and the punchline is just completely flat. That's happened numerous occasions and that, I think, in itself, has really helped with my confidence. I guess confidence comes from past and also from fairly recently, my stand up.
Lara Bullock: Wonderful. What are your plans for the future Brandy? Do you plan to continue any stand up comedy or just focus on the Fintech?
Brandy Tsang: I like to tell people that I'm semi-retired because often at time when I introduce myself to some of my colleagues and others who know me, they're like, "Brandy does stand up." People are like, "Tell me a joke. Tell me a joke." That's getting really exhausting whenever I hear that question.
Lara Bullock: I can imagine.
Brandy Tsang: In response, I like to tell people that I'm semi retired. For now, I'm quite happy continuing my day job as a lawyer. I really do want to continue building my knowledge in Fintech and making it something at our firm. In terms of if you want to know about my creative outlets, I am doing a play at the end of the year. I love having a creative outlet on the side. This year's creative project was doing a play. Still something that's quite entertaining but it's on a completely different end of the spectrum, I guess, if you want to compare that to stand up.
Lara Bullock: Thank you so much for coming in today Brandy and all the best for the future.
Brandy Tsang: Great, thank you. Thanks for having me.
Lara Bullock: No worries. I'm Lara Bullock and thanks for listening to The Lawyers Weekly Show.