White & Case Sydney office open for business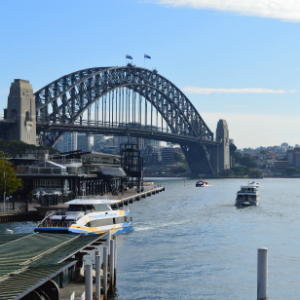 White & Case Australia has announced today that its Sydney office has officially opened.
White & Case has announced that its office in Sydney is now open. The new global entrant to the Australian market opened its office doors in Melbourne last December.
The US-headquartered firm coincided the news with a roll call of senior lawyers who would deliver its expansion into the Asia-Pacific, specifically in Melbourne, Sydney, Hong Kong and Singapore.
The 10 leading names, all former partners of Herbert Smith Freehills, include Melbourne-based Brendan Quinn, Andrew Clark, Joanne Draper, Jared Muller, Tim Power, Alan Rosengarten, Josh Sgro, and Sydney-based Joel Rennie.
Ex-HSF partners Fergus Smith in Hong Kong and Matthew Osborne in Singapore are also named in the statement as White & Case senior lawyers.
It is understood that the 10 lawyers have joined White & Case in these roles, effective immediately.
Eric Berg, the Asia-Pacific head of White & Case, said that the group brought unparalleled experience to top-tier deals across the region and beyond.
"These individuals are market-leading lawyers who have unparalleled experience advising on top-tier projects throughout Australia, Asia-Pacific and other international jurisdictions," Mr Berg said.  
"Their arrival reinforces our position as the leading law firm in project finance globally. They add further strength to our client offering and underline our commitment to providing the highest quality advice to our clients on a global basis," he said.
A statement from White & Case said the group of 10 have "arrived from Herbert Smith Freehills and work across Australia and Asia-Pacific, providing strategic advice on large infrastructure projects and project financings. They represent global sponsors and financial institutions across a range of sectors, including infrastructure, power and natural resources."
Project finance expert Cameron Watson, who joined White & Case from HSF, has also been promoted as a full-fledged partner in the Sydney office. Mr Watson will relocate from Melbourne for the role, which he has held since mid-January. He will work together with Joel Rennie in the new Sydney office.
"Mr Watson brings extensive experience advising clients on the financing and acquisition of major energy and infrastructure projects, with a particular focus on project finance," White & Case said.
When White & Case opened its first Australian office in Melbourne last year, it announced the addition of Herbert Smith Freehills lawyers Ged Cochrane, Michelle Keen and Adeline Pang, as partners.
An action brought by Herbert Smith Freehills against eight of the Australian partners is currently before the NSW Supreme Court.
Brendan Quinn, Andrew Clark, Joanne Draper, Jared Muller, Tim Power, Alan Rosengarten, Josh Sgro and Joel Rennie are defendants in the proceedings. The ongoing matter has been fixed for a final order hearing in June.
With the opening of its new Sydney and Melbourne digs, White & Case has a total of 40 offices across 28 different countries. Its presence in the Asia-Pacific also boasts offices in Beijing, Hong Kong, Seoul, Shanghai, Singapore and Tokyo, as well as an association in Jakarta.
Head of the firm's global energy, infrastructure and project finance practice Art Scavone said that the Asia-Pacific region is important for White & Case's global strategy as it continues to develop its client offering.
"Adding lawyers of this caliber is a unique opportunity for the firm and represents a significant step as we grow our role in advising clients across the Asia-Pacific region on their most complex, cross-border matters. We anticipate that these new lawyers will be working closely with colleagues across our global network of offices," Mr Scavone said.