Global firm targeting key practice areas to bolster business model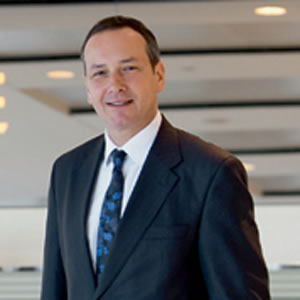 A global law firm with a significant Australian presence says it is ramping up its focus on certain practice areas as a way to strengthen its business model and subsequently attract more clients and staff to its fold.
Norton Rose Fulbright (NRF) global CEO Peter Martyr and Australia managing partner Wayne Spanner (pictured) spoke to Lawyers Weekly during Mr Martyr's trip down under recently, sharing the firm's strategy for the year ahead.
Mr Spanner said as key practice areas spark more demand, NRF will shift its focus to accommodate the needs of clients.
"There are a number of key areas where we continue to see that we'll drive our focus on, and areas where there are opportunities for growth, not least of which is in the energy sector, around the renewables practice. We've done significant investment in that in terms of partners. About a year or so ago we brought Simon Currie, who is the global head of energy for our global practice, into Australia and he is specifically focused on that which has been terrific," he said.
"We've also gone on and continued to build capabilities in our infrastructure, mining and commodities areas. Digital and technology are obviously a huge focus for us, and medical and health are also key areas for us where we've seen significant growth and movement, and that's quite explicable when you look at the demographic of the Australian population – where it's going and where money will be spent over the future.
"[In terms of other practice areas] we continue to look for growth where we need to and where our clients are. You would've seen most recently we just launched our new office in Port Moresby probably about two weeks ago. So that is obviously an important area of growth for us. We have a defined strategy in terms of where we wish to grow, what we're planning and that's largely dependent upon our relevant industries in say energy, infrastructure, mining, commodities, technology, transport and health – those are key areas where we're continuing to build on and where our focus will remain."
In addition to this, Mr Martyr said the firm is working to cater for its growing size by upping its focus on internal culture, after announcing it has merged with Chadbourne & Parke, thus growing its staff numbers by 300.
"I think one of our philosophical tenets is that the bigger you become, the more effort you have to put forth to provide alternative, separate values. It's not just about money. We need to provide some kind of social consciousness and social engagement within the firm," Mr Martyr said.
"That said, we occupy offices in many countries so we try to do things both locally and on a global basis. Only a couple of weekends ago, we held an event in a town between Johannesburg and Pretoria where about 170 of us went out there to build a hostel for disabled children. There was a 19-year-old lady who really put her whole life into trying to care for disabled children with no assistance whatsoever, and so what we did, we came together under the Nelson Mandela Foundation to go and start building this hostel for her. Everyone was very moved by it.
"We try and do something like that each year. This year was slightly different to what we had been doing. We've done cycle rides for BP MS 150 charities, we've done canoeing in Canada for Special Olympics...people really appreciate and engage in it. We try to ensure it isn't just about giving money. People have to give time and make an effort."