Lawyers don purple to support LGBTI colleagues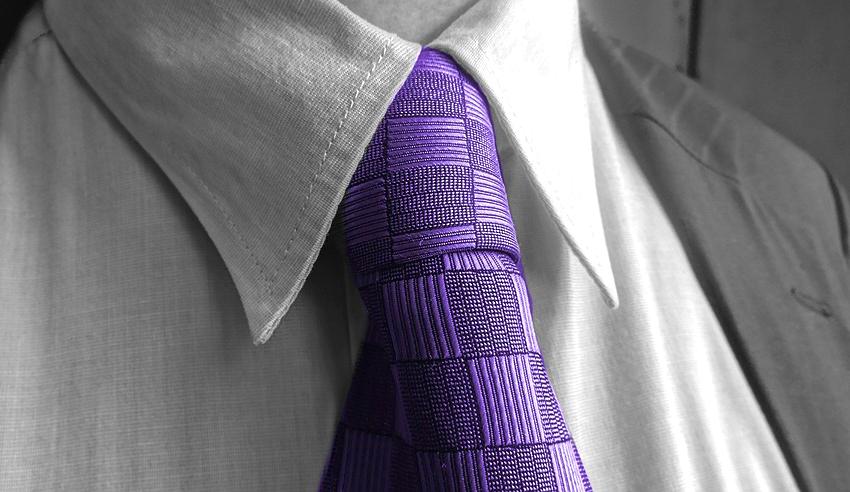 Lawyers around the country are celebrating Wear it Purple Day today to show their support for their colleagues and the wider LGBTI community.
Many law firms are holding special activities to celebrate the annual event, but simply wearing purple clothing, jewellery or a ribbon is a great way to promote diversity and start conversations about the issues facing LGBTI Australians.
Speaking on The Lawyers Weekly Show recently, Maddocks partner and Pride committee chair Alicia Albury said Wear it Purple Day is an important part of the firm's diversity and inclusion strategy.
"What we try to do with celebrating Wear it Purple Day at work is to raise visibility, raise empathy, encourage all members of the firm to walk in the shoes of their LGBTI colleagues and LGBTI people in the community in general, and to look at how other people are treated and to treat everybody as a person, regardless of gender or sexuality," Ms Albury said.
Maddocks partner Shaun Temby added that the simple act of wearing a different colour can have a great impact.
"One of the reasons I really like the day is that it requires, particularly in the corporate world, people to stand out and to move away from what they might normally wear," he said.
"I think that's important, first of all, to get them to think about the cause that they're supporting and also to increase visibility of LGBTI employees in the workforce, but also their allies and supporters."
Maddocks is celebrating with a morning tea complete with purple cupcakes and decorations, as well as other activities across its offices. Many other law firms are getting involved too, uniting their lawyers in Australia and overseas through their LGBTI networks.
Ashurst is hosting morning teas in its Australian, Tokyo, Hong Kong and UK offices, as well as holding fundraising events throughout its global network for local LGBTI organisations.
"We are proud to promote inclusivity and acceptance by wearing purple across our network of offices today," said the firm's diversity and inclusion manager Kasey Zun.
"Our support for Wear it Purple Day recognises that Ashurst is a proud employer of LGBTI staff and, through the LGBTI strand of our diversity and inclusion strategy, [is] working to create a supportive and inclusive organisation for all."
Herbert Smith Freehills is hosting special events in its Sydney and Brisbane offices, open to all staff. Stephen Somerville, co-convenor of the Sydney chapter of the firm's IRIS network, said HSF is delighted to be celebrating Wear it Purple Day. 
"The events our IRIS network are hosting bring together our LGBTI colleagues and their allies, and demonstrate the unified support within our firm through clear visible actions," he said.
"Wear it Purple Day is an important way for us all to show our support to rainbow young people and to celebrate our diverse and vibrant culture. The day is a great way for allies and the LGBTI community to reach out and celebrate together, and we encourage everyone to take part."
King & Wood Mallesons is also hosting morning tea events in a number of its offices. Its LGBLINK team in Melbourne is also partnering with several key clients to show their support in an event at Southern Cross railway station.
"We recognise that a culture of diversity and inclusion is fundamental to creating a great place to work for our employees, fostering innovation for the firm and clients and achieving better outcomes," said Berkeley Cox, chief executive partner of King & Wood Mallesons Australia.
"Our LGBTI program, LINK, has helped us engage with the broader legal industry and connect with our clients over a common cause – with the firm actively supporting events such as Wear it Purple Day to increase awareness of the challenges being faced in the LGBTI community."
Craig Andrade, head of Baker McKenzie's BakerLGBTI & Allies network, said Wear it Purple Day is a great opportunity to raise awareness. 
"The theme of this year's Wear it Purple Day is 'Celebrate', and this year we celebrate 'Awareness'," he said.
"We would like to raise awareness around the challenges that our rainbow youth face, and the importance of providing a safe and inclusive work environment for our young colleagues when they enter corporate Australia."
Wear it Purple Day is timely this year, with the debate over marriage equality coming to a head.
"With the pending postal opinion poll on marriage equality, and the fact that we have already seen the emergence of homophobic posters and malicious targeting of the homes of members of the LGBTI community, Wear it Purple day has never been more important," Mr Andrade said.
"The youth of the LGBTI community need to be supported and so it is imperative that the themes of Wear it Purple Day are shared and embraced this year."
The result of the controversial postal vote is expected on 15 November.