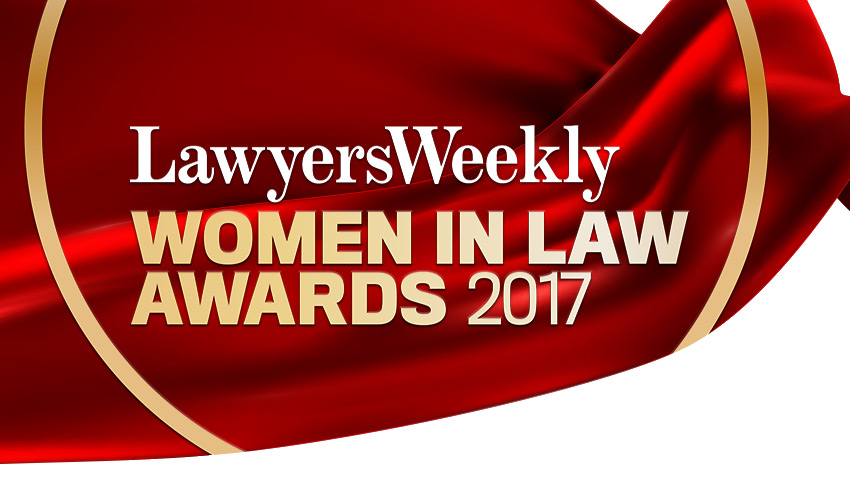 Lawyers Weekly is pleased to reveal this year's finalists for the annual Women in Law Awards.
Now in its sixth year, the Lawyers Weekly Women in Law Awards recognises the achievements of women who have challenged, influenced or changed the practise of law in Australia.
With a record number of submissions, this year's Women in Law Awards are the most hotly contested to date, with the finalists representing some of the best and brightest in the legal profession.
The winners of this year's Women in Law Awards will be announced at a black-tie evening on Friday, 20 October 2017, at the Sofitel Melbourne on Collins.
To learn more about the event, click here.
To purchase tickets, click here.
For any further enquiries, please contact Craig Lynch on This email address is being protected from spambots. You need JavaScript enabled to view it. or 02 9922 3300.
The finalists for the 2017 Women in Law Awards are:
Academic of the Year
Marilyn Pittard, Monash University
Cathy Sherry, UNSW Sydney
Chinelle van der Westhuizen, University of Notre Dame
Barrister of the Year
Dearne Firth, Queensland Bar
Dominique Hogan-Doran SC, Australian Bar
Katherine Brazenor, Victorian Bar
Laura Keily, Ninian Stephen Chambers
Boutique Diversity Law Firm of the Year
JHK Legal
NDA Law
Harmers Workplace Lawyers
Dealmaker of the Year
Gina Cass-Gottlieb, Gilbert + Tobin
Kylie Lane, Ashurst
Kylie de Oliveira, Clayton Utz
Meredith Paynter, King & Wood Mallesons
Julie Levis, Clayton Utz
Diversity Law Firm of the Year
Corrs Chambers Westgarth
Dentons
Herbert Smith Freehills
King & Wood Mallesons
Clayton Utz
Maddocks
LegalVision
Ashurst
Kreisson
Gilbert + Tobin
Executive of the Year
Sue Kench, King & Wood Mallesons
Mary Digiglio, Swaab Attorneys
Kate Jordan, Clayton Utz
Jacqueline Keddie, Nexus Law Group
Janelle Kerrisk, Helix Legal
Andrea Michaels, NDA Law
Petra Stirling, Gilbert + Tobin
Chrissy Leontios, CLEON Legal and Mediation Services
Gina Szwider, Bespoke
Marianne Marchesi, Legalite
General Counsel of the Year
Sheree Siow, AIA Australia
Kate Eastoe, oOh!media
Bronwyn Kerr, Atlas Iron Limited
Ilona Alsters, Ruralco Holdings Limited
Sarah Turner, REA Group Ltd
Katrina Johnson, Uber Asia Pacific
Paula Robinson, Gold Coast 2018 Commonwealth Games Corporation
Sarah Tinsley, Australian Radio Network
Anna Lozynski, L'Oreal Australia & New Zealand
HR Professional of the Year
Leanda Nissen, Russell Kennedy Lawyers
Louise Ferris, McCullough Robertson
Maria Zoras-Christo, Patrick
Mary Lyras, MinterEllison
Clare Monger, K&L Gates
Kieran Naylor, Thynne + Macartney
Anna Quilter, Ashurst
Helen Calladine, Corrs Chambers Westgarth
Anne Reeves, Maurice Blackburn Lawyers
In-house Lawyer of the Year
Shanti Berggren, Singtel Optus
Charmaine Byrne, Westpac Banking Corporation
Olivia Perks, The University of Sydney
April Rich, Gold Coast 2018 Commonwealth Games Corporation
Haylen Pong, Salmat
Tina Davey, AIA Australia
Jenny Taing, Vanguard Australia
Jane Lye, Australian Government Solicitor
Joanna Moore, The Royal Automobile Club of Queensland
Fiona Harding, Bank of Queensland
Tracey Scott, Football Federation Australia
Law Student of the Year
Alex Armstrong-Millar, Telstra, Western Sydney University
Stephanie Blancquart, UNSW Sydney
Amy Bradley, University of Notre Dame
Elizabeth Bruce, Cominos Family Lawyers, University of Sydney/LPAB
Claudia Carr, Herbert Smith Freehills, Curtin University
Hannah Krieger, Community Legal Centres Queensland, Queensland University of Queensland
Hannah McDonald, Monash University
Jessica Popple, University of the Sunshine Coast
Courtney Rickersey, Griffith University
Marija Yelavich, Dare to Know Publications, Western Sydney University
Marketing Communications Executive of the Year
Rebecca Hanlan, Maurice Blackburn Lawyers
Cathy Baker, Community Legal Centres Queensland
Caitlin Chambers, MinterEllison
Anita Thompson, LOD - Lawyers On Demand
Krisanti Fisher, Dentons
Kathy Zmijewski, McDonald Murholme
Kate Ritchie, Dentons
Mentor of the Year
Victoria Hepburn, MinterEllison
Emma Hodgman, DibbsBarker
Meda Royall, Your Law Firm
Sarah Frost, Herbert Smith Freehills
Bronwyn Lincoln, Corrs Chambers Westgarth
April Rich, Gold Coast 2018 Commonwealth Games Corporation
Jane Hall, Ashurst
Monica Blizzard, KHQ Lawyers
Mary Still, Clayton Utz
Catherine Dunlop, Maddocks
Not-for-profit Lawyer of the Year
Kate Grant, Aboriginal and Torres Strait Islander Legal Service (Qld) Ltd
Angela Lynch, Women's Legal Service Queensland
Sharell O'Brien, North Queensland Women's Legal Service
Rosslyn Monro, Community Legal Centres Queensland
Helen Pearce, The Humanitarian Group
Ciara Daly, Aboriginal Legal Service
Sarah Dale, Refugee Advice & Casework Service (RACS)
Kimberly Randle, International Justice Mission Australia
Partner of the Year
Maree Skinner, DibbsBarker
Samantha O'Brien, DLA Piper
Karen Ingram, Clayton Utz
Melissa Fenton, Colin Biggers & Paisley
Louise Massey, Dentons
Rebecca Castley, Colin Biggers & Paisley
Catherine Dunlop, Maddocks
Caroline Hutchinson, Coleman Greig Lawyers
Belinda Michalk, Sparke Helmore Lawyers
Claire Rogers, King & Wood Mallesons
Pro bono Lawyer of the Year
Danielle Barry, Allens
Jessie Smith, Stary Norton Halphen
Tamara Sims, Gilbert + Tobin
Amy Burton, Salvos Legal Humanitarian
Charlotte Yellowlees, Salvos Legal Humanitarian
Emily Schneider, Wotton + Kearney
Francesca Lai, Hall & Wilcox
Michelle Berry, Hall & Wilcox
Alexandra Pieniazek, King & Wood Mallesons
Senior Associate of the Year
Erika Williams, McCullough Robertson
Alexandra Grayson, Maurice Blackburn Lawyers
Susan Accary, Slater and Gordon Lawyers
Wendy Hsu, Gilbert + Tobin
Karen Dwyer, Ashurst
Millie Richmond-Scott, MinterEllison
Jessica Norris, MinterEllison
Danielle Monti, K&L Gates
Maria Panos, Henry Davis York
Agata Bober, King & Wood Mallesons
Sole Practitioner of the Year
Jennifer Hetherington, Hetherington Family Law
Despina Priala, Priala Legal
Marianne Marchesi, Legalite
Anne-Marie Cade, Divorce Right Pty Ltd
Kristi McCusker, KMC Legal
Dorota Bryks, Bryks Lawyers
Courtney Bowie, Her Lawyer
Jeanette Jifkins, Onyx Online Law
Rebecca Harper, Harpers Legal
Caroline Counsel, Caroline Counsel Family Lawyers: Better Families, Brighter Futures
Special Counsel of the Year
Julia Sutherland, Ashurst
Ahranee Vijayaseelan, Hall & Wilcox
Catherine Boxhall, DibbsBarker
Jennifer Harris, Clayton Utz
Monique Carroll, King & Wood Mallesons
Jennifer Barron, Gilbert + Tobin
Arabella Dove, Ashurst
Venetia Bennett, K&L Gates
Kate Casellas, Clayton Utz
Felicity Saxon, Corrs Chambers Westgarth
Thought Leader of the Year
Pamela Cominos, Cominos Family Lawyers
Belinda Wilson, Law Institute of Victoria
Cassandra Banks, Susan Green Legal Practice
Kristy Perdriau, Perdriau Family Lawyers
Tricia Hobson, Norton Rose Fulbright
Cassandra Heilbronn, MinterEllison
Anne-Marie Cade, Divorce Right Pty Ltd
Andrea Michaels, NDA Law
Sarah Roach, Helix Legal
Chrissy Leontios, CLEON Legal and Mediation Services
Young Gun of the Year
Aleksandra Ilic, King & Wood Mallesons
Amy Zhang, Harmers Workplace Lawyers
Marina Kofman, Freshfields Bruckhaus Deringer LLP
Anneka Frayne, Stacks Law Firm
Veronika Drago, Slater and Gordon Lawyers
Hannah Morris, Mills Oakley
Julie Abdalla, MinterEllison
Phoebe Blank, TressCox Lawyers
Lara Solomons, Clayton Utz
Tegan Harrington, Corrs Chambers Westgarth