Year in Review: A thrilling season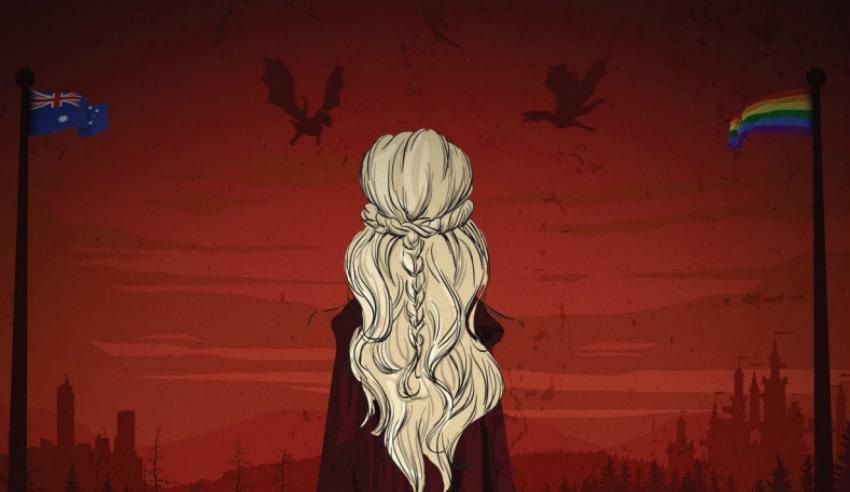 Lawyers Weekly looks back on the power dynamics in law, business and politics that shaped the profession over the last year.
It was another dramatic year for the legal profession in 2017, as power struggles played out in law firms, politics, businesses and the courts – not to mention between lawyers themselves.
The political arena was more like a battlefield over the last year. While our leaders clashed repeatedly during the protracted same-sex marriage survey, their own right to rule was challenged in the dual citizenship saga that saw some – including Deputy Prime Minister Barnaby Joyce – declared ineligible to hold office.
Debate also raged over energy policy, Indigenous constitutional recognition, national security and Australia's treatment of refugees, with broad-ranging impacts for legal professionals, their clients and the rule of law.
Meanwhile, there were several power struggles between politicians and the courts. Peter Dutton drew fire for his criticism of pro bono representation for refugees and asylum seekers, while three other Liberal Party ministers narrowly avoided contempt of court charges for accusing the Victorian judiciary of soft sentencing for terrorism offences.
In the law firm space, fraught weddings and alliances were forged between globals and nationals, noble houses were raided for their top talent, and the shadow of the big four accounting firms loomed larger than ever.
Several firms crowned new leaders and farewelled old ones. Notably, Sue Kench took on the global leadership of King & Wood Mallesons, while former Slater and Gordon chief executive Andrew Grech escaped his crumbling ASX-listed empire.
Firms also continued to focus on diversity over the year, with many taking part in inclusion events and unconscious bias initiatives. However, gender inequality remained an indictment on the profession, persisting despite the growing awareness of the gender pay gap and the lower representation of women in leadership positions.
After so many unexpected twists, power plays and revelations, Lawyers Weekly looks back on a remarkable – and sometimes bizarre – year for the legal profession.
High stakes
Law firms played for keeps in 2017, with a number of high-profile shifts characterising the stiff competition in the Australian market.
Herbert Smith Freehills thrashed out its dispute with eight former partners in the NSW Supreme Court in March. Former HSF partners Brendan Quinn, Tim Power, Andrew Clark, Josh Sgro, Joanne Draper, Jared Muller, Alan Rosengarten and Joel Rennie caused a splash when they resigned from the firm in late 2016 to help US giant White & Case set up shop in Australia.
The remaining 166 partners sought an injunction to enforce an additional six-month restraint period on top of the six-month notice period restricting ex-partners from working for competitors. In a case that hinged on details of HSF's partnership agreement, Justice Robert McDougall decided the departing partners were accountable to the agreement they had signed, although he did not enforce three contested clauses, which included a territorial provision on working in the Sydney and Melbourne CBDs.
Meanwhile, two marriages between mid- and top-tier legal families got off to rocky starts.
Global law firm Dentons attempted to swoop into the Australian market late last year through a merger with national firm Gadens. Gadens' Sydney, Perth and Port Moresby offices went along with the union and took on the Dentons name. Gadens Brisbane also opted in but retained its name, while Gadens Melbourne chose not to be formally associated with Dentons.
The competition between these factions heated up in late 2017, with two new offices opening on consecutive days. Gadens Melbourne expanded its presence into Sydney on 31 October. The next day, Dentons cut the ribbon on a brand-new Melbourne office, just two blocks down from Gadens Melbourne.
However, it was Norton Rose Fulbright and Henry Davis York's drawn-out courtship that captivated legal audiences over 2017.
Rumours circulated late in 2016 that the two were in merger negotiations. Both firms denied the speculation at the time, with a Henry Davis York spokesperson saying the firm had "no plans to undertake a merger".
Less than six months later, though, Henry Davis York fired 25 staff, including six fee-earning lawyers. This was a precursor to the announcement in June 2017 that the two firms were, in fact, considering merging.
The news was followed by a slew of departures from both firms over the subsequent months, which fuelled rumours of dissatisfied partners and a toxic culture.
At the time of writing, 20 Henry Davis York partners had jumped ship to other firms since the announcement of the merger. Five partners joined Corrs Chambers Westgarth from HDY's restructuring and insolvency group, which was one of the key practice areas that compelled NRF to undertake the merger.
HDY also lost its Canberra head Debra Tippet to Clayton Utz, forcing managing partner Michael Greene to take over as national head of the government practice. Mr Greene became deputy managing partner under the combination, while Wayne Spanner remained managing partner of NRF in Australia.
When Pinsent Masons poached four NRF partners to establish an office in Perth, Mr Spanner said some losses were to be expected as part of the process.
"With all these things, some people will want to adopt a different course and we wish them well. This sort of thing is a common occurrence in mergers," he said.
NRF's losses also included financial institutions head Chris Redden, who left the firm after more than eight years to join Ashurst.
In the end, 34 HDY partners remained on board when the merger went live on 1 December. This comprised 14 in banking and finance/restructuring and insolvency, five in construction and engineering, five in corporate, financial services, tax and technology, four in real estate and environment and planning and six in litigation, regulatory and government.
Elsewhere in the legal realm, King & Wood Mallesons Australian chief executive partner Sue Kench was selected to take over as global managing partner. Ms Kench was crowned on 1 June 2017 and said she would focus on bolstering the connectivity of the KWM network in China, Australia and Hong Kong.
Herbert Smith Freehills also shook up its leadership, with Andrew Pike taking on the role of regional managing partner, Australia. Sue Gilchrist stepped down as joint regional managing partner, Asia-Pacific, while her co-head Justin D'Agostino became regional managing partner, Asia. The firm said it made the change to create two separate leadership roles for Australia and Asia.
Meanwhile, Andrew Grech called it quits as Slater and Gordon, the first law firm in the world to list on a stock exchange, continued its dramatic fall from grace over 2017.
After its systemic accounting issues came to light following the acquisition of Quindell in the UK, Slater and Gordon's share price plummeted and it was left staring down multiple shareholder class actions and over $750 million in debt.
The major banks sold their exposure to Slater and Gordon to distressed debt investors, led by Anchorage Capital. Slaters announced its recapitalisation plan in June, under which the new lenders took control of 95 per cent of the firm's equity. This further diluted the value of existing shareholders' stakes. Mr Grech stepped down as group managing director as the recapitalisation was announced.
The firm also leant on its directors' and officers' liability insurance and its new lenders to settle the class actions against it for $36.5 million, far lower than the $250 million originally sought.  
The political game
Skirmishes and controversies dominated the political landscape over 2017 – notably the drawn-out same-sex marriage postal survey, which saw conservative and progressive factions clash over the definition of marriage, the role it plays in society and the rights of LGBTI Australians.
Australian Bureau of Statistics boss David Kalisch announced on 15 November that the survey had returned a 61.6 per cent 'yes' vote. All eyes then turned to Canberra, where Liberal senator Dean Smith introduced a same-sex marriage bill that afternoon.
The postal vote saga brought out the best and worst of Australian society, but ultimately raised the question of whether equality before the law should be the subject of an opinion poll.
"Deciding human rights issues on the basis of a voluntary postal response from some Australian voters is no way to respect those rights and ignores the fundamental principle that human rights derive from our human dignity and cannot be voted in or out of existence," said Nicholas Stewart, co-chair of Australian Lawyers for Human Rights' LBGTI committee.
ALHR backed a constitutional challenge in the High Court over the government's right to fund the $122 million survey. The challenge was ultimately dismissed and Parliament set to work drafting special legislation to stop the dissemination of vilifying, misleading and deceptive information during the campaign.
But it wasn't just the 'yes' and 'no' campaigns that were embroiled in controversy during the debate. Law Society of NSW president Pauline Wright polarised opinions when she issued a joint statement with the heads of the NSW Bar Association and Australian Medical Association (NSW) supporting same-sex marriage.
Some society members, including Speed & Stracey CEO Robin Speed, said Ms Wright did not speak for them and had not adequately surveyed members before issuing the statement. In a letter addressed to Ms Wright, Mr Speed dubbed the joint press release "false and misleading".
The complaint fuelled a wider spat over the Society's right to take policy positions on members' behalf. Following the survey result announcement, the Society created two working groups to advise on the legislation: one led by Mr Speed and one appointed by Ms Wright.
While the same-sex marriage debate was lurched onwards, a citizenship scandal that began with two Greens MPs quickly swept through Parliament. The constitutional provision against politicians holding dual citizenship reached further than initially thought, throwing Canberra into chaos.
The High Court decided the fates of the 'citizenship seven' in late October, finding Deputy Prime Minister Barnaby Joyce ineligible to sit in federal parliament thanks to his father's New Zealand citizenship. The Nationals' deputy leader Fiona Nash and One Nation's Malcolm Roberts were also found ineligible, while Nick Xenophon and the Greens' Scott Ludlam and Larissa Waters resigned from federal politics. Nationals MP Matt Canavan was found eligible.
Mr Joyce returned to his electorate of New England for a by-election – a crucial battle for the Coalition, which was looking to defend its one-seat majority. Meanwhile, a bipartisan agreement was reached to compel all MPs to disclose their citizenship status by 1 December. At the time of writing, Liberal senator and Senate president Stephen Parry had already farewelled federal politics after discovering his UK citizenship, as had senators Jacqui Lambie and Skye Kakoshke-Moore.
The constitutional crisis was precipitated by Perth barrister John Cameron, who spent years investigating politicians' citizenship statuses.
The constitution was also in focus when the Turnbull government rejected the Referendum Council's recommendation for the creation of a constitutionally enshrined Indigenous representative body to advise on Indigenous affairs.
The proposed "Voice to Parliament" followed on from the Uluru Statement from the Heart, made at the Uluru National Convention in June. The government called it a "radical" and "undesirable" change to the constitution, which would be unlikely to return a 'yes' vote in a referendum.
Professor Adrienne Stone, the director of the Centre for Comparative Constitutional Studies at the University of Melbourne, said the proposal was consistent with Australian constitutional tradition and the government was wrong to cast the proposed body as a "third chamber of Parliament".
"The proposed consultative body was not a body that would have had the powers to make laws or the power to demand anything in particular of the Parliament, except that it be consulted," she said.
"It was just a constitutionally enshrined process that would ensure that Aboriginal and Torres Strait Islander people were properly included in the law-making process."
Elsewhere in politics, Australia's approach to dealing with refugees and asylum seekers continued to draw criticism from domestic and international sources. The closure of the Manus Island detention centre on 31 October deteriorated into a standoff between the Australian and Papua New Guinean governments and the hundreds refugees who refused to move to new facilities on the island or return to their home countries.
As their utilities and supplies were cut off and sanitation conditions deteriorated, the United Nations Human Rights Committee released a report that highlighted many concerns with Australia's human rights record. Prominent among these was the country's treatment of refugees and asylum seekers.
"It appears that only the Australian government believes that it can escape responsibility for asylum seekers by shipping them to Nauru and Papua New Guinea," said Australian Lawyers Alliance national president Laura Neil.
"The Human Rights Committee was alarmed by the conditions for refugees and asylum seekers in offshore detention, and particularly by the closure of the Manus Island facility.
"The committee is clear that Australia has effective control over offshore processing centres, and is responsible for conditions there, recommending that it protect the rights of those affected by the closing of the Manus centre.
"It clearly recommended that all offshore processing should end."
Courting controversy
Refugee policy issues also played out in court during 2017, with Slater and Gordon securing the largest human rights class action settlement in Australian history on behalf of Manus Island detainees. The government and its subcontractors agreed to a $70 million-dollar settlement, to be spread among 1,905 detainees as compensation for their ordeal.
"This settlement is an important step towards recognising the extremely hostile conditions that the detainees have had to endure at Manus Island," Slater and Gordon principal Andrew Baker said.
Barrister Greg Barns said: "Once again Australian taxpayers are footing the bill for the failure of the Australian government to treat asylum seekers lawfully, with basic dignity and respect."
Minister for Immigration and Border Protection Peter Dutton came down hard on lawyers providing pro bono legal services to refugees, calling them "un-Australian" in an interview with 2GB radio host Alan Jones. He also said lawyers were "ripping off the system" by forcing the government to defend itself against claims. Many in the profession wholeheartedly rejected Mr Dutton's accusations, including LCA president Fiona McLeod SC.
"There is nothing more Australian than ensuring people are subject to the rule of law and have their legal rights protected," Ms McLeod said.
"It is true that the legal rights of individuals can be an inconvenience to government, so attacking the legal professionals who work pro bono to defend those rights is truly extraordinary."
Mr Dutton also attracted criticism in June when he questioned the independence of the Administrative Appeals Tribunal, while three of his Liberal Party fellows dodged contempt of court charges by apologising for attacking the integrity of the Victorian judiciary. Health Minister Greg Hunt, Human Services Minister Alan Tudge and Assistant Minister to the Treasurer Michael Sukkar apologised for claims that the courts were full of "hard-left activist judges" who were conducting "ideological experiments" by delivering terrorism sentences the ministers felt were too light.
The Victorian bail system was criticised after January's Bourke Street tragedy, when Dimitrious Gargasoulas allegedly drove his car into Melbourne's Bourke Street Mall, killing five people and injuring more than 30 others. Mr Gargasoulas was released on bail six days before the incident.
The Victorian government responded by introducing a "major shake-up" of the state's bail system, enabling more after-hours bail applications to be heard by magistrates rather than bail justices.
In NSW, coroner Michael Barnes delivered the report of his inquest into the Lindt Café siege after an 18-month investigation. The coroner sought to understand why Man Haron Monis was granted bail despite his previous crimes and a history of physical and sexual violence. University of Wollongong associate professor Julia Quilter said the report would have significant implications for criminal lawyers, including a slower and more difficult bail application process.
Meanwhile, pressure mounted on Australian governments and the justice system to address growing Indigenous incarceration rates. The Australian Law Reform Commission announced an inquiry into the issue in July, which was welcomed by community legal centres around the country.
Community Legal Centres NSW chair Dr Linda Tucker said alternatives to arrest and imprisonment needed to be considered, as well as housing and disability support.
"Community Legal Centres NSW and our member organisations will be advocating for law reform in a number of crucial areas. This includes the need for alternative pathways to imprisonment, moving away from mandatory sentencing, and an end to incarcerating people for not paying fines," she said.
Outside the courts, controversial Sydney barrister Charles Waterstreet made the news when law student Tina Huang accused him of sexually harassing her during a job interview, including discussing his sex life and showing her a lewd video of himself. He denied the claims, but two more former employees came forward to support Ms Huang and shared their own stories of being harassement by Mr Waterstreet. These included claims that he shared inappropriate images of himself, watched pornography openly in the office and regularly had his paralegal pick up his Viagra.
Ms Huang told New Matilda the avalanche of sexual assault allegations from Hollywood, beginning with Harvey Weinstein, gave her the confidence to speak out. Actor Richard Roxburgh, who plays the lead in the TV series Rake, distanced himself from Mr Waterstreet, denying that the character Cleaver Greene was modelled on the barrister.
Culture wars
While the legal profession has come a long way on gender equality, there are still significant obstacles to overcome in the quest for a truly level playing field.
Equal Pay Day fell on 4 September in 2017, marking the additional time from the end of the financial year that women must work to earn the same amount as men. In 2017, the gender pay gap in Australia stood at 15.3 per cent, a 0.9 percentage point decrease on the previous year.
However, the challenge is not just to deliver equal pay for equal work, but to create an environment where women are equally able to vie for senior roles and leadership positions. Research has shown that women are poorly represented at equity partner level in law firms, despite making up the majority of law graduates and being well represented up to senior associate level.
Individuals and firms helped to chip away at the age-old gender roles that cast women as stay-at-home mums. Catherine Brooks, a principal at Melbourne-based law firm Moores, said the firm's emphasis on flexible working for both male and female lawyers is helping to shift attitudes towards parenting arrangements.
"A number of male principals work flexibly, some to enable them to parent, some for other non-parenting related reasons," she said.
"Because of this, one junior male lawyer told me that he'd never considered being a stay-at-home parent before but would now consider this an option for when he had children.
"This fundamental shift in thinking cannot be understated. We need both genders to commit to flexible work to enable an increase in female workforce participation, which will massively increase productivity for our economy."
PwC legal services leader Tony O'Malley said the culture of the big four accounting firms was a significant part of their successful foray into legal services. PwC Legal jumped eight places from 2016 to 2017 in the Lawyers Weekly Top 25 Attraction Firms ranking, while KPMG Legal also made the list.
"PwC is a purpose-led and values-based organisation and the goal of building trust in society and solving important problems that matter to Australia resonates strongly with our people," Mr O'Malley said.
"Our brand-new offices, utilisation of technology and flexible working policies throughout Australia also plays a role, with modern collaborative workspaces for client and team engagements, and activity based working has proven to be a strong drawcard and enabler for our multidisciplinary approach." 
The same-sex marriage postal survey made LGBTI issues particularly topical in 2017, and many law firms and businesses stepped up to show their support and showcase the benefits of diversity. Law firms around the country held events for Wear it Purple Day on 25 August, an annual day of celebration and support for the LGBTI community, and looked forward to a time when all lawyers are able to bring their 'whole selves' to work.
There was also an increased focus on wellbeing and mental health in the profession, with many lawyers speaking up about the struggles they face.
"While a pessimistic perfectionist can make for a great lawyer, applying the same mindset to the curve balls life throws at us doesn't necessarily work in our favour," said David Rennick, head of Pinsent Masons Australia.
"It is up to individual firms to make changes in their workplaces to better support all employees and their individual needs, whether this means more flexible working hours and increased leave allocations to ensure lawyers are getting time to themselves and their families, mentorship programs to provide peer-level support, or resourcing adjustments to reduce stressful workloads."
Many lawyers and firms are capitalising on cloud technology to implement flexible working arrangements, which can help to improve work/life balance and alleviate the stress often associated with a career in law.
"Mobile technology has removed the confines of traditional working hours, giving professionals flexibility in when, where, and how they want to work, particularly through tools such as business communication and time management software," said Simon Wilkins, general manager of LexisNexis Australia.
"This is the kind of industry lawyers – particularly young lawyers – now expect to work in. One that empowers them to do their best work in a place and at a time that suits them."
The legal dynasty
Millennial lawyers are demanding diversity, cutting-edge technology and a sense of purpose in their work. With this demographic soon to dominate the profession, law firms are taking notice of the sort of employers Millennials want them to be.
"A common pitfall is to solely motivate workers with financial outcomes or competition," according to a report from HR think tank Reventure.
"With our research finding that the next generation is increasingly looking for purpose at work, leaders will need to actively follow an agenda focused on purpose and meaning in the culture, which will promote the transition into new arenas of efficiency and productivity."
Meanwhile, advancements in artificial intelligence (AI) and cloud technology continued to reshape the way lawyers practise. A number of new tech-based offerings were launched in Australia in 2017, including ranking systems such as Premonition and Jurimetrics. These tools analyse huge volumes of court documents to rank the performance of barristers and law firms, providing valuable insights for briefing and procurement.
Another service for the briefing market, BarristerSELECT, also launched in NSW. BarristerSELECT leverages the knowledge of barristers' clerks to help solicitors find the ideal barrister for their briefs.
Pinsent Masons also brought its freelancing platform Vario to Australian shores, offering lawyers the option to take on flexible, freelance work with the support of a large law firm.
On the education front, law schools around the country ramped up their focus on technology, with many contemplating the role coding could play in legal education. The University of Technology Sydney (UTS) announced that it would accept the first students for its Legal Futures and Technology major in March 2018, the first undergraduate legal major in legal technologies and legal futures to be taught in Australia. UNSW collaborated with Gilbert + Tobin and Neota Logic to deliver the course Designing Technology Solutions for Access to Justice, which focuses on creating software applications to improve access to justice.
The Lawyers Weekly Future Forum visited Brisbane, Sydney and Melbourne in October to share the latest insights into the future of the profession. Fortinberry Murray principal Dr Bob Murray, the keynote speaker at the Future Forum, said the legal market of the future will not be 'pure law'.
"The future of the 'legal' market for many firms will not be pure law, or maybe not 'law' at all," Dr Murray said.
"Clients will want a broader range of advice. They'll be looking for wisdom. They'll be looking for an adviser who can ask the questions that they hadn't thought of asking. An adviser who knows their business inside out."
Whatever the future holds, it is clear that the legal profession, from its kings and queens right down to its fresh-faced novices, will continue to adapt to the changing rules of the game.
2017 TIMELINE
January
Maurice Blackburn files class action on behalf of NT juvenile detainees
February
The Legal 500 names Corrs Chambers Westgarth the leading firm in Australia and Asia-Pacific
March
Herbert Smith Freehills clashes in court with White & Case defectors
April
Federal government announces changes to 457 visa scheme
May
Sue Kench named next global managing partner of King & Wood Mallesons
June
Andrew Grech exits as Slater and Gordon announces recapitalisation plan
July
Federal government proposes Dutton-led Department of Home Affairs
August
LCA endorses recommendation for Modern Slavery Act
September
Released files reveal details of allegations against Lionel Murphy QC
October
Turnbull government rejects proposed Indigenous "Voice to Parliament"
November
Same-sex marriage survey returns 61.6% 'yes' vote
December
Merger between Norton Rose Fulbright and Henry Davis York implemented