Goodbye job applications, hello dream career
Seize control of your career and design the future you deserve with
Unethical firm climate breeding unhealthier lawyers
New, groundbreaking findings from one of Australia's leading law schools is lifting the lid on the nexus between perceived workplace culture and ill-health.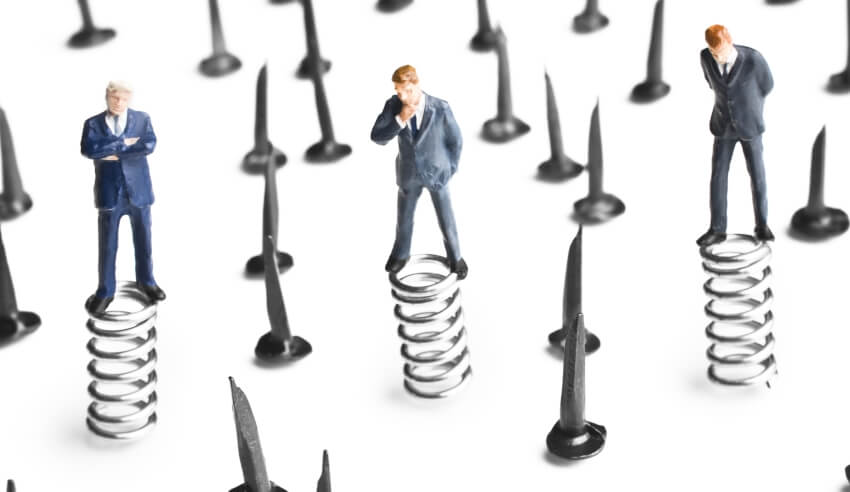 In a 2005 commencement speech to Ohio-based Kenyon College, David Foster Wallace proffered the following analogy: "There are two young fish swimming along, and they meet an older fish swimming the other way, who nods at them and says: 'Morning boys, how's the water?' The two young fish swim on for a bit, and then eventually one looks over at the other and goes: 'What the hell is water?'"
You're out of free articles for this month
To continue reading the rest of this article, please log in.
Create free account to get unlimited news articles and more!
It was in this vein that Dr Stephen Tang, Associate Professor Vivien Holmes and Professor Tony Foley from Australian National University undertook research into the perceptions of first-year lawyers about the culture of their new workplaces.
Their findings were startling, with a clear link drawn between the ethical climate and behaviour of firms – in other words, the perceptions of both workplace culture and handling of environmental factors within an organisation – and the wellbeing of their new lawyers.
Titled: 'Weather Ahead: The Influence of Ethical Climate on Psychological Wellbeing and Professionalism in Newly Admitted Lawyers', the research examined perceptions of 336 first-year lawyers of the ethical climate of their new workplaces, and the implications of that climate on their wellbeing and professional development.
Respondents were separated into three categories: 'ethical apathy' (lower than perceived average), 'getting ahead' (average), and 'positive balance' (better than perceived average).
Fifty-five per cent of respondents fell into the 'positive balance' category, but just under half felt they were in less than ideal ethical climates (22 per cent in 'getting ahead', and 23 per cent in 'ethical apathy').
While this is of course concerning from a workplace culture perspective, it also raises questions about the implications for wellbeing.
Some of those questions are answered by the research: while only 15 per cent of those in the positive balance category show signs of depression, 30 per cent in ethical apathy and 37 per cent in getting ahead show similar signs.
VIEW ALL
Just 15 per cent and 20 per cent of positive balance lawyers show signs of stress and anxiety respectively, compared to 23 per cent and 25 per cent of negative balance lawyers respectively for stress, and 39 per cent and 23 per cent respectively for anxiety.
In other words, lawyers who perceive their workplaces to have a positive ethical climate balance have a significantly lower likelihood of experiencing symptoms of stress, anxiety and depression.
Lawyers in the two negative balance climates, on the other hand, were twice as likely to have high stress, and are more than three times more likely to display symptoms for anxiety and depression.
Unsurprisingly, those in the positive balance also had a higher chance of feeling satisfaction in their job and career direction, as well as appreciating organisational learning opportunities.
The clear association between ethical climate and wellbeing gave rise to a conclusion among the authors of the research: "ignoring [the association] – or allowing ethical apathy to develop – is not just negligent, but actively harmful".
In conversation with Lawyers Weekly, co-author Dr Stephen Tang says ethical climate permeates so much of the everyday practice of law, and that ethics isn't just about professional conduct rules but, rather, everyday decision-making and beliefs which cascade across the workplace.
"Ethical climate shapes the extent to which newly admitted lawyers feel that their basic psychological needs – autonomy, competence and relatedness – are being met," he says.
"A good ethical climate (particularly an ethic of care) helps lawyers meet these basic needs, which then results in higher job/career satisfaction and lower levels of psychological distress."
"By contrast, a power-driven/self-interested ethical climate impairs these basic needs, which has foreseeable flow-on effects for wellbeing."
New lawyers were chosen for the study, Dr Tang explains, because the first year of practice is a crucial period of development and change, which brings significant opportunities but also risks.
It's the period, he notes, when graduates discover the realities of legal practice and professionalism, which often occur under considerable stress and uncertainty, and sometimes in unsupported environments.
"This can be highly detrimental to lawyers' wellbeing and the beliefs/attitudes which they will carry with them for the rest of their careers," he says.
"We thought it important to [investigate] so we can help lawyers make a successful transition to practice, as well as inform reforms to legal education to better prepare students who wish to go on to join the profession."
Moving forward, the authors say wellbeing and professional development will be strongly influenced by the environment in which a lawyer works.
As such, the profession must look beyond highly individualised and superficial or clinical notions of wellbeing, which ignore the effect of a workplace's norms and culture.
"Legal workplaces should consider what assumptions and messages about ethics and professionalism are being communicated in everyday activities and practices from day one," Dr Tang argues.
"On the preventative side, law firms need to be actively working to avoid both a culture of ethical apathy and a culture of self-interested power professional relationships as part of an 'ethic of care', which is a very strong predictor of wellbeing and professional development."
A positive organisational learning culture, the authors surmise, is what is required, in accordance with the Kenyon commencement speech's arguments.
For newly admitted lawyers, the ethical climate of one's legal workplace is the water that David Foster Wallace was referring to.
"The quality of that water – whether it's fresh, clean and supportive of life and growth, or polluted, toxic and depleted of oxygen – has everything to do with wellbeing," Dr Tang concludes.
"We hope [with this research] to shine some light on this important but overlooked part of being a lawyer, and to make the connections between ethics, professionalism and wellbeing."