Podcast pipeline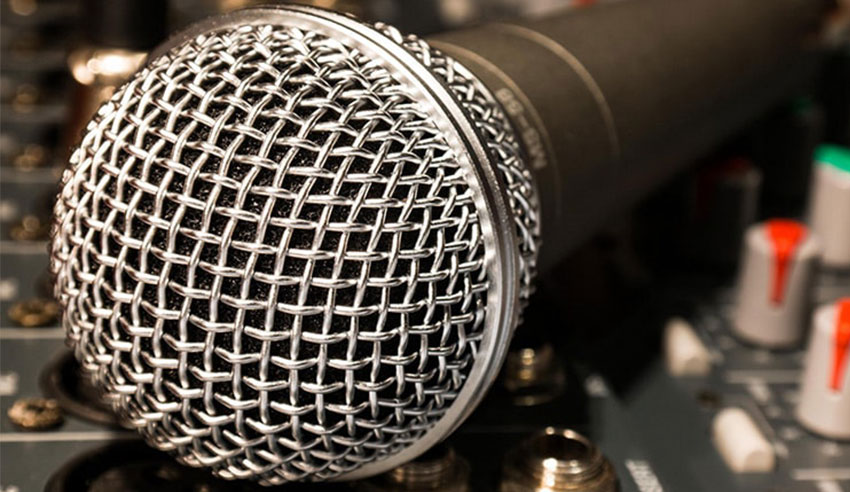 In this feature we explore why podcasts have become the new video for lawyers across the country.
An effective communication strategy can often make or break law firms, especially in today's hotly competitive market. Gone are the days where you could rely purely on word-of-mouth referrals or repeat business, it's now become essential for firms to go beyond the norm and deliver their offering in a proactive way that goes outside the standard ad sheets and email send-outs.
What's become evident in the last couple of years is the number of lawyers and law firms incorporating multimedia into their communication strategy.
First it was the video marketing, with law firms hiring experts or recruiting someone talented in-house to produce packages in a way that enhances their brand.
It's a method that's proven to be effective, with law firms praising their productions as being a key point of difference, helping to add value to both the client and employee experience and also as a tool in attracting both.
However, there seems to be another tool coming to the forefront of the legal profession with more lawyers utilising podcasts both personally and professionally. Some firms have even gone out of their way to implement them as a way to expand their clientele and up their communication game.
The big pros, of course, are that you can listen to a podcast while doing something else simultaneously, unlike a video which may require the viewer's full attention.
In addition, podcasts are cheap to create with the click of a recording button and uploading to SoundCloud and/or iTunes. No fancy camera equipment needed, just a couple of sound-quality mics.
On the personal side, podcasts provide significant value to the listeners of them. Since taking off in recent years many podcast listeners have praised the benefits – some say they help them relax and de-stress while others say they become motivated and/or educated, depending on the subject matter.
With all this in mind, what does it take to launch a podcast to expand and provide greater appeal to your target audience? What is the effectiveness of using this type of tool? And what are some of the challenges you may have to deal with if you choose to go down the podcast pipeline?
We spoke to two experts to find out.
A way in
When one decides to take a leap into developing their communication strategy, it's important to establish a motive.
It may be you want to explore an area of law that's not often covered in mainstream press or that you want to provide some crucial advice to prospective clients in an easily digestible format.
For our two interviewees, the reason behind the launch of their respective podcasts comes from a passion within.
Michael Bromley's Beyond Billables podcast, also co-founded by Maciek Motylinski, offers a different take on a career in law. The two ex-lawyers-turned-legal recruiters' objective is to celebrate success and provide lawyers with tools to help transform their careers and lives.
Then we have Clarissa Rayward who has successfully rolled out the Happy Lawyer, Happy Life podcast with a mission to spread the love throughout the legal profession. Backed by The College of Law, Ms Rayward's podcast has created an outlet for lawyers to focus on the good stuff and not purely on the doom and gloom.
"We were keen to tell 52 different positive stories about law and making a change each year," says Mr Bromley, commenting on the reason behind the launch of Beyond Billables.
"We felt there was a real opportunity to focus on topics around people's careers as well as their life more generally and how they were able to make everything work.
"We'd love to inspire lawyers to think differently about their career, be open to and take advantage of opportunity, and see that the future can be a great one for them. There is always this pervasive 'echo chamber' of negativity around the law which we hope to do something to change for the better."
Commenting on the reason behind the launch of the Happy Lawyer Happy Life podcast, Ms Rayward says: "I had been an avid listener of podcasts for a few years and was in the process of researching my book Happy Lawyer Happy Life when I decided that some of the conversations I was having for my book would make for a great podcast. So a few months of research and trying to learn the tech skills later, the show was launched!
"The aim of my show is to share stories of many different lives in the law with the overall aim of opening up a more positive dialogue about some of the challenges we all experience in this profession.
"My own experience of having to overcome unhappiness in my career a few years ago led to me researching and exploring the science of 'happiness'. We know that the rates of psychological ill-health in our profession are too high, but there is still a lack of knowledge about how we as individual lawyers can help ourselves to better manage these challenges.
"By showcasing the many and varied ways lawyers practise law, manage stress and setbacks, and ultimately achieve in their careers has helped in opening up this important conversation."
A starting point
Coming up with a motive might be considered the easy part for many with a newfound passion for podcasting. However, there is also a process that needs to be considered before making the move.
For the Beyond Billables co-founders, launching their own podcast required a lot of forward-thinking, planning and help from those more experienced.
"We wanted to do an interview show but it took some time to work out exactly what our focus would be," Mr Bromley explains.
"I have a friend who runs a podcast agency so I was introduced to it through that and we used them to help us develop our ideas and focus."
A similar sentiment was offered by Ms Rayward, who notes that its important to grab an outsider's perspective.
"I am very lucky to have a very good friend who is one of Australia's most successful podcasters so in all honesty, he helped me a lot!" she says.
"I knew very little about the technology required at the time and am still a novice in that sense. I did spend a few months researching the content and style of the show and speaking to colleagues about what they would enjoy listening to.
"And from a very early stage The College of Law Australia came on board as a sponsor, which has also significantly assisted me in building the show over the past year or so."
The style guide
One of the best things about podcasts is that it's a tool that doesn't require a one-size-fits-all approach, with its creator/s free to find a style that works best for them and their target audience.
Both Beyond Billables and Happy Lawyer Happy Life have taken the interview-style method, however, the topics and guests vary each time.
"The Beyond Billables podcast is an interview show which we hope is insightful, personal and fun," Mr Bromley says.
"We treat our show as a great way to also meet and get to know amazing people and tell their story. We think if we can tell enough different stories, something will resonate with anyone in the audience.
"We try to be direct and dive deep into how each person embrace change and think if the guests have great stories, lots of our audience will relate to it."
Ms Rayward says: "I settled on an interview-style show".
"Each episode lasts around an hour as I have found that amount of time gives enough opportunity to learn about the life of the guest both in and outside of the law.
"It is a casual interview process – I don't have set questions or a set structure and just try and go where the guest takes me," she adds.
"I think this has been one of the most enjoyable parts of producing the show as I never really know in advance what will come of an interview."
Speaking more on guest selection, both Ms Rayward and Mr Bromley say there is no set criteria – something they both note works well in their respective podcast.
"I have been very lucky with the range of guests that have agreed to be interviewed for the show," Ms Rayward says.
"I am always looking for 'stories' and while there isn't a fixed criteria, I am generally looking for variety. I only interview in person so am a little restricted at times by location but try and travel as much as I can to interview guests around the country.
"As the show has become more known, I often receive emails with ideas of new guests which is always great."
Mr Bromley says he and co-founder Maciek Motylinski have taken an organic approach in building the Beyond Billables' guest list.
"Basically we first approached friends in the industry (it helps when you've been in it over 15 years), and then just had them refer us on to anyone they thought could be great. It's been a brilliant way to meet great people that tend to share similar values," he says.
"The highlight of the show for us has been the people we have met through it, doing it on a 'word-of-mouth' basis through friends of friends has allowed that to happen I feel.
"We don't have topics per se. We start where we start and have an open discussion. We cover people's story but also dive into their view on law/life and change.
"It's not scripted and we rarely focus on anything in particular but we do have over nearly two decades of experience each interviewing people, so if we can't find something interesting, there is something wrong! There always is though."
Kicking goals
Like with everything, there are going to be challenges if you choose to go about a new communication strategy – podcasting is no different.
Though Mr Bromley and Ms Rayward share that that's no reason to be discouraged, with the pros of podcasts far outweighing the cons.
"We were incredibly nervous leading up to launch," Mr Bromley says.
"I think the first two podcasts were easily the most stressful things I've ever done (launching them). You just don't know how people will take things. Since then though all the feedback has been wildly positive so it's been great fun.
"We aren't really concerned with getting huge numbers per se, we really want to tell great stories and think that will resonate with the right people. Ultimately, we are trying to create something of value to people, and that is our complete focus."
Ms Rayward says aside from a lack of tech knowledge that she has "mostly overcome" she hasn't found the process leading up to her podcast's launch or since its launch too challenging.
"[However] finding the time has been a bit of a trick, and there have been a few weeks where I have interviewed on a Tuesday with the show being published on a Wednesday, but luckily this hasn't happened too much!" she notes.
Final thoughts
With so many podcasts available, it can be difficult to gauge which ones are worth your time and what type of podcast you may look to create to yield the best result.
"I would like to think that lawyers would enjoy hearing the experiences of their colleagues and learning about many different ways they can practise law in these changing times," Ms Rayward says on why lawyers should tune into Happy Lawyer Happy Life.
"Much of the feedback I have received from listeners is how much they enjoy that even those we perceive as being at the top of the profession - the Honourable Michael Kirby AC CMG and the Honourable Margaret McMurdo AC as examples - all experienced setbacks and challenges that are often no different to each of us.
"And I am always learning new tricks and tips from each guest on either wellness, managing stress or just being a great lawyer."
When asked why lawyers should tune into the Beyond Billables podcast, Mr Bromley says listeners will be inspired.
"Learn something you can apply to your career or life, and be part of our growing community," he says.
"We [he and co-founder Maciek Motylinski] have both been lawyers but also have been business owners and recruiters, so we have a unique take on the world of opportunity out there for lawyers and how you can actually go about having the career you want.
"We have also both been on different journeys in life, fitness and family, and we spend a lot of time talking about everything else outside work."
Lawyers Weekly has also jumped on the podcast bandwagon with our very own podcast The Lawyers Weekly Show, covering everything to do with the business of law and more.
If you've got an idea for an episode, email This email address is being protected from spambots. You need JavaScript enabled to view it..
In the meantime, check out the rest of our episodes at lawyersweekly.com.au/podcasts
CASE STUDY: Maurice Blackburn Lawyers
Rebecca Hanlan, who has managed Maurice Blackburn's brand and social media for five years, caught up with Lawyers Weekly last year on how the firm utilised a 12-part podcast series to evoke an authentic identity.
The Fighting For Fair podcast series was launched by Maurice Blackburn Lawyers in partnership with Mamamia and hosted by social justice campaigner and lawyer Corinne Grant.
The focus of the 12-part series featured the stories of 12 different Australians, each with a story to tell about "individual pursuits of injustice".
It's a simple but powerful method and one that Ms Hanlan described as having a profound impact on the firm as it allows it to pivot away from advertising and focus more on connecting people with the work it does.
"Social justice is really a community and social issue – it's bigger than an individual or an individual case our firm might handle. The outcomes of these cases impact us all," Ms Hanlan said when speaking to Lawyers Weekly last year.
"We have been a strong social justice law firm since Maurice opened the firm in 1919. But the public and people really only experience the brand through our injuries practice area advertising and communications.
"As a firm, we have the privilege of being able to help people access justice – but it's not just our story, it's theirs as well. We wanted to find a way to showcase amazing stories of these people who have somewhere along the line become these 'accidental activists'."
Ms Hanlan believes that this approach is a smarter marketing strategy because it offers people something real to connect with.
"The big key for us has been, rather than going to market at a practice area level, going to market at a brand level," she said.
"We're really happy to be able to do some game-changing approaches to how firms communicate and talk about what they're doing to a wider audience."
Ms Hanlan added that the ultimate aim of the campaign was to put a spotlight on social justice issues being a matter of collective concern.
"As a society and a community we need to be engaged with these issues because what's happening to these 'people over there' actually impacts everybody's rights and it's something that we all need to be engaged with," she said.
LEGAL PODCASTS YOU HAVE TO TUNE IN TO RIGHT NOW
The rise of the internet has hailed in a new dawn for storytelling, writes Lawyers Weekly journalist Melissa Coade. Here's our top pick of podcasts legal eagles should be listening out for.
Law Report
ABC Radio National's flagship legal affairs program is a long-standing and informative way to stay abreast of contemporary and quirky legal developments. We're a big fan of Damien Carrick and the audio platform his weekly program has given some of the legal profession's juiciest brains.
Just Cases
Fresh out of the podcast oven, Monash University has just launched a new series called Just Cases. The focus is on court cases and the people who are caught in the crossfire of litigation in the Australian justice system. One of the first guests to feature on the Just Cases show is Robert French, recently retired chief justice of the High Court of Australia and the new chancellor of the University of Western Australia. Props to legal academic Melissa Castan for this new project – we're excited to hear about its evolution!
The Good Law Podcast
Salvos Legal has rolled out an audio solution to legal education with the launch of The Good Law Podcast earlier this year, covering topics from ethics to mental health, special leave applications in the High Court and family law basics. Listeners do have to pay to access the nuggets of legal know-how in these podcasts but in return receive 1 CLE/CPD point. Plus, all episode proceeds go towards the delivery of free legal services to vulnerable Australians so there is a real altruistic kick to this podcast experience.
Prima Facie
Want more on law and order? Tune in to Prima Facie, a program that is up to its 40th episode, featuring Victorian duo Ron Killeen and David Mejia-Canales, an ex-copper and real-life lawyer respectively. The pair canvasses a range of political and legal issues in their podcasts and put a conversational lens on what can be some hefty, high-brow topics.
Hearsay
Hello from the other side! The Hearsay podcast keeps a nice pace with episodes that run for about an hour. Pitched at VCE legal studies students and everybody else, the program is hosted by Melbourne-based high school teacher Robert Corr. He has a law degree and at various stages of his career has worked as an electorate office for some state politicians, as a judge's associate in the Supreme Court of Victoria and for the Commonwealth DPP.
Trace
ABC Radio's Trace delves into the mysterious, unsolved murder of Maria James in Melbourne in 1980. Investigative journalist Rachael Brown follows the twists and turns of this dark case, assisted by Maria's two sons.
Casefile
Led by an anonymous host, this podcast delves extensively into one murder case each episode. It offers thorough investigations into many of Australia's most gripping cases, as well as some from overseas.