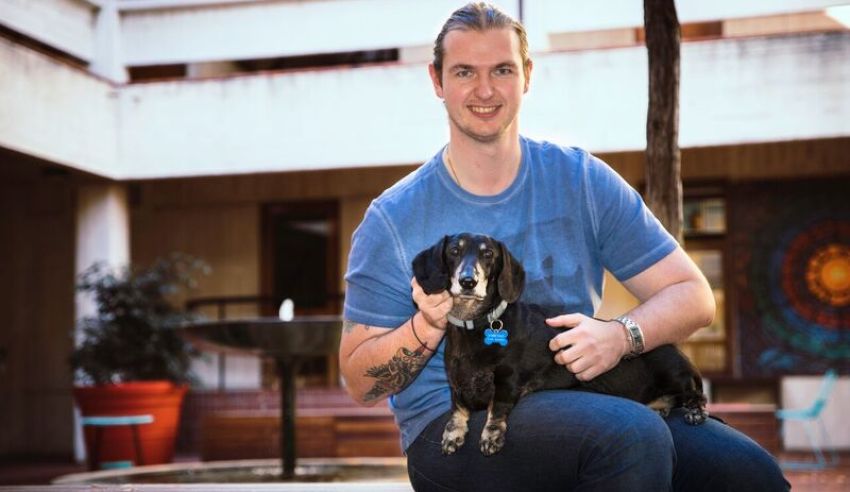 A furry, four-legged companion has joined The University of Western Australia Law School, providing students with much-needed relief from their studies.
Julius Caesar, otherwise known as the Juris Dogtor, is a greying dachshund with a big personality, who is proving to be a big hit with the students on campus.
The 14-year-old pooch is available for walks between class, pats and attention in the quadrangle, offering friendship and fun in the midst of study.
Dean of the UWA Law School Associate Professor Natalie Skead said Julius had been introduced to support student wellbeing and give students a reason to step out of the library and away from their devices, put smiles on their faces, and ultimately remind them of the importance of taking regular breaks from study.
"Law is an exciting, complex and challenging discipline and we are conscious of the need to support our law students in achieving the right balance between study and enjoying their downtime on campus," she said.
"Law students can book an appointment with Julius for walks and cuddles throughout the semester. They are encouraged to relax, have fun and enjoy their time on campus during an important part of their lives."
Julius had a legion of admirers, the Law School said, with his own Facebook page generating high volumes of traffic.
Comments on the social media platform include: "I've never been as excited to go to class" and "Suddenly I'm interested in doing law".
First year UWA law student Robert Keenan said it is a good idea to take a break while on campus and do something active, and that Julius offers a way to do so.
"It's been great, it doesn't matter how bad a day you have had, taking Julius out brings a smile to your face and makes you feel better instantly," he said.
"When you take him for a walk everybody loves him, wants to stop and talk to you, wants to pat him, he's the centre of attention so it's great for him too."